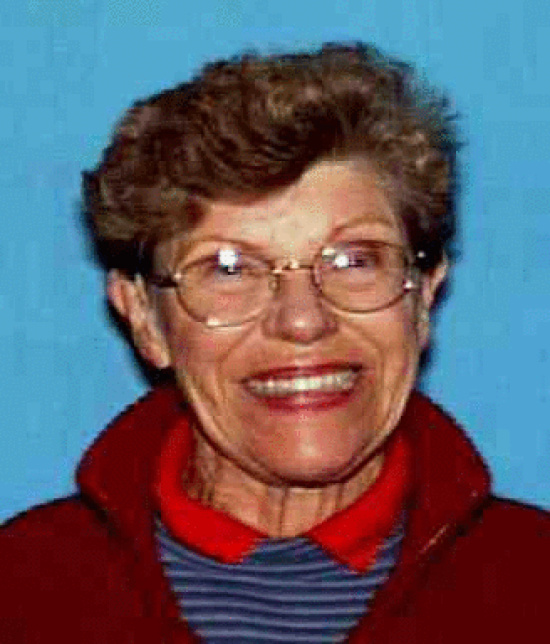 UPDATED 4/4: Mendocino County Sheriff Press Release:
On 04/02/2013 at approximately 1000 hours the Mendocino County Sheriff's Office was re-contacted by Elna Jean Koopman's son who had tracked his mother's credit card.

The son learned the card was used in San Jose, California on 04/01/13 and it was thought Koopman might be trying to fly to Dallas, Texas.

The son later re-contacted the Sheriff's Office approximately two hours later (1200hrs on 04/02/2013) and stated he had updated information that Koopman had used a credit card to rent a hotel room at the Comfort Inn in Vallejo, California.

The son called the Comfort Inn and spoke with Koopman, who was indeed at the hotel.

The son responded to Vallejo and was reunited with Koopman, who was in good health and spirits when he arrived.

All B.O.L.O notifications were cancelled and Koopman was removed from the missing person at risk system.
UPDATED 4/3: According to the Fortuna Police Dept., Elna Jean Koopman was found in a Vallejo motel.
UPDATED with photo 1:40 P.M.:
Mendocino Co. Sheriff Press Release:

On 04/01/2013 at approximately 2100 hours Deputies from the Mendocino County Sheriff's Office were dispatched to the 400 block of Kenwood Drive in Ukiah, California regarding an elderly missing person report.

When Deputies arrived at the residence they spoke with missing person's son and he informed the Deputies that his 75-year-old elderly mother was missing from her Kenwood Drive residence.

The son stated that his mother, Elna Jean Koopman, was suffering from early stages of dementia and that she had a difficult time remembering things and events.

The son informed the Deputies that he had not spoken to his mother for over 24 hours so he decided to check on her to make sure she was doing well. The son drove up from the Santa Rosa area and when he arrived at his mother's residence on 04/01/2013, in the morning hours, he noticed her vehicle was missing, so he entered the residence to see if she was inside.

The son did not locate his mother in the residence, so he searched the surrounding area, checked with local friends and neighbors, with no success. The son then notified the Sheriff's Office that his mother was missing.

During the investigation it was learned by the Deputies that Koopman also had a residence in the Dallas, Texas area and it was believed by the son that Koopman, because of her dementia, may be confused and attempt to drive to Texas thinking she still lives there.

Deputies contacted the California Highway Patrol and requested a Statewide SILVER alert BOLO be issued for Koopman and her vehicle.

Koopman is reported to be driving a White 2004 Toyota "Sienna" van with a California license plate of 5HGN279. Koopman is a 75-year-old female with brown/gray hair, blue eyes approximately 5 feet 7 inches tall and weighing 160 pounds.

Anyone that sees or has any information on the whereabouts of Elna Jean Koopman, please contact your local Law Enforcement Agency or contact the Mendocino County Sheriff's Office at 707-463-4086 with your information.