---
Open Door Eureka Ribbon-Cutting Today; Worthies on Hand to Celebrate
---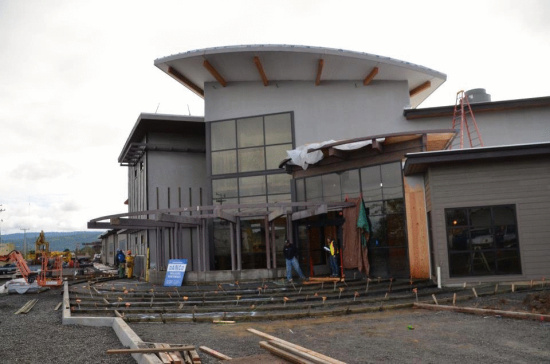 Today at 4 p.m. a whole collection of local muckety-mucks, including Rep. Jared Huffman, will be on hand to officially open the new Open Door Clinic facility in the Myrtletown area, at 2200 Tydd Street. (Map.) Eureka Mayor Frank Jager, Supervisor Virginia Bass and representatives from the Headwaters Fund, the Arcata Economic Development Corporation and the Humboldt Area Foundation are gonna slice ribbon on the Eureka Community Health and Wellness Center, which started serving patients late last year but is now gearing up to full capacity.
Also, earlier in the day: Sweet Baby Jared is scheduled shower the people he loves with love on KHUM's Awkward Pause radio program, with Larry Trask. That's in the 2 o'clock hour on KHUM's mighty new 104.7 FM signal, or streaming at khum.com.
All hail the clinic! This thing sounds pretty boss. From Open Door Community Health Center:
PROJECT BACKGROUND

Open Door Community Health Centers has constructed the new Eureka Community Health and Wellness Center at 2200 Tydd Street in Eureka. This 27,400 square foot facility provides primary medical and behavioral health care, more than doubling the capacity of the former clinic site on Buhne Street. The new clinic is expected to serve more than 12,000 individuals, providing over 50,000 visits per year. The clinic integrates strong design and state-of-the-art diagnostic, telehealth and electronic health record systems with innovative team care, ultimately improving health outcomes by facilitating best medical practices, patient education and efficient clinic operations.

In October 2010, the federal Department of Health and Human Services, Health Resources and Services Administration awarded a grant to Open Door under the Affordable Care Act Capital Development Program. These funds, paired with an innovative loan agreement combining the resources of the Arcata Economic Development Corporation, Headwaters Fund and Humboldt Area Foundation, plus a significant investment by Open Door, has brought this $14 million facility to reality. The new facility is almost triple the space previously available at the Buhne Street sites.

Open Door is proud to have used local resources to construct this building, investing millions of dollars in the local economy. Danco Builders Northwest was the project's general contractor.

To match the facility's expanded physical capacity, Open Door has hired new providers and support staff. Six new medical and behavioral health providers have been added to the staff of the clinic. Another 25 positions, from front desk to medical assistants to registered nurses have been added to the clinic.

In addition to increasing patient health care access and services, this is a long-term investment in the economic health of the community.

This project came together quickly: less than 30 months from grant award to project completion. The clinic began serving patients on December 26, 2012. On April 1, Open Door relocated most of its pediatric services to this clinic, including Dr. Ted Humphry.

The building was designed to support team care, patient-centered health homes, wellness and illness prevention activities. It was also created using principles of green and sustainable design, habitat and wetland protection, and energy efficiency. This is an exemplary facility that will become a showcase for other health care providers from across California and the nation.

The clinic offers extended evening and Saturday hours. The clinic's pediatric services are gearing up to provide walk-in services and evening hours for the entire community. When the situation is not life- threatening, this will provide an affordable, quality alternative to visiting the emergency room. The clinic is designed to bring significant savings to the community.
---
SHARE →
---
---