---
Richard Salzman gets "Patriot of the Year" award from ACLU
---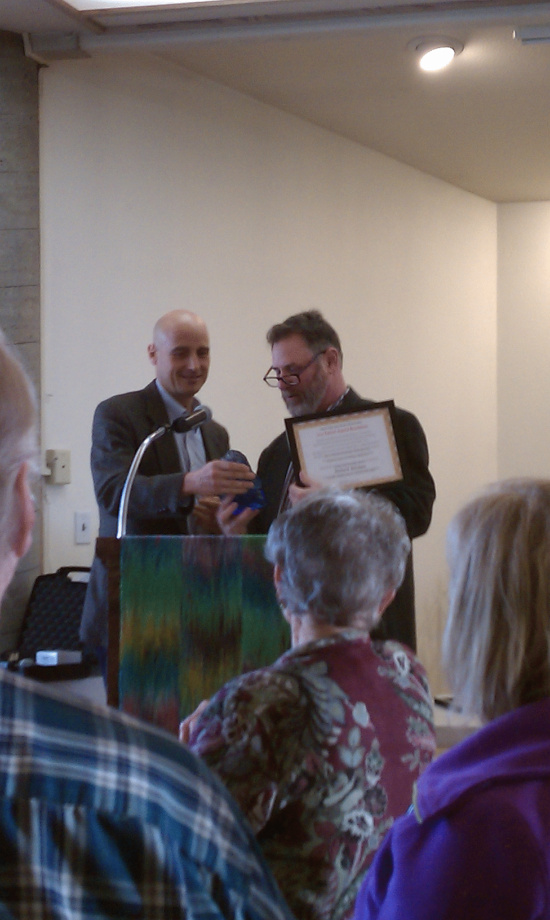 ACLU Press Release:
Richard Salzman of Arcata was honored as the 2012 "Patriot of the The Year on Monday by the Redwood Chapter of the American Civil Liberties Union (ACLU). Salzman was recognized for a range of political and civil causes, especially his successful lawsuit against the City of Arcata for its restrictions on free speech as contained in their panhandling ordinance. It was his belief in the civil rights accorded everyone by the Constitution that impelled Salzman to file suit against his hometown. Richard accepted the award in memory of his recently departed father Paul Salzman, who was a proud lifelong member of the ACLU. In his acceptance speech, Richard said that "I believe in this

American experiment in democracy, and was pleased that in this situation the system worked the way the founders intended—with the court correcting the overreach of the legislative body, when a law they wrote violated the citizens' constitutional protections."



The event, held at the Unitarian Fellowship Hall in Bayside, was attended by dozens of members of the public and the ACLU chapter. For more information on the local chapter of the ACLU, please visit them at redwoodaclu.blogspot.com
Photo provided by ACLU.
---
SHARE →
---