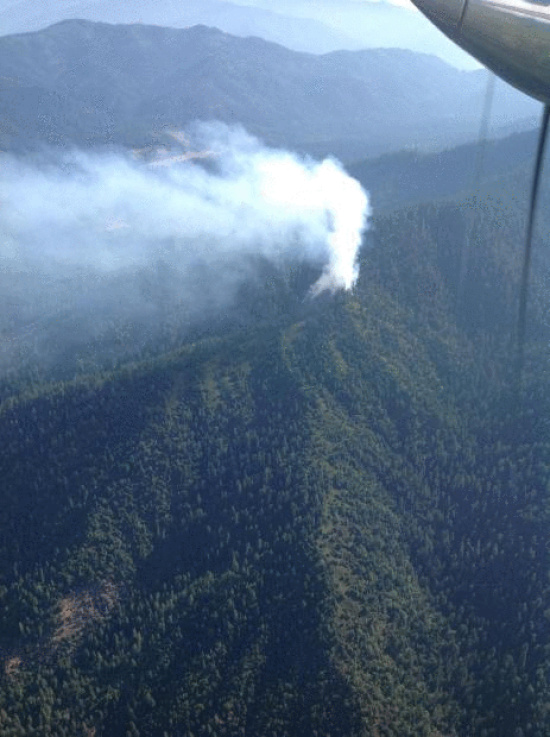 Corral Fire August 7 (Photo from InciWeb)
U.S. Forest Service & Shasta-Trinity National Forest Press Release:
Over the past several days, northern California and the Shasta-Trinity National Forest have received numerous lightning strikes. Most of the strikes on the Shasta-Trinity NF have been concentrated on the west side. Today, resources across the forest have been investigating reports of new starts and actively conducting initial attack on new fires. Current incidents are concentrated on the Hayfork, Big Bar, and Yolla Bolla Ranger Districts and none are more than a quarter of an acre.

Forest Service officials followed weather reports closely and tracked real-time conditions throughout Friday evening and Saturday morning. By anticipating potential fire starts from lightning strikes, resources were able to quickly and aggressively respond to initial attack incidents. Resources were pre-positioned and even before smoke reports came in, resources were sent to areas with lightning clusters. This proactive approach, accompanied by support from CalFire and contract resources, made initial attacks extremely successful throughout Saturday morning.

Additional starts from lightning strikes are possible. Lookouts across the forest are staffed and weather conditions are being closely monitored.

There are also fires on the Six-Rivers National Forest and the Klamath National Forest near their borders with the Shasta-Trinity NF. For information about those incidents, please visit www.InciWeb.org or call the Six-Rivers NF Fire Information Line at 530-618-2101 or the Klamath NF Fire Information Line at 530-841-4451.

More information and updates for incidents on the Shasta-Trinity NF can be found atwww.InciWeb.org or call the Shasta-Trinity NF Fire Information Line at 530-605-7337.
InciWeb Information:
On the evening of Tuesday, August 6th, the Shasta-Trinity National Forest began receiving multiple lightning strikes. There were several small fires started from this lightning event. On the evening of Friday, August 9th, the Shasta-Trinity National Forest received additional lightning strikes. Most strikes were on the west side of the forest, specifically on the Hayfork and Big Bar Ranger Districts. Battalions 1, 2, and 3 have activated their lightning plans. Resources are currently investigating reports of new starts and actively conducting initial attack on new fires. Check back throughout the coming days for more updates.

Battalion 1

1.) Bierce, 8/10: .25 acres, contained and in patrol status

Battalion 2

1.) Rattle, 8/9: .1 acres, controlled, 8/10, in patrol status

2.) Scott, 8/9: .1 acres, controlled, in patrol status

3.) Oak, 8/9: .01, controlled and in patrol status

4.) Spring, 8/9: 1 acre, contained and in patrol status

5.) Pelletreau, 8/9: 1 acre, staffed 8/10

6.) Pellet, 8/10: .1 acres, resources on order

7.) Pelt, 8/10: 1 acre, resources in route

Battalion 3

1.) Corral, 8/8: 10 acres, contained

2.) Beartooth, 8/10: .25 acres, staffed

3.) Hoboken, 8/10: approx 7 acres, resources in route

Battalion 4

1.) Center, 8/9: .1 acres, out

Battalion 5

1.) Holiday, 8/8: (Human caused) 1 acre, contained, patrol status, 8/9

Battalion 7

1.) Powder, 8/8: .1 acres, patrol