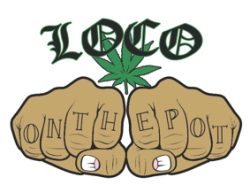 A particularly nasty story blew up in the national media last month when federal drug and firearms charges were filed against two Lake County men, Ryan Balletto and Patrick Pearmain.
The case didn't make national headlines because the men were allegedly growing a bunch of weed and had a bunch of guns. The case made national headlines because of what the men allegedly did to a teenage runaway from Los Angeles who they were harboring when they got busted.
There is strong and very disturbing evidence that the men trafficked and sexually assaulted — even tortured — the 15-year-old girl in a most gruesome manner, and U.S. Attorney Melinda Haag makes it sound like this is the norm for pot growers. Just check out her July 22 statement in a press release regarding the case:
"Some in our community believe that marijuana grow operations are run by compassionate caregivers interested only in supplying medicine to the sick. Unfortunately, this case illustrates what we in law enforcement see — marijuana grow operations that include heavily-armed, violent individuals, motivated by profit, carrying out abuses of vulnerable victims…"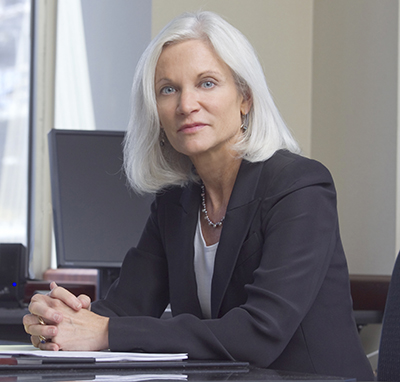 Is that true? Is it the norm for marijuana growers to track and abuse vulnerable victims? And if it is the norm, why don't we hear about it more, if that's what law enforcement sees? Sure, for the most part, the marijuana industry is underground, and there very well could be more marijuana industry types that are committing outrageously heinous acts akin to those allegedly committed by Balletto and Pearmain. Regardless, that's a pretty loaded, pretty broad statement Haag made there — it seems like just another outrageous attempt to justify the federal war on marijuana.
Perhaps Haag should acknowledge the horrors the federal government engenders through prohibition. Perhaps she should distinguish between "growers" and "violent, abusive monsters." That, however, just doesn't seem like her style.
The Lake County Case
On July 22, federal charges were announced against Balletto and Pearmain: conspiracy to possess with intent to distribute 1,000 or more plants of marijuana and the use of a minor in drug operations. There was a third charge filed against Balletto — possession of a firearm in furtherance of a drug trafficking crime. The men face a maximum sentence of life in prison.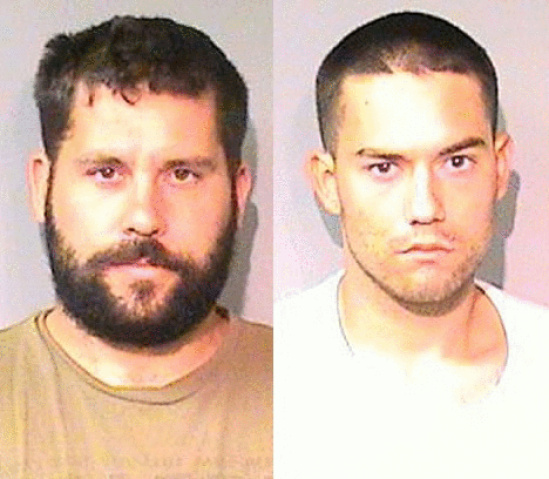 This July 23 Lake County News report gets into detail about the horrors alleged in the federal complaint. (From there, you can just read the complaint yourself.) Here is a passage from their story:
"The complaint alleges that Balletto and Pearmain kept a 15-year-old runaway girl for weeks at an extensive marijuana grow site on 681 acres of land owned by Balletto in Lake County, and that they used her to process marijuana plants.

"According to the complaint, Balletto and Pearmain allegedly subjected the teenager to sexual abuse during the time they held her, with the investigation revealing items used for sexual bondage and a metal toolbox that the girl told investigators she was kept in on two separate occasions."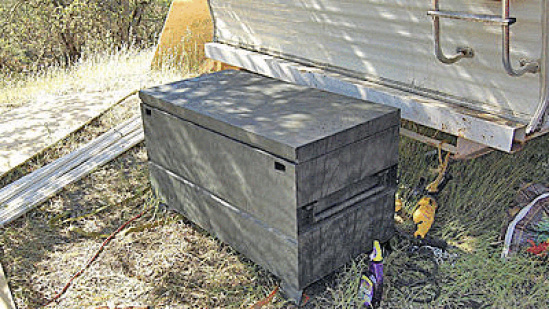 The men were indicted up here in Eureka on Aug. 1, with one additional charge added to the mix: manufacturing of marijuana. Pearmain and Balletto pleaded not guilty to all of the charges. The men were deemed a flight risk and a danger to the community and they are being detained pending a return to court on Aug. 21. Read more Lake County News coverage here.
There were multiple agencies that came together in the investigation and eventual take-down of Balletto and Pearmain, including the Los Angeles Police Department, Lake County Sheriff's Office and Homeland Security's Immigration and Customs Enforcement (they've been investigating Balletto since 201, when the feds caught him flying an unregistered plane across the country).
Here's an abbreviated timeline of the takedown.
Back on April 12, the Lake County Narcotics Task Force did a flyover of Balletto's property and identified two greenhouses that were thought to be full of weed. On April 30, LAPD contacted Lake County law enforcement regarding a missing teen that they believed was being held captive on Balletto's property.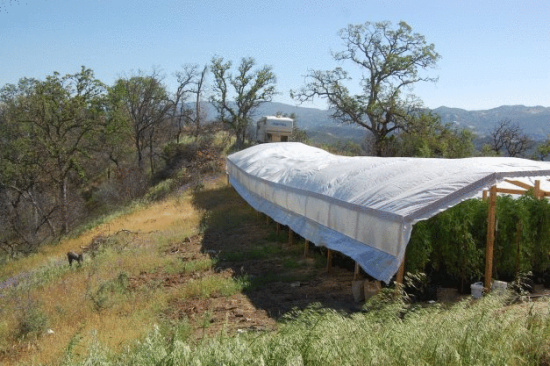 The next day, the missing teen called the Lake County sheriffs to say she was OK. On a second call to their dispatch center, she said she was with "Ryan" in Sacramento. Authorities tracked the call, and Sacramento police officers found the 15-year-old and Patrick Pearmain at a hotel. They took Pearmain into custody and he was charged for narcotics and sexual intercourse with a minor. He was later charged with human trafficking, unlawful intercourse with a minor under 16 years of age, oral copulation, false imprisonment and molesting a child under 18 years of age.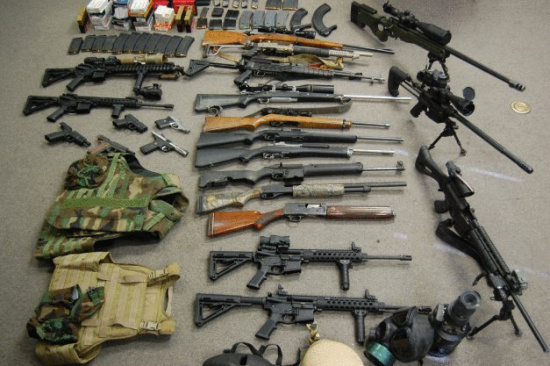 That same day, May 1, Lake County sheriffs raided Balletto's property. They found "multiple sexual items including sex bondage equipment," over 1,400 marijuana plants and an armory. Balletto was on the property and was taken in to custody. He was charged with narcotics crimes, human trafficking, unlawful intercourse with a minor, oral copulation, sodomy, false imprisonment and molesting a child under 18 years of age.
Lake County Sheriff Frank Rivero called in the feds, and on May 17, Homeland Security, the FBI and the Department of Defense served a federal search warrant on Balletto's property. Lieutenant Steve Brooks of the Lake County Sheriff's Office gives a more detailed account here.
On July 19, the Lake County District Attorney's Office moved to dismissed the charges brought against Balletto and Pearmain. They stepped aside to let the US Attorney's Office take over the prosecution. The Lake County DA may refile sex crimes and human trafficking charges in the future, depending on the outcome of the US Attorney's drug-focused prosecution — which, as previously noted, carries a max sentence of life in prison. (Lake County News coverage on the DA dropping the case here.)
Oddly, the federal charges being brought against Balletto and Pearmain do not reflect the evidence of sexual assault and labor trafficking at all. One would have to assume that the feds would throw the book at these guys for the heinous things they supposedly did to this young woman, but federal child exploitation and trafficking laws seem to be primarily geared toward child pornography and interstate actions. From the Department of Justice "Citizen's Guide to U.S. Federal Law on Child Sexual Abuse": "Except in limited circumstances, federal laws typically do not apply to child sexual abuse matters that takes place wholly inside a single state."
Presumably since the minor that Balletto and Pearmain held captive, abused and used as a trimmer is from Los Angeles, the U.S. Attorney's Office is only bringing drug- and gun-related charges, with the only hint of the alleged crimes against the young woman being carried in the "use of a minor in a drug operation" charge. Given the evidence in the case, however, the federal government could probably find a way to bring additional charges against these guys.
Abusive Growers
This is Tatum King, acting special agent in charge of Homeland Security Investigations in San Francisco, quoted in the July 22 U.S. Attorney's Office press release:
"The criminal groups involved in growing and trafficking marijuana have repeatedly shown they have no qualms about using violence and intimidation against those who get in their way — in this case the alleged victim was only 15. … By pooling our resources, authorities and expertise, we've succeeded in dismantling a drug operation suspected of funneling significant quantities of marijuana into northern California and onto our streets. This case shows yet again why federal and state collaboration is crucial to combating these kinds of public safety threats and ensuring that those involved are brought to justice."
Pardon me, but fuck the "significant quantities of marijuana." Weed is not inherently dangerous. People are dangerous.
Sure, Lake County law enforcement was onto these guys because of their weed, and the feds believe that Balletto was purportedly making a grip of money from the trafficking and sale of weed, money that likely enabled him to finance his armory and the large and sophisticated grow op at which this young girl was allegedly kept. Indeed, in the U.S. Attorney's July 24 Memorandum for Detention of Balletto and Pearmain — which argues that the two men are a flight risk and should be held pending trial — Balletto's "lucrative" marijuana business is discussed. They cite his $180,000 cash purchase of a plane in Florida in 2011, and they peg the value of his recently seized weed crop at $2.6 million.
So they say Balletto made money from weed, but again, with King's statement and with what Haag said in her above quote, the feds are trying to make it sound like growers are all evil, gun-toting abusers, instead of acknowledging that Balletto and Pearmain are truly exceptional monsters that happened to be funding themselves through the sale of cannabis. (Which happens to so profitable because of its illegality; we all know that if you run pounds out of state you can make a lot of cash).
I spoke with David Prince, assistant special agent-in-charge for Homeland Security Investigations in Northern California, about the issue of marijuana growers carrying out abuses of vulnerable victims, and he directly contradicts Haag: "I think this case with Balletto is very unusual for all of us in the law enforcement community because of the nature of the victim. The fact that Balletto is growing pot …. that's not unusual. The fact that he had a cache of weapons … that's not unusual. It's the fact that they had this female child, really, on the property, and she was being abused, tormented … that's the part that's very unusual."
When asked if he often sees people being held against their will on marijuana farms, Prince cites the 2010 shooting in Kneeland as the only other instance he's aware of where "violence was used to influence the activity on a marijuana crop." He says the marijuana industry is for profit and
"…it makes more sense to have an army of employees that are paid well, than an army of slaves … From any economical perspective, when you are dealing with something that's illegal in the United States, you don't want to have people that are being forced to do something like this because it poses a larger threat to your operation than if you have people that are being paid well — they're being paid to keep their mouth shut."
He's got a point, but that's a broad statement that he makes, probably too broad, just as Haag makes a too broad generalization in a different direction.
Prince does acknowledge, however, that there is plenty of violence in associated with the marijuana industry — he names homicides, fights between rival growers, and incidents where people stumble onto grows or steal from grows and are accosted by growers.
But we just don't know what bad things people are doing until they get outed in some way, and that goes for the whole of humanity. It is unfair for our federal officials, namely King and Haag, to make evil-grower-poster-children of Balletto and Pearmain without addressing the real issues at hand, which is not just the absurd prohibition of cannabis, it is the extraordinary negativity arising out of the broadly institutionalized culture of fear and violence (especially with regards to women) that we live in. (My opinion.)
Rianne Eisler, a most insightful advocate for the of human rights women and children, says it better than I do:
"… ours is a time when 'man's conquest of nature' threatens all life on our planet, when a dominator mind-set and advanced technology are a potentially lethal mix, when all around us institutions designed to maintain domination and exploitation are proving incapable of coping with the massive social, economic, and ecological problems they have created."
A More Down-To-Earth Perspective
Paula Arrowsmith-Jones, the community outreach coordinator for the North Coast Rape Crisis Team, offers a much-needed local and more down-to-earth perspective on the issue of abuse of vulnerable people in conjunction with the marijuana industry. She wants to be clear, though, that her organization passes no judgement on anyone that may be involved in any sort of illegal industry — or on anyone at all, for that matter.
Arrowsmith-Jones says that most of the negativity her organization sees arising out of marijuana-related situations is when people have "their living situation and their financial situation, all being kind of linked together," because people who are assaulted may not come forward for fear of reprisal or for fear of being tagged as someone that brings law enforcement into marijuana production.
Young people living in the streets who may call themselves "travelers" are particularly vulnerable. A youth may view sexual assault as "survival sex," the logic being: "I'll do what you want in order to have a roof over my head or in order to have money for food." The illegality of marijuana just adds an extra isolating layer to situations of this nature.
Arrowsmith-Jones emphasizes the importance of looking out for each other and of "bystander intervention." However, people have to come to terms with their own internal barriers to intervening, like "I'm afraid that someone will hurt me," or "I don't trust systems like law enforcement."
"There are lots of ways for looking out for each other, she says. "We have to know what gets in our way, and then figure out an intervention that we're actually willing to do." In other words, given internal barriers, what choices can be made — are we capable of intervening directly or more indirectly? Simply taking the opportunity to say "Hey, just a heads up — that guy is kinda shady," can be helpful.
We've really got to look out for each other — for ourselves, for our neighbors, our friends, our family and for people we don't know. And we have got to re-prioritize.
FYI: