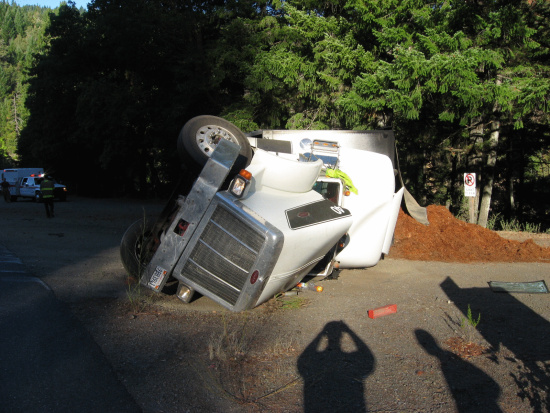 UPDATE 1:10 P.M.: CHP Press Release:
On 8/14/2013 at approximately 0730 hours, [Lee A. Patterson age 53 of Willits] was driving a 20004 Peterbuilt semi-truck with trailer northbound on US-101, south of Bridges Creek, in unincorporated Mendocino County. As Patterson was traversing a right hand curve, at an unsafe speed, his truck and trailer combination tipped over onto its left side. The combination slid westbound across the southbound lane and onto the southbound shoulder. The trailer's load of wood chips spilled onto the shoulder. Patterson was transported to an area hospital with a complaint of pain.
Original post below———————————————
At around 7:30 A.M., a big rig truck "fully loaded" with chips has overturned north of Leggett on HWY 101. KMUD is saying near Dora Creek. A tow truck is at the scene. Follow CHP updates here.