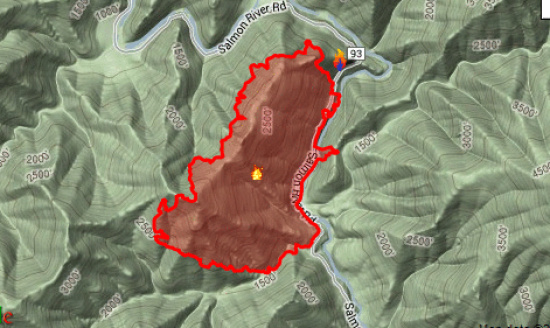 Screenshot of the map of the Butler Fire on the InciWeb site.
"A good estimate is the fire hits our close ridge by tonight sometime," explained Sue Terence, a teacher (see yesterday's story), whose home, seven miles up the Salmon River from Somes Bar, is facing the frontline of the Butler Fire. However, says Terence, who's whose tired voice lightens as she speaks, "The Forest Service feels like we have done such a good job of fuel reduction around the seven houses [in her neighborhood] that we have a good possibility of stopping it. Barring crazy weather, we'll be OK."
As she talks, Terence counts back the time since the fire began on Wednesday. "This is the 5th day. It feels like two years," she said with a wry laugh. Living in such a fire prone area, Terence and her husband, Malcolm, have worked to reduce brush, etc. around their property throughout the years. She credits the Mid Klamath Fire council and the Salmon River Restoration Council with providing support and guidance. "Our place is a case in point. We've been getting tremendous support…mowers to mow grasses in the meadow at an affordable cost, crews have reduced brush at the perimeters of the land…"
But, she says, the Forest Service land around their home carries a large fuel load. According to Terence, "The many years of fire suppression…logging consequences…[resulted in] huge amount of fuels on the ground that were never cleaned up."
Terrence explained, "The clearcuts mean that we lose the canopy and the fuel moisture. [This] sets up patches of high intensity fuel loads. The sunlight turns the whole [clearcut] into a field that is choked with brush and dry." This, she says, creates an area that is susceptible to high intensity fires. "After clearcut loggings," she explained, "the Forest Service will try and replant trees but the new little trees can't compete with all the brush that comes up."
She said that a "better maintenance schedule" would help. "The government needs to employ local people to do prescribed burns at the proper times of year—November—" as well as reduce brush, etc., she explained.
Local groups, she said, like the Mid Klamath Watershed Council and the Karuk tribe "have been developing a new paradigm for bringing this area back…" into a natural balance. "This, Terence noted, "is a huge job. The Forest Service is slow to change but the Salmon River Restoration Council and the Mid Klamath Fire Council are trying to provide a model for the Forest Service to change the institutional approach." The former mentioned groups have been working, she said, with private landowners to demonstrate how prescribed burns and fuel reduction can reduce the worst of fire danger and restore balance to the forests.
Nonetheless, in spite of differences in opinion, Terence said, the Forest Service is being extremely helpful in the current crisis as the Butler Fire continues to swallow land near their homes. "We're very grateful for the collaborative approach we've encountered," she said. "We've been having nightly meetings …There has been good listening on both sides. They've been refreshingly honest and refreshingly willing to listen and collaborate. We are hoping this incident might be a model for community folk and incident folk to work together as these incidents have become the new normal in these forests."
Her neighbors, said Terence, have been an incredible help. "There have been like 40 people from the community everyday being food, bringing tools. I feel overwhelmed with gratitude and proud of the heart of this community."
"We're confident, said Terence about the approaching fire. "We have several pumps set up in the creek… . We have a lot of organization in our little community. We have people manning the pumps. We don't have enough engines to be at each house so the community fork will be at each house putting out spot fires." She believes that the meetings between the Forest Service and the community have been vital in creating respect and trust. "We have very good support and rapport with the incident command team… . We are respecting the incident command team's authority."
UPDATED 11:35 A.M. with a video of the Forest Service handcrews working as smoke from Butler fire rises in the background. (Video from NorthCal Team Two Incident Management Team.)
Previously: