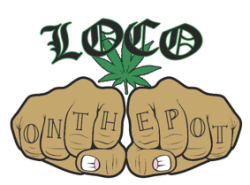 The Emerald Cup is so over, but all the dabs I did are still wearing off. So your second round of LoCO-OTP coverage is coming to you a bit late. I figured you wouldn't mind, since Outpost readers are so damn chill. Totes.
Right, so between judging concentrates and smoking hella dabs at the event last weekend, I got my fill of the Emerald Cup festivities and then some.
But thankfully, I had Bobarazzi with me, and he was coherent enough to get some killer photos on Sunday (Dec. 15th). Please, get your scroll on and check out that which was so stoney.
If you don't know, Bobarazzi is Bob Doran, Humboldt County's legendarily ultrahip writer/photographer. Now you know. Last Sunday's LoCO On The Pot column featured Bobarazzi's photos from Saturday (Dec. 14th) at the Cup. You can check out more of Bobarazzi's pics on his Facebook page.
The second day of the Cup's main event was packed. Awards were given, panels were held, dabs were done. It was a success. Canna-business people networked and showcased, and plain old lovers of all-that-is-marijuana were out-and-proud.
David Downs at the Smell the Truth blog was there and he paid attention. His coverage features a list of the top ten flowers in his Emerald Cup competition. Check it out here.
Top three flowers: Some dude from Monterey won first place with his Lemon Skunk weed. Sonoma County Collective took second place with their Cherry Cola. And a strain called Mean Gene Cherry Limeade took third. Congrats!
As for the hash, a crew called Boo Boo's Bubble took both first and second place for their killer product. The first-place hash was made from Eddy Lepp OG Kush and the second place hash was made from Girl Scout Cookies. (Personally, I think the Girl Scout Cookies hash was the best.)
I managed to catch two panels — one on curing and drying with Kevin Jodrey and Ed Rosenthal. That was legit. However, the Better Business Practices panel was comprised of only men. That's super weak sauce, in my opinion. This panel was disappointing not only for the fact that there were zero women, but also because the men seemed arrogant and unconcerned with the topic at hand. Three of five of them just spewed what I perceived to be politicized talking points and only one spoke to creating better businesses. I was not impressed.
Seriously though, the Cup was pretty much a brodeo (that's like "rodeo," but brodeo). Plus there was a maj cliche factor going on — this awkward collision of stereotypical stoners and normalish business people. But that's how it's gonna be in this era of quasi-almost-legalization.
Overall though, as far as I can tell, the event went off without any major probs and it was pretty damn fun until I did two too many dab rips. (I blame the "nectar collector.") Kudos to the Em Cup crew for their success last weekend.
One last noteworthy item: A dabs user was made to look fairly glamorous on the front cover of last Sunday's Santa Rosa Press-Democrat print edition. Read the article online here. Will the Em Cup keep dabs out of the competition next year…? They certainly couldn't keep dabs out of the main event.
'Nuff said. Let's get to these photos.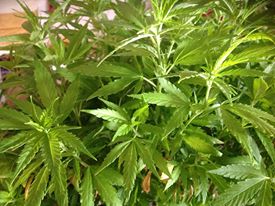 1. We went to the Emerald Cup and we saw green.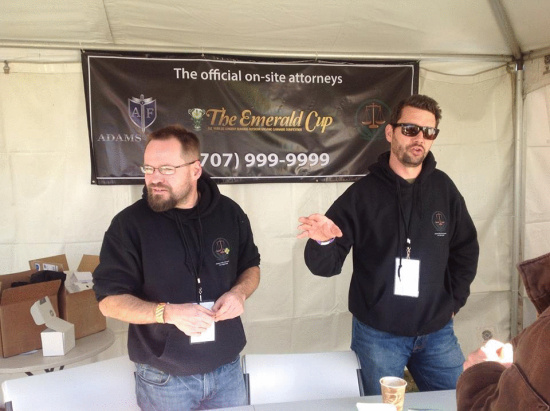 2. The Emerald Cup's official on-site attorneys.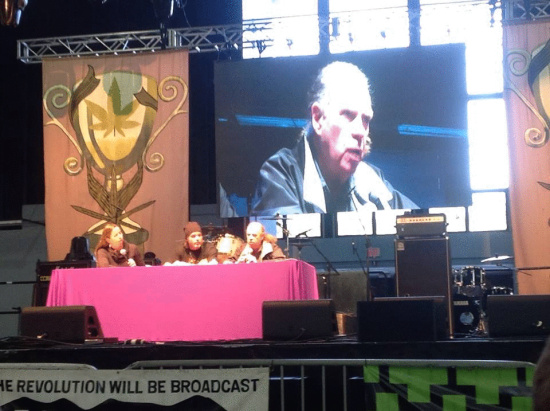 3. Humboldt peeps on Bud Curing panel. That's Kristin Nevedal of the Emerald Growers Association on the left, Kevin Jodrey of Garberville Grass in the middle and the legendary grow-master Ed Rosenthal on the right.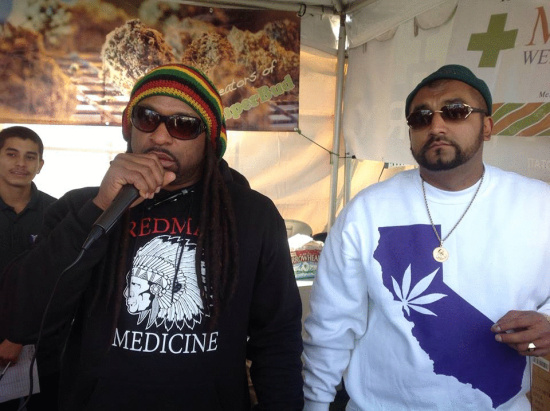 4. Redman Medicine man.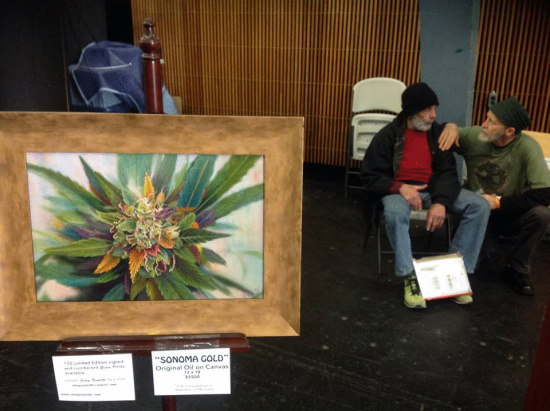 5. Rad weed art.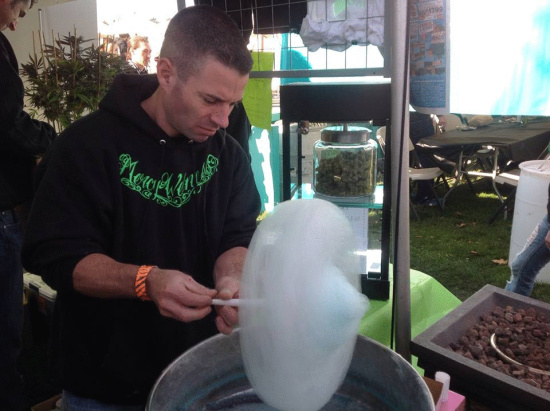 6. Cannabis cotton candy.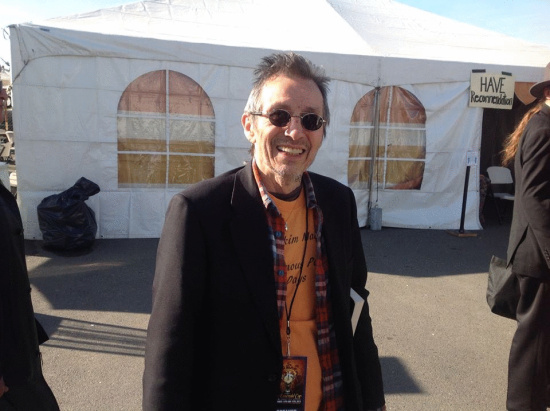 7. John Trudell performed at the Cup.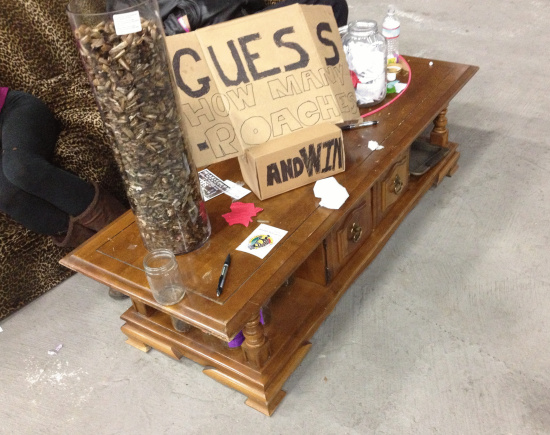 8. Stereotypical stoners — the guess-how-many-roaches-in-the-jar table.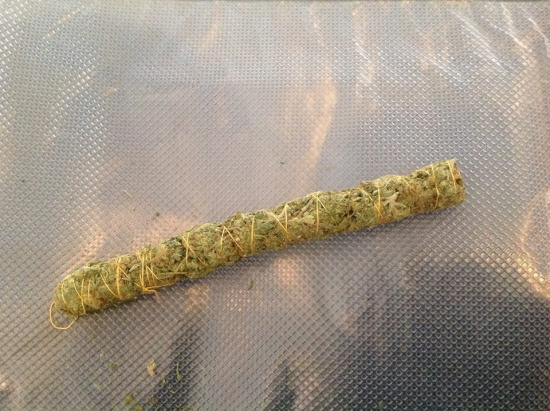 9. Somebody made a Thai stick out of their Blue Dream. Charming.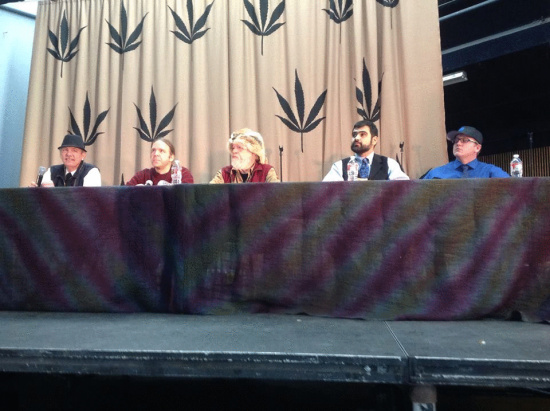 10. The Better Business Practices panel. From the left: Steve DeAngelo from Harborside Health Center, Forrest Landry from Magic-Flight Manufacturing, Grandaddy Mike of Escential Oils, Robert Jacob the mayor of Sebastopol and Asa Schaffer of the Sonoma County Collective. Zero women on this panel. Again, I say lame.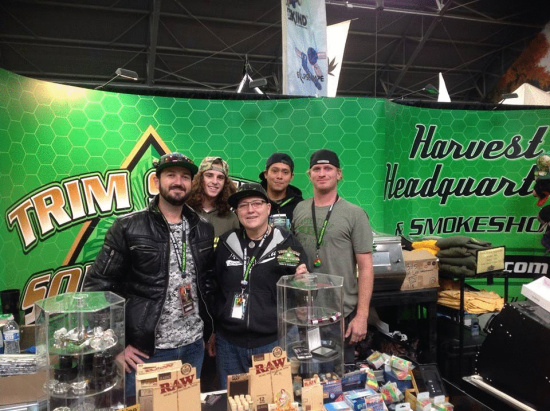 11. The Trim Scene Solutions crew out of SoHum.
12. Brave McKayla bravely poses for a picture by a woman with wild hair.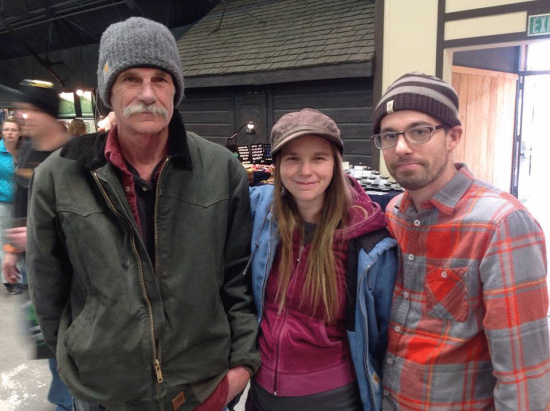 13. More Humboldt peeps. That's Pete Ciotti and fam.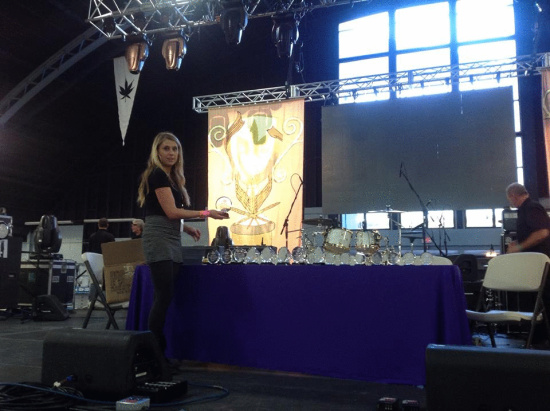 14. Tim Blake's daughter Taylor setting up awards before the ceremony.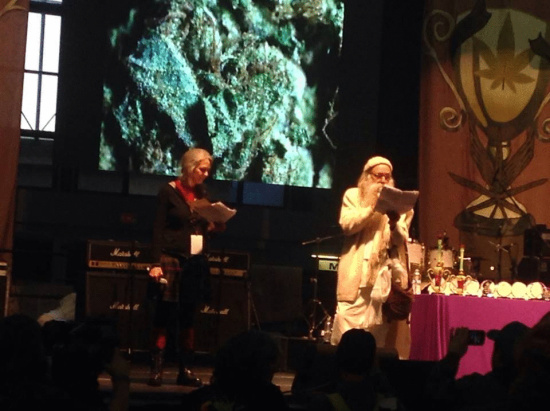 15. Nikki and Swami talk about the flowers competition during the awards ceremony.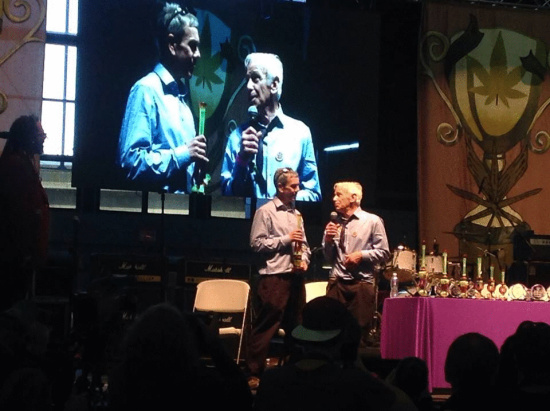 16. Dennis Peron on the right. He received a lifetime achievement award and he got married at the Cup yesterday.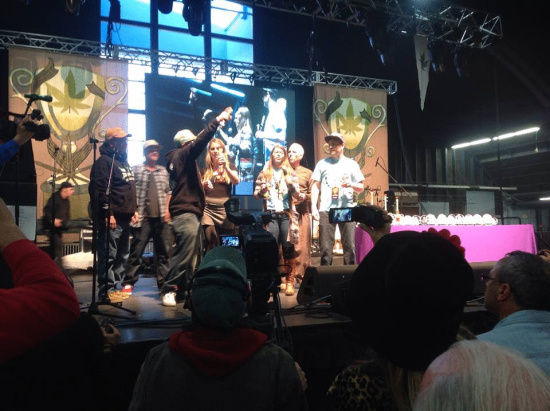 17. The crew that won the hash contest claiming their prize. Actually, they took both first and second place. That's Boo Boo's Bubble. The winning strain is Eddy Lepp OG and the second place strain is Girl Scout Cookies.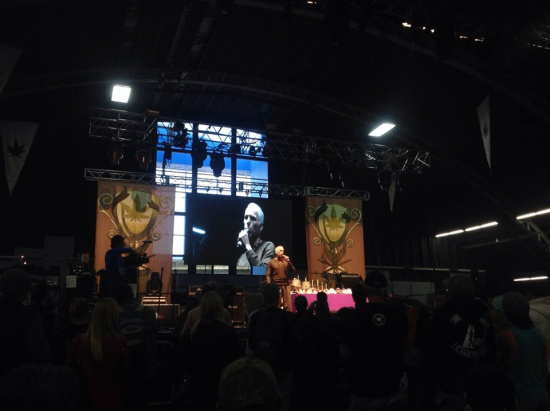 18. Tim Blake on stage during the awards ceremony.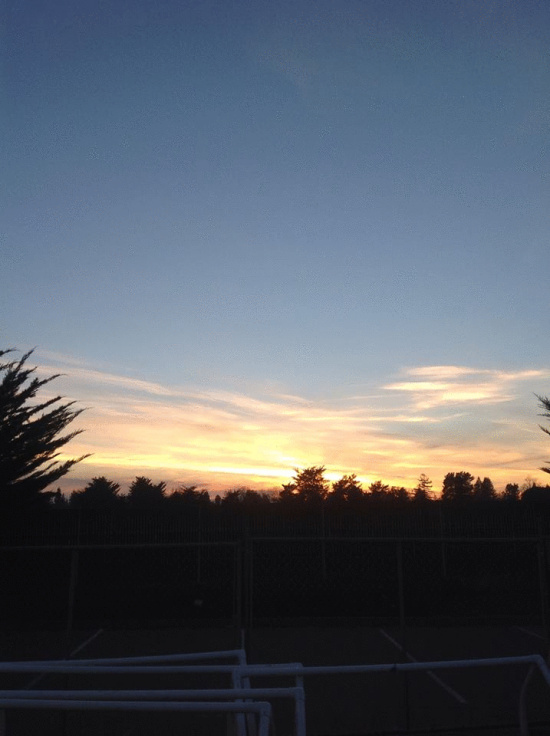 19. The horizon was the only calm, clear place in sight last Sunday.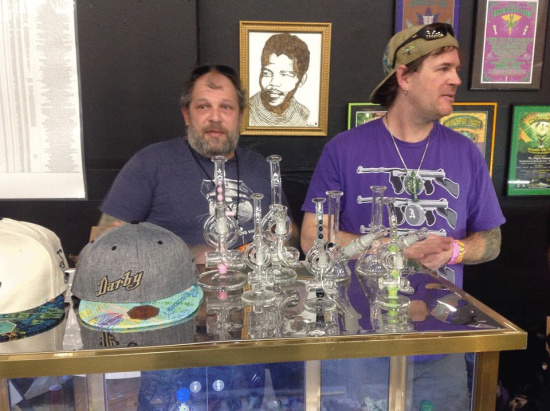 20. Darby Holmes made the Em Cup trophies. That's him on the right.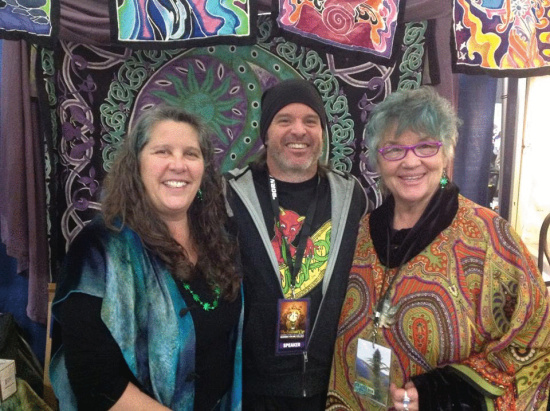 21. Kevin Jodrey from Garberville Grass with the Bud Sisters, Pearl Moon and Joyce Centofanti. Both Kevin and Pearl were flowers judges.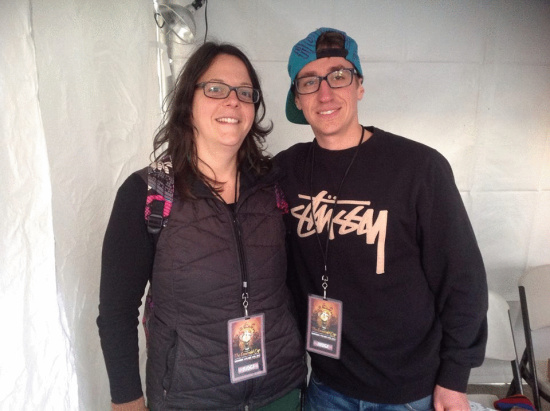 22. We are concentrate judges and we wear glasses. That's me on the left and Mike from Santa Cruz on the right.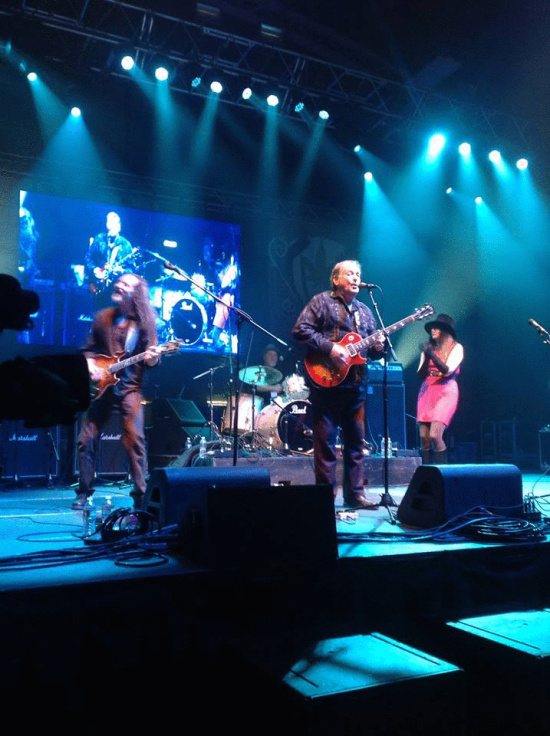 23. Bobarazzi caught the start of Big Brother and the Holding Company's performance.