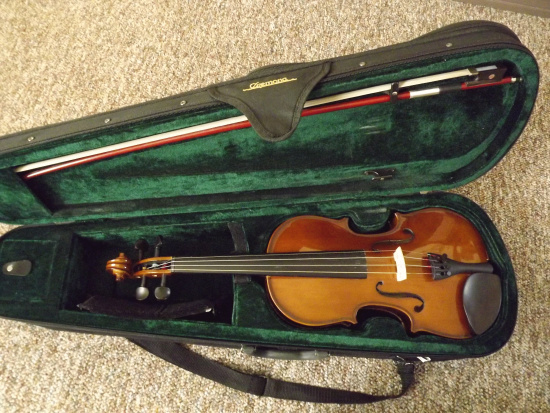 The violin before it was stolen. (Photo provided by previous owner.)
On Christmas Eve, Debby Whitmire wrapped the keys to her car in a box with a note that told her 16-year-old daughter, Rachelle, to look in the vehicle's trunk. Rachelle had just graduated from high school a few days before and Whitmire felt she deserved a special present. "She plays the guitar and the ukulele and the piano," Whitmire explained. "…She is a musical kind of girl that wanted to learn how to play the violin."
Whitmire had lucked into a violin in beautiful shape at a price she could afford. "I found an awesome deal on Craigslist and snapped it up," she said. Then she had to find a place to keep it. The shape would give it away if she wrapped it and put it beneath the tree.
"I had it in the trunk of my car," she said, "because it is one of those gifts that is pretty obvious."
On Christmas morning, Rachelle waited as instructed to open the small box last. When she got the note and the keys, everyone followed her out to the car. Whitmere described the excitement building as Rachelle opened the trunk. She said that everyone couldn't wait to see Rachelle's face.
"It was a great expression… just not the one we expected," Whitmere said sadly. The violin was gone. A look into the front of the car confirmed that the vehicle had been searched.
Whitmere is not exactly sure what happened. She thinks that she must have accidentally left the car unlocked and someone rummaged through the car, opened the trunk, and stole the precious gift.
"I started crying. She was crying because I was upset," Whitmere's said softly.
Yesterday morning, the day after Christmas, Whitmere got a call from a person in her neighborhood who had found a piece of her mail probably taken from her car a couple blocks away. That person told Whitmere that their car which was across the street from where the mail had been found had also been gone through—though that incident happened on Christmas night instead of Christmas Eve.
Whitmere says several neighbors have had problems with their cars being broken into. She wants to let the community know about the situation. "To bring attention to the fact in Pine Hill where I live that if you leave your vehicle unlocked, someone will riffle through your stuff."
Lt. Knight of the Humboldt County Sheriff's Office says that thefts from vehicles are a countywide issue.
Later, Whitmere made her rounds to the music and pawn shops asking to be contacted if someone tried to bring in the violin. She wants to do everything she can to be sure the thief or thieves are found.
"They stole my girl's present," she explained. She hopes [a] violin can be found somehow. "I can't just go replace it. We're not a rich family."
She reported the incident to the Humboldt County Sheriff but she wants to know if anyone in the area has security cameras, could they check the tapes for Christmas Eve and Christmas night for suspicious activity? If they find out anything, they can contact the Sheriff's Department at 445 7251.