It's true. I am on the front lines of marijuana as a concentrates judge for the 2013 Emerald Cup. That's right, I am taking one for team LoCO. Actually, if we're talking in terms of hits, I'm not just taking one for team LoCO. I'm taking many.
Ladies and gentlemen, welcome to the hash-zone.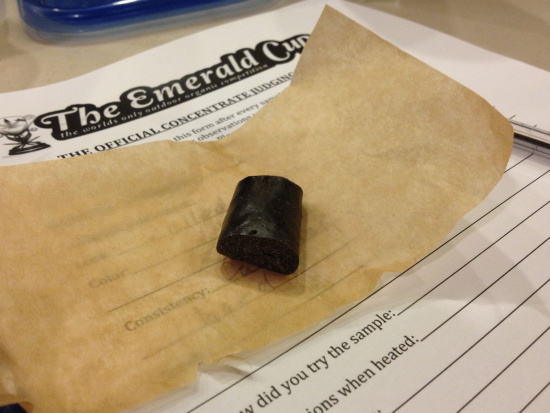 The Emerald Cup is the world's longest running outdoor organic cannabis competition. This year is the Cup's tenth anniversary. Winners of the Cup's various contests will be announced at the main event on Dec. 14-15th at Sonoma County Fairgrounds in Santa Rosa.
Everyone that is West Coast weed will be there.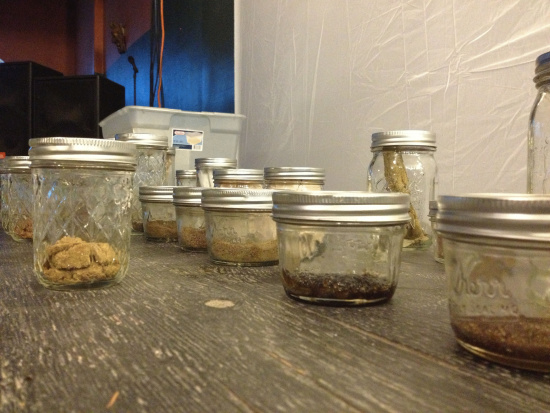 Who makes the best solvent-free hash in the land? Let me get back to you on that.
Entries for the Cup's hash and flower competitions were accepted throughout the month of November at various drop off points throughout a broad swath of the state. Check out LoCO - OTP coverage from November here.
Emerald Cup organizers received 257 flower entries and 57 hash entries for their 2013 event.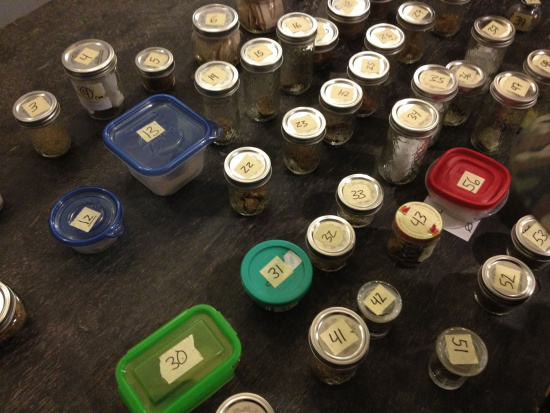 There are 57 hash entries in the Emerald Cup's concentrates competition.
I am the sole woman-in-cannabis and sole marijuana reporter on the hash judges' panel and one of only two Humboldt residents. The other Humboldt rep is Mr. Joey Burger, SoHum superstar and owner of Trim Scene Solutions in Redway. The remaining fellows are connoisseurs from Santa Cruz, industry pros from Sonoma and one seriously "old school" hash-maker from Mendo.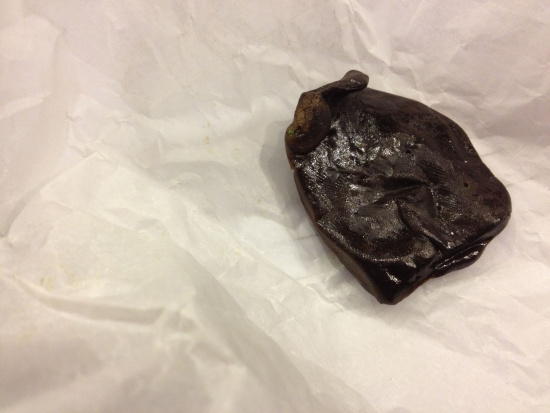 Hash patty.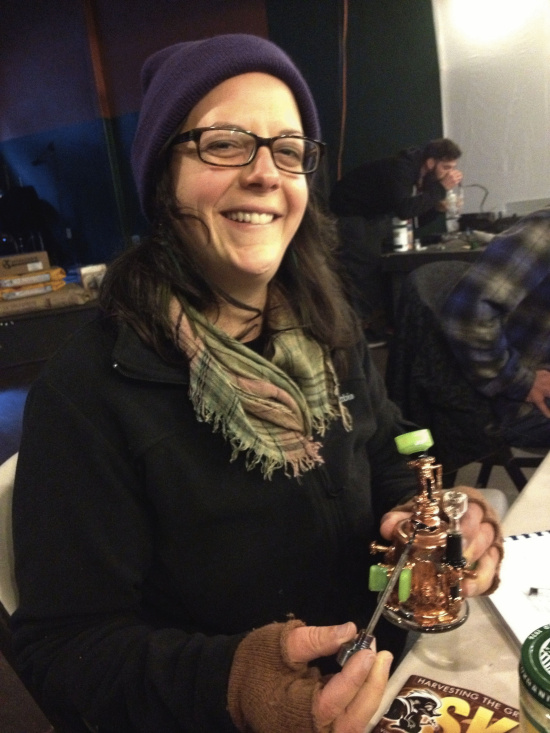 Our team of seven judges got together last Wednesday at Area 101 in northern Mendo to check out the entries. And as a team, we did a preliminary evaluation of all 54 hash samples. (Note: Three of the concentrate entries are being evaluated separately for CBD content.)
At the meeting, we sat around a table and passed jars and tubs of hash around, looking, smelling, feeling and even tasting some of the more stunning samples right then and there.
[Right: That's me at Area 101, exercising my rights, looking presidential. The rig in my hand is a copper recycler by Snic Barnes with a quartz nail by Aaron Vigil. (Vigil will be at the cup.) Photo by Joey Burger.]
From sparkly fairy hash and bee pollen-ish crumbles to twisty ropes of old school hash and dab-like wonders of caramel goop; from coppery piles of kief to pumice stone-esque army green hash cookies; from hockey pucks to peace pellets; from tootsie rolls to cocoa crispies… We evaluated hash.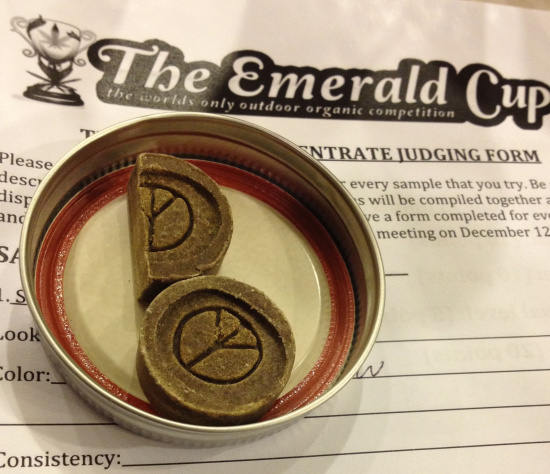 Peace cakes.
And I am still evaluating hash… Oh sweet cannabis, we are taking about a week to evaluate the hash samples on our own time. The judging criteria are look/color, smell, taste, residual level (what gets left behind in your smoking device) and effects. We assign a numerical score to each criterion after studying each sample.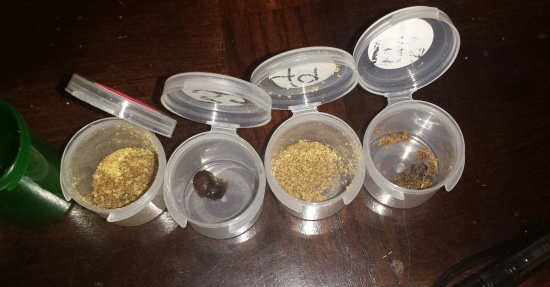 Hash samples at home. Photo by Joey Burger.
The quality of the hash depends on the quality of the material that the hash is made from. Did the hash-maker use bud to make the hash, or did they use trim? Did the hash-maker use a well-refined technique? Is their method gentle enough to preserve the trichomes yet rigorous enough to separate the trichomes from the plant material? Is the hash tasty and are its effects both powerful and pleasant?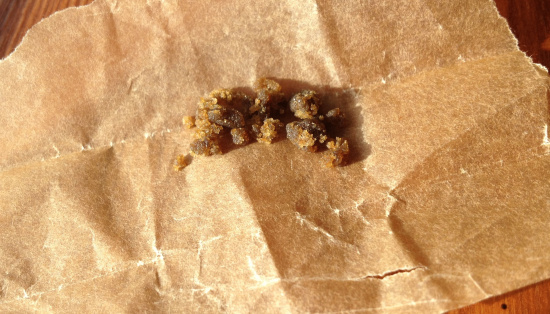 Each hash sample is evaluated on its look/color, smell, taste, residual level and effects. This sample sparkles.
But the initial judges' meeting last week was a blast. I learned so much at this gathering of pros. Tim Blake was in the house, mesmerized by the fervor of our judge's panel. Kellie Dodd from Trim Scene Solutions/707 Cannabis College was there too. She kept everybody in check with her encyclopedic knowledge of all things cannabis.
There was talk of terpenes and flavonoids, of Diesels and OGs, Trainwreck and Cookies. There was talk of freezing whole plants, of trim machine hash and of washing machine hash, of wooden spoons and bubble bags. There was talk of water — dry ice, cold water, water quality and of the sheer amount of water required for certain hash-making methods.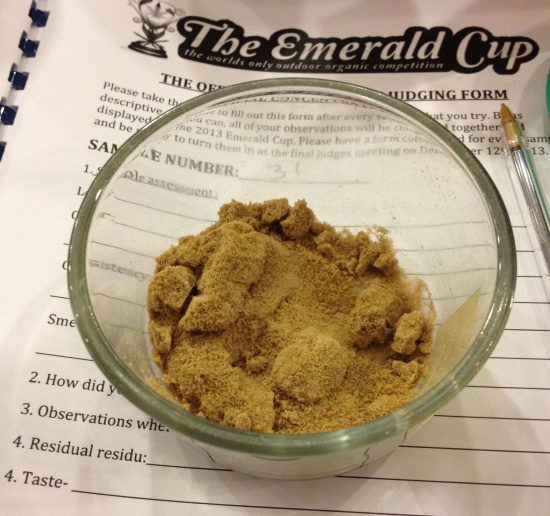 Some California blonde. What do you think?
And, of course, there was talk of the merits of solvent-free hash versus those of butane hash oil (BHO) a.k.a. "dabs." The Emerald Cup is not hosting a super-concentrates (solvent-derived concentrates) competition this year. However, there will be a panel discussion called "DABS: Why the controversy?" at the main event.
While solvent-free hash may not be as glamorous or as shiny as dabs (shatter, BHO), some of these samples really do stand out. I'm personally loving all of this earthy hash, especially sample #6. It's a spacey spongey hash cookie that's light and fluffy, yet tacky and malleable. It sparkles. There was much discussion at the table about how this sample was made.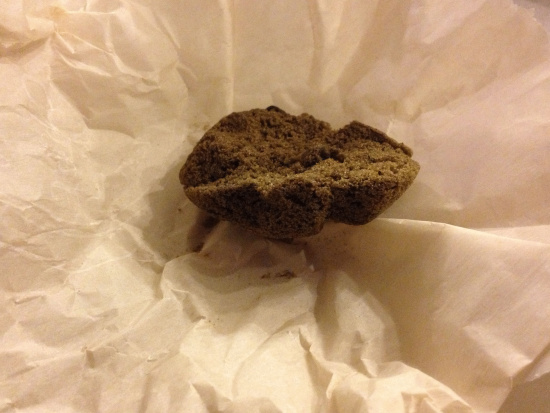 This hash cookie is light, like pumice, and sticky and fluffy too. I like it.
Samples #20 and #21 stand out too. Both are quite similar, probably made by the same person. They are chocolatey brown, goopy specimens, settled snuggly in their squat, wide-mouthed mason jars. The surfaces of the samples are frothy, whipped and merengue-like. The consistency of the hash makes it easy to work with. And the effects of #20… That shit is good.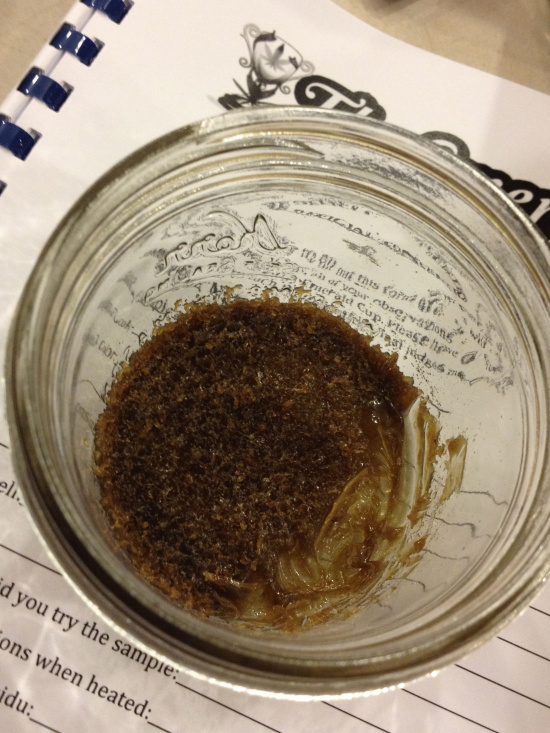 Goopy hash with an intricate laciness on top.
Just in terms of appearance and texture, the variety of hash is mind-boggling. The shades range from hulk and army greens, to mustard, blonde, fawn and mocha. There are matte, shiny, crumbly and sticky entries. There is powder and there is goop. There are nibs and there are pattys. Sample #57 is sparkly and bedazzling.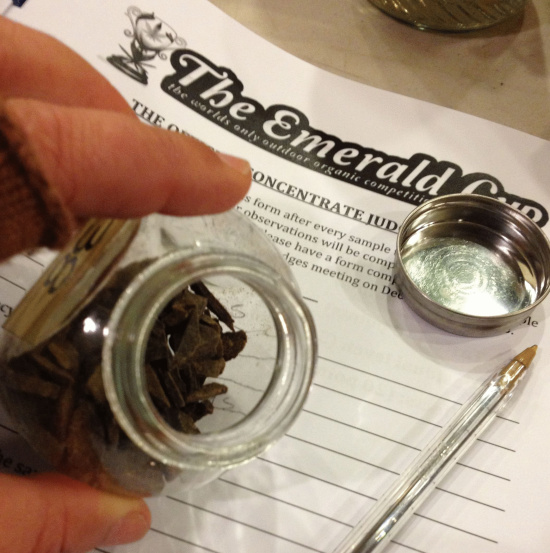 Hash akin to cacao nibs.
The smells and flavors vary greatly too, from piney to citrusy, from sweet to dirty, from sour to musky. I'm catching hints of grape, lemon, vanilla, laurel, sage, grapefruit and lavender. It's all about the flavonoids and terpenoids, man. The smells and flavors of hash are no less complex than those of California wines. Cannabis is amazing.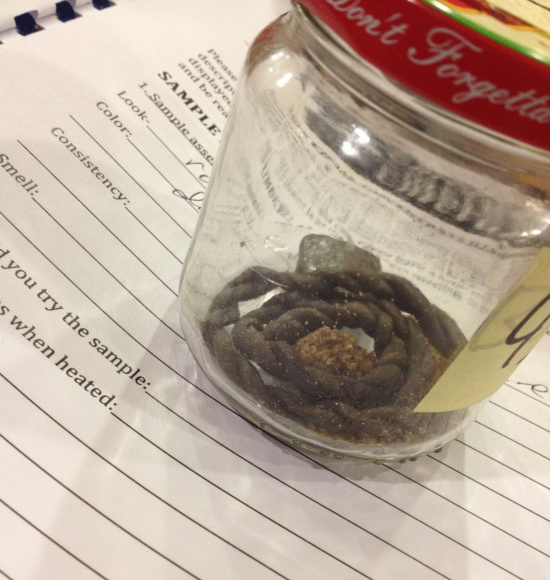 Check this presentation. A dabs sample would probably blow this hash away in the looks department.
For my home testing, I am using a Launch Box Vaporizer from Magic-Flight. The vape is incredibly handy for evaluating taste and residual levels. I work for Magic-Flight, and they were kind enough to hook me up for my hash judging duties with a walnut kit with Metatron's Cube laser etched in the lid, plus a power adapter and concentrate trays. I am set up for success.
I'm also testing with a scientific oil rig with a honeycomb percolator from Trim Scene Solutions. Burger leant it to me because he's cool like that. I heat the quartz nail on the rig with a propane torch, and in this way I can sample the hash with water filtration. Such rigs are the standard for smoking dabs. They work just fine for solvent-free hash too. Thanks, Burger.
Dabs v. hash: That's a piece of shatter on the left and some solvent-free hash on the right.
Look for Emerald Cup Coverage here on OTP next week. I'll be sure to let you know who wins the hash contest. KMUD is streaming live from the event too. Check this link for the deets.
It's gonna be a medicinally good time. See you there!