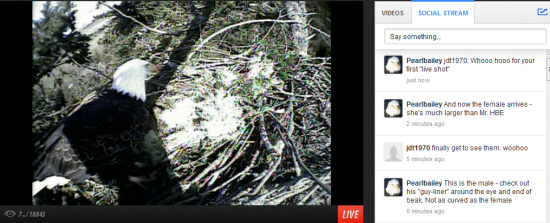 Screenshot from the Humboldt Bay Eagle Webcam Ustream page.
A camera has been set up that allows viewing of an eagle's nest somewhere on Humboldt Bay. As of 11 A.M. today there are two eagles preening their nest. By the time the screen shot was taken there was only one on the nest. A video both male and female eagles taken on the 18th can be seen here.
The camera was hung this winter while the birds were gone. The eagles have their own Facebook page with shots gleaned from the live stream. This is adjunct page to the Humboldt Wildlife Care Center. According to the site, the eagles
…are currently arranging sticks and lining the nest with what appears to be moss and lichen. Although there is currently no sound the pair seems to be vocalizing and staying in close contact with each other.
Follow the Eagle's Ustream Cam here and watch our local pair much more closely than could usually be seen live.