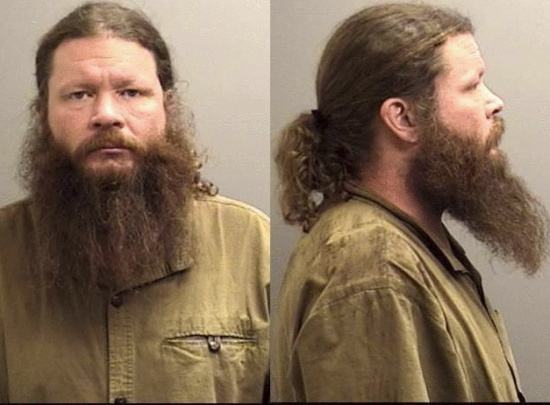 Lemuel Lee Verner age 43 of Fort Bragg
Mendocino County Sheriff Press Release:

On 01-11-2013 at 1735 hours a Mendocino County Deputy Sheriff was dispatched to the Mendocino Coast District Hospital to investigate a potential domestic violence incident.

Upon arrival the Deputy contacted the potential victim and witness to the incident that reportedly happened approximately 2 hours earlier at a residence located on Nameless Lane in Fort Bragg, California.

During the interviews the Deputy learned… Lemuel Lee Verner and the victim were involved in a romantic dating relationship. The Deputy learned the victim had sustained substantial injuries during the incident that required medical treatment.

Based upon the information collected the Deputy established probable cause to believe Verner had caused the victim's injuries.

Deputies responded to the couple's residence in an attempt to locate Verner and arrest him for domestic violence battery and for inflicting serious injury upon the victim.

When the Deputies arrived at the residence they were unable to locate Vern and a Stop & Arrest BOLO was issued as a result.

On 01-12-2013 at approximately 0800 hours Deputies returned to the residence again in an attempt to locate Verner to no avail.

On 01-12-2013 at 1205 hours Deputies received information that Verner was at the residence and began to respond with the assistance of officers from the California Highway Patrol (CHP).

Upon the Deputies arrival it was discovered Verner had left the residence in a white 2012 Ford Focus. The Deputies and CHP officers began a search of the area and located Verner driving on Ward Avenue.

A Deputy attempted a traffic stop of the vehicle but Verner sped northbound onto North Highway 1 in an attempt to elude the Deputy.

Deputies and CHP officers pursued Verner who at times reached speeds between 80-100 MPH while driving recklessly. At approximately Mile Post Marker 85 on North Highway 1 the pursuit was relinquished solely to the control of the CHP officers.

During the pursuit CHP officers were able to deploy a spike strip, which ultimately disabled Verner's vehicle near Mile Post Marker 101.5 near the town of Leggett.

Once the vehicle was disabled Verner fled on foot and CHP officers gave chase. Shortly thereafter the CHP Officers captured Verner and turned him over to Deputies who arrested him on the listed charges.

Verner was transported to the Mendocino County Jail where he was booked and held in lieu of $750,000.00 bail.