---
Longtime Ferndale Fair Manager Stuart Titus Out; Broadcaster Tag Wotherspoon Speaks Against Decision
---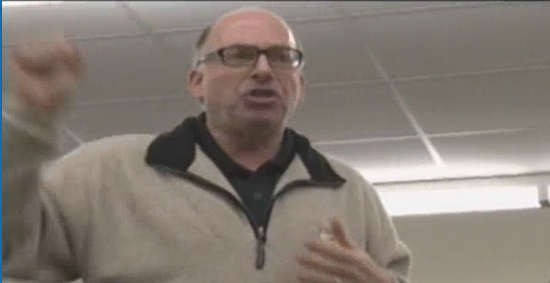 Tag Wotherspoon at last night's Fair Board meeting. Video here.
Last night, the Board of Directors of the Humboldt County Fair confirmed its decision not to renew the contract of longtime general manager Stuart Titus, who was recently elected mayor of Ferndale. The Ferndale Enterprise was on hand to report the decision:
22-yr Humboldt County Fair manager Stuart Titus out on 11-8 vote after 4 hr board mtg. Special mtg 2/4 to discuss how to find new manager.

— Ferndale Enterprise (@FrndEnterprise) January 29, 2013
Despite its recent technological setback, News Channel 3 was also on scene to capture last night's jam-packed and controversial meeting. The clip posted over on the KIEM website shows veteran Humboldt County sports broadcaster Tag Wotherspoon speaking passionately in favor of the board retaining Titus as the fair's general manager.
Earlier this morning, Wotherspoon, who wears many hats, spoke with your Lost Coast Outpost and KSLG's John Matthews about the board's drive to replace Titus — a drive he attributes, largely, to small-town political squabbles, especially concerning Titus' relationship to the muckraking Enterprise. Audio follows:
---
SHARE →
---
---