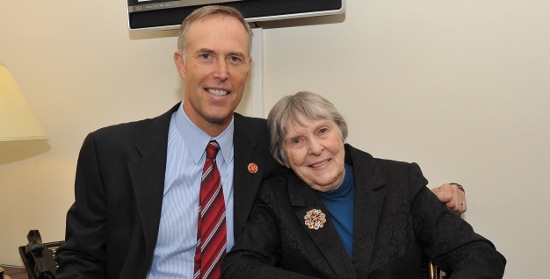 Rep. Jared Huffman and his mom at the congressman's swearing-in shindig.
Your Lost Coast Outpost was of divided mind back in the primaries — see here v. here — but we do not stint in congratulating Rep. Jared Huffman upon the occasion of his swearing-in as the North Coast's representative in the 113rd Congress. We're punting any lingering rage and bitterness down the field to … tomorrow, probably.
Several weeks ago, Huffman got news that he received his first-choice committee appointment. He'll serve on the House Resources Committee, which is probably the committee most directly relevant to Humboldt County citizens, and on which his past-life experience as the lead attorney for the Natural Resources Defense Council will serve him well.
Team Huffman press release follows:
Congressman Jared Huffman Sworn In To 113th Congress
WASHINGTON, DC- Newly elected Congressman Jared Huffman (D-San Rafael) was sworn in as a member of the 113th Congress on Thursday, January 3rd.

"I am looking forward to working with my new colleagues to solve problems and to get things done," said Huffman. "I'm mindful of the huge responsibility I'm undertaking, and I'm ready and excited to get to work on behalf of the great people of California's second district."

Congressman Huffman was joined at his swearing in event by his mother, two brothers, wife, and two children. In honor of the occasion, Jared hosted a reception and watch party with family and constituents from California's 2nd district in his Washington, DC office.

Congressman Huffman represents the 2nd district of California, which covers the North Bay and over 500 miles of coastline stretching from the Golden Gate Bridge to the Oregon border. Huffman was sworn in with a class of 67 new representatives: 29 Republicans and 38 Democrats.