Economic Fuel, the annual seed capital-providing competition for local aspiring student entrepreneurs, has run out of gas.
EF coordinator Rachel Callahan confirmed to your Lost Coast Outpost via email this morning that the program would not be funded for a 2014 contest. She spoke highly of the competition's impact on Humboldt and those who've competed.
"It's my hope that regardless of winning the award or not; competitors have benefitted from the experience and knowledge they've gained through writing their business plans, working with SBDC and our advisors and attending the workshops," Callahan said. "Winning or losing, the connections they've made are priceless."
In the past eight years the Economic Fuel competition has been held, Rob Arkley's Security National — the contest's financial backing — doled out roughly $930,000 in seed capital to young go-getters in Humboldt. In May of this year EF awarded its 2013 winners, including four $25,000 grand prize winning business proposals — plans for a jewelry manufacturer, an online apparel company, an organic farm and a dessert catering company.
See the complete gallery of 2013's winners, previous year's winners and learn more about the competition's legacy on the Economic Fuel website while it lasts.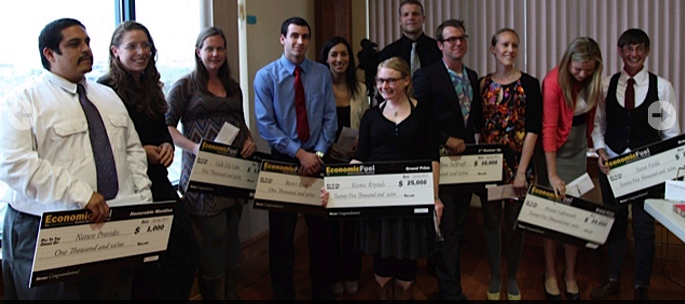 (Above: 2013 Economic Fuel winners receive their giant novelty checks at an awards ceremony at the Wharfinger Building in May.)