Rail haters now have a thousand million more reasons. Construction of an east-west railroad from Samoa to Redding is estimated to cost at least a billion dollars, according to a draft report commissioned by the Harbor District.
Significant bay dredging and harbor terminal modifications would be needed to support the amount of train traffic required to be financially viable, the report suggests. Of three routes proposed, the estimated costs range from $1080M to $1234M.
The Harbor District would not comment at this time.
Let's cut to the report's conclusion:
Rail service to Humboldt County will require a major investment, through either a new East- West rail alignment or through reconstruction of the former North-South line. In order for this investment to be financially feasible, the rail line will need to generate large volumes of cargo.

A rail line to Humboldt County would face strong competition from existing ports, primarily those on the U.S. West Coast. Humboldt County would face several competitive disadvantages relative to these other ports, including the need to cover the cost of constructing the new line, and the lack of a rail distance advantage.

In addition to the lack of rail infrastructure, waterborne exports of large volumes of bulk commodities (or containers) would likely require substantial investments in new cargo terminals. Also, the Humboldt navigation channel is not as deep as that at most of the competing ports, which would also require a substantial investment.

In conclusion, development of rail service to Humboldt County is likely to be both high cost and high risk.
This draft report was prepared for the Humboldt Bay Harbor, Recreation and Conservation District by BST Associates out of Washington and Burgel Rail Group in Portland, Oregon. Rumored to have cost $20,000, the report analyzes the different routes a train could use to get from Samoa to Redding.
One route basically goes through Blue Lake near Highway 299.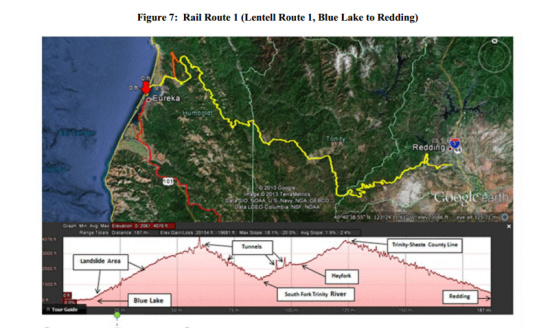 The second route heads over the hills at Alton.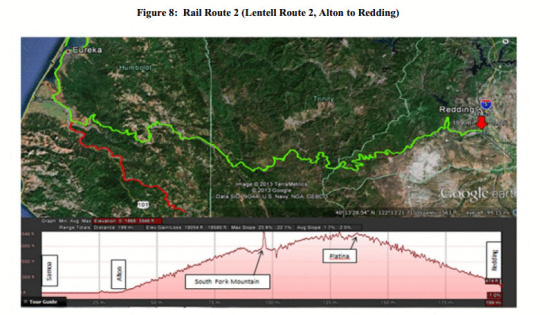 The third route takes advantage of the existing NWP alignment from Samoa and Eureka south to Fort Seward roughly 67 miles south of Eureka before climbing up and over to the valley.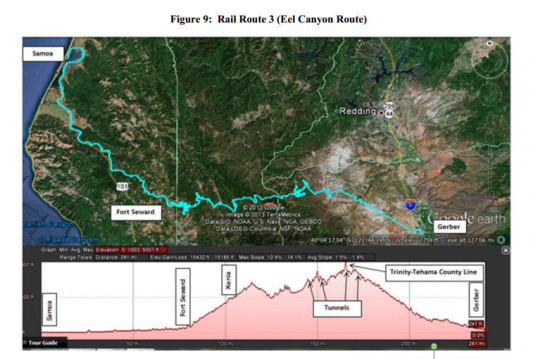 The report examines a broad swath of what it would take to make this rail real: grassland soil analysis, slope gradients, geologic concerns, competing ports, property rights, etc. Costs for environmental mitigation were not included, said the report.
To be financially viable, some estimates call for six trains per day coming and going out of Humboldt county.
A new or rebuilt rail line to Humboldt County is likely to require a large volume of cargo in order to cover capital costs. Based on previous analyses it is likely that local industry does not generate this volume of cargo. As a result, waterborne trade would be the most likely driver of demand for rail service.
The report studied potential cargo loads of coal, corn, wheat, potash, soda ash, and iron ore, as well as where the required volume would come from. Competition with other ports poses a financial risk. This draft report cites an earlier report done by the Drewry consulting firm.
In highlighting the risk of such an investment, this [Drewry] report concluded that "Under no foreseeable circumstances should Security National consider building a new container terminal at the port, without the prior contractual support of at least one shipping line, in the hope that 'the lines will come when it is built'".

The report also concluded that "The difficulty will lie in convincing the shipping lines that the Port of Humboldt Bay offers sufficient competitive advantages over Prince Rupert, Vancouver, Seattle, Tacoma, Portland and Oakland for it to fully support the project before construction commences."
The report also notes that dredging of the bay.
Humboldt Bay would likely need a deeper navigation channel to handle the numbers and sizes of ships needed to handle the estimated volume of cargo. Such a deepening project would likely be costly.