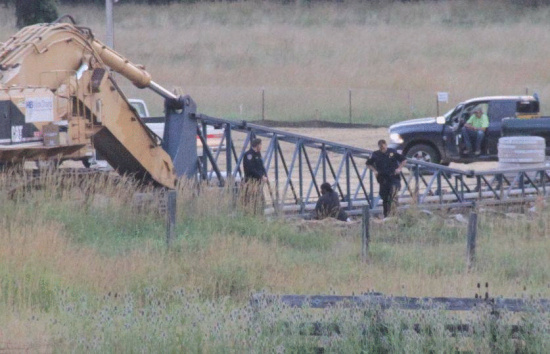 CHP officers guard a protester locked down to a machine on the Willits Bypass. (Photos from the EarthFirst Facebook Page.)
Two protesters—a man, Travis Jochimsen, and a woman known as Blue Heron—slipped past the California Highway Patrol early this morning and locked down to machines used to drain land in Mendocino County. They are trying to bring attention to the Willits Bypass which they believe is environmentally harmful. A credentialed photographer with the Willits News, Steve Eberhard Eberhart, has been arrested this morning at the scene of the lockdown.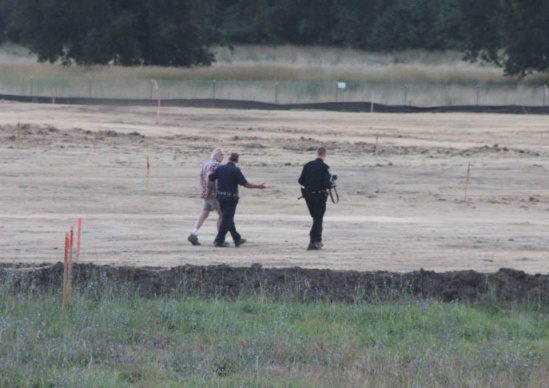 Photographer Steve Eberhard Eberhart being arrested by the CHP. An officer to the right is holding cameras. (Photos from the EarthFirst Facebook Page.)
According to Eberhard Eberhart's editor, Linda Williams, "We've contacted our legal staff and he'll be cited and released within the hour….I think." Williams says, "[Eberhard] was the only person arrested. He had credentials from the Mendocino County Sheriff's Office as well as our own credentials."
"This," she says, "is his first arrest…We're trying to get him out of jail. It is our number one priority and then get his cameras."
Caltrans spokesperson Phil Frisbie, Jr. explained that Eberhard Eberhart entered the Willits Bypass construction area at 5:30 A.M. along with about 15 protesters, and when CHP ordered them all to leave, the others left but he refused. Frisbie says that the group of protesters "…distracted the two CHP officers who were guarding two wick drain stitchers overnight. The distraction allowed two other [protesters] to attach themselves to the stitcher towers which had been lowered to the ground for the night."
According to Frisbie, "Steve knows that the media must have a [Caltrans'] escort to ensure their safety, and he could have left with the protestors and waited for a [Caltrans'] escort."
An activist site, Save Little Lake Valley, claims that Eberhard Eberhart was arrested "while waiting for his [Caltrans'] escort to arrive."
Rick Shreve, an activist against the Willits Bypass, reports that as of 10 A.M. the protesters are still locked down. He says the protesters are "trying to stop the draining of the wetlands…They are continuing to stop work on the Bypass."
Frisbie, however says, "We should be installing wick drains again tomorrow. Also, other work such as pile driving are continuing unaffected."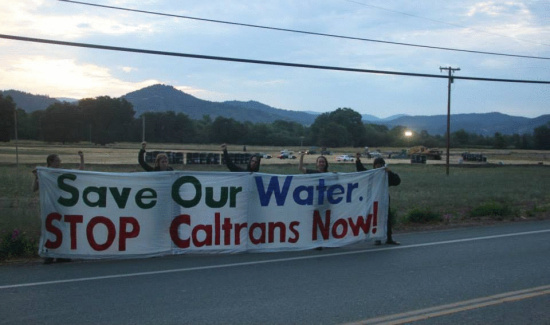 Protesters this morning at the Willits Bypass. (Photos from the EarthFirst Facebook Page.)
—————————————————————————————————————-
While every effort was made to ensure this story is unbiased, it should be noted that reporter Kym Kemp's father and grandfather worked for Caltrans and she is married to a Caltrans project manager.