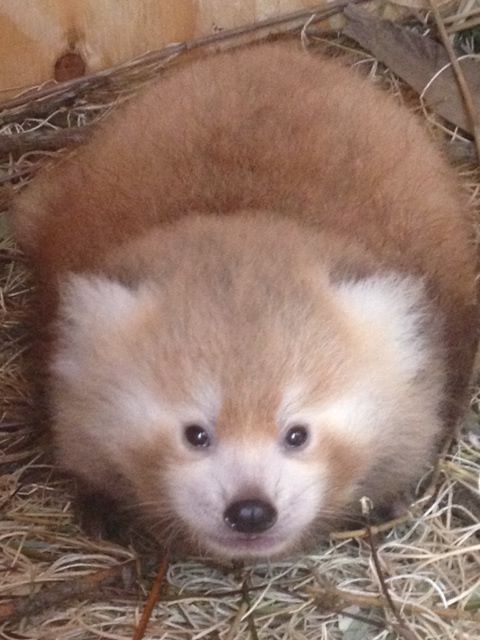 This is the moment all you pandamaniacs were waiting for … it's time to name the fuzzball. How could the zoo not cash in on this?
The Sequoia Park Zoo is — get ready for this! — raffling off the chance to forever brand the now five week old baby red panda in what ever horrible way you see fit. (OK, Humboldt! Meet Hitler the Panda!) Tickets are $10 a pop, or you can score six for $50. Even if you don't win, there are some other prizes at stake.
From the SPZ website:
First Prize: Choose the name for our female Red panda cub! Check the naming guidelines below for more information.
Second Prize: Help a zookeeper feed our adult Red pandas in their habitat. This is an incredible and unique zoo experience. (One person, age 6+; children between the ages of 6-10 must be accompanied by an adult).
Third Prize: Host your child's next birthday party at the zoo! Includes games, goody bags, snacks, barnyard chicken feeding, and an original painting by our very own Red pandas as a gift for the birthday child (ages 3+; 15 children max).
Oh, crap. It turns out there are naming guidelines. Looks like we will never really know adorable baby Hitler. Also from the zoo site:
Red Panda Naming Guidelines
Zoo-born red pandas are registered by name in an international studbook and are traded among accredited zoos for breeding purposes. Names for each animal reflect upon the zoo and community where the panda was born. Sequoia Park Zoo encourages entrants to consider place or ethnic names from wild panda habitat or a meaningful name associated with our community or culture. Zoo management will approve the final name.
All right, all you panda red fans. If you're feeling namey, go snatch up those tickets. You can get 'em at the zoo's ticket booth through Aug. 10. The drawing will be held at the annual Zootini on Aug. 13.
Or …
You can submit your name choice for free ('cuz "the economy") in the comment section below.