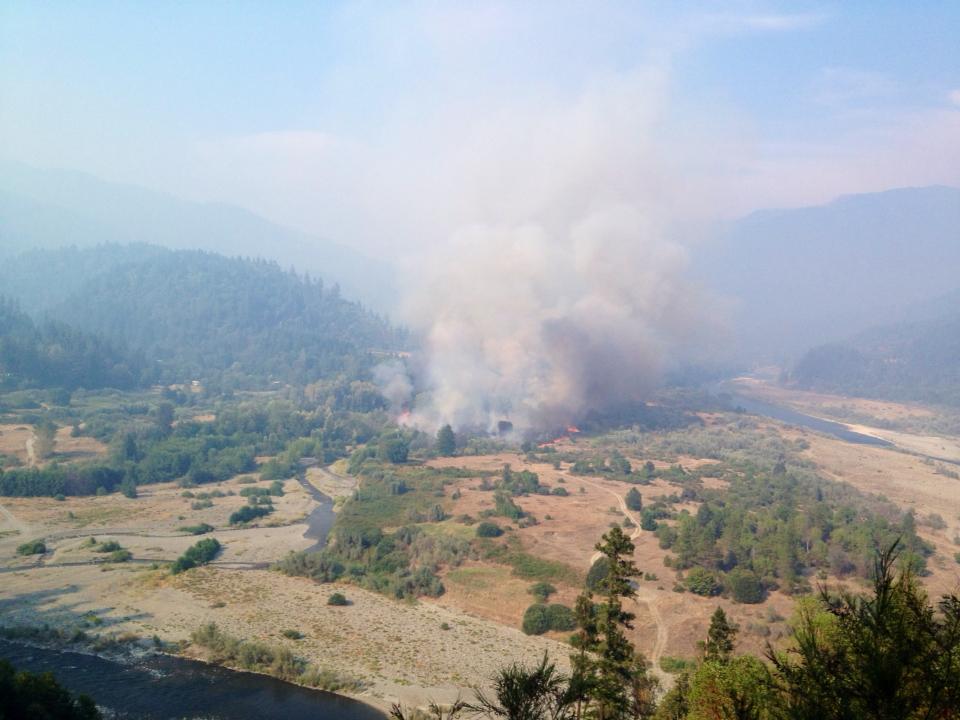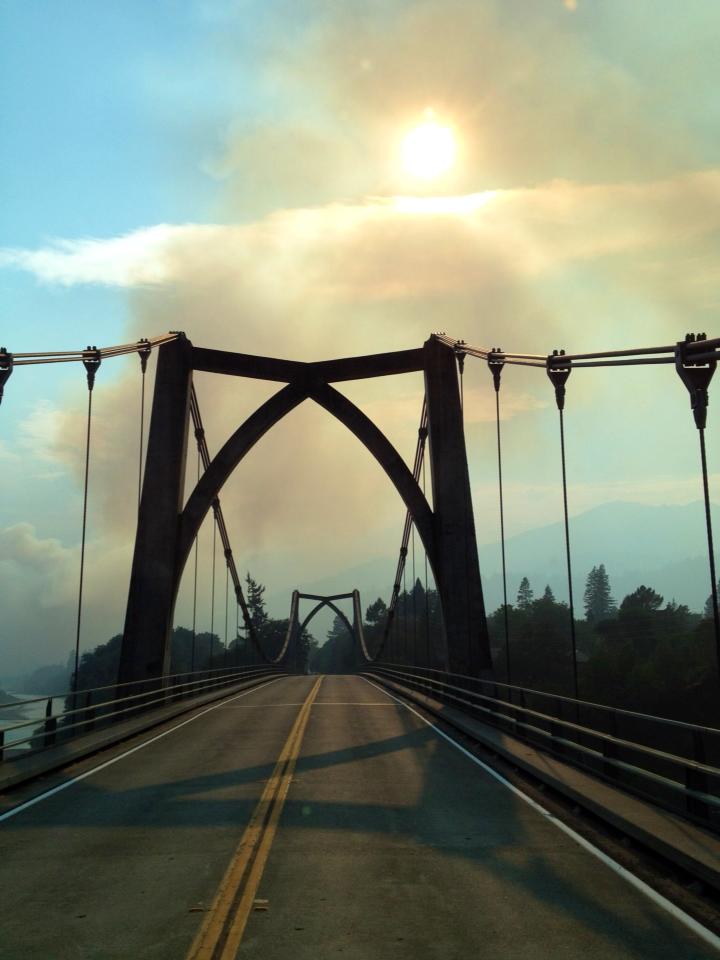 (Click photos to enlarge.)
The first photos from near the fire raging in Humboldt's isolated northeast region are finding their way onto social media. The following shots come from photographer/UPS driver Ken Malcomson whose regular work route takes him out toward Orleans. Obviously, yesterday was not a normal day.
We asked Ken to share a little bit about the shots he was able to snap and what he saw and heard:
The shot you see from an elevation was taken from Red Cap Road a bit after 5pm. I was heading back to Orleans proper; just 10 minutes before I'd passed that same spot and not noticed a fire so it blew up very quickly. Talked with evacuees at the Community Center and everyone agreed it had to be arson. The place it started, by the mouth of Camp Creek along the Klamath has no structures, no power lines and there was no lightning but the usual substantial afternoon wind so it seems certain to be human caused. Of course, it could've been an accidental cigarette … When I returned to Orleans to head back to Eureka, about 7 the roadblock had been in place for a while.

The fire had jumped the road and was heading into a large industrial property, a former mill, owned by local bigwig construction guy Tom Horn. It was also heading into the large tribal housing development on the west side of town. When I left last night I'd heard three homes had burned down. By 7 p.m. it was quickly proceeding into the steep slopes surrounding Orleans and tall firs were going up like fireworks. Forest devastation. People were quickly evacuated from Tribal Housing (about 32 homes) and several homes along Highway 96 heading into town from the west. Also homes along and above Camp Creek (about 20-25 houses).

I ran into the postmaster Charla King about 7:30 p.m. She had a niece, photo albums and "whatever I could grab" (not much) in her car and was anxiously heading for family away from the fire. Very little info was disseminated to the folks assembling at the Community Center, at least by 11 p.m. when I left. The power went out, main line burned through, probably around 7-ish.

The most dramatic moment was after dark, standing along the Klamath opposite downtown Orleans; fire was still raging at various places along the riverbank, glowing red on the river, moving into town center. In the hills and mountains above there were flare ups and big patches of glowing embers where the fire had already consumed forest and quickly moved upslope. There was a fire crew, about 30 guys, flashlights waving in the dark and dozens of chainsaws roaring , frantically trying to build a fire break in downtown. I knew houses were right there but in the dark I couldn't see whose was still standing. Pretty grim.
UPDATE: Two Residences Destroyed as Orleans' Fire Continues
PREVIOUSLY: Fire Closes Highway 96 Near Orelans, Evacuations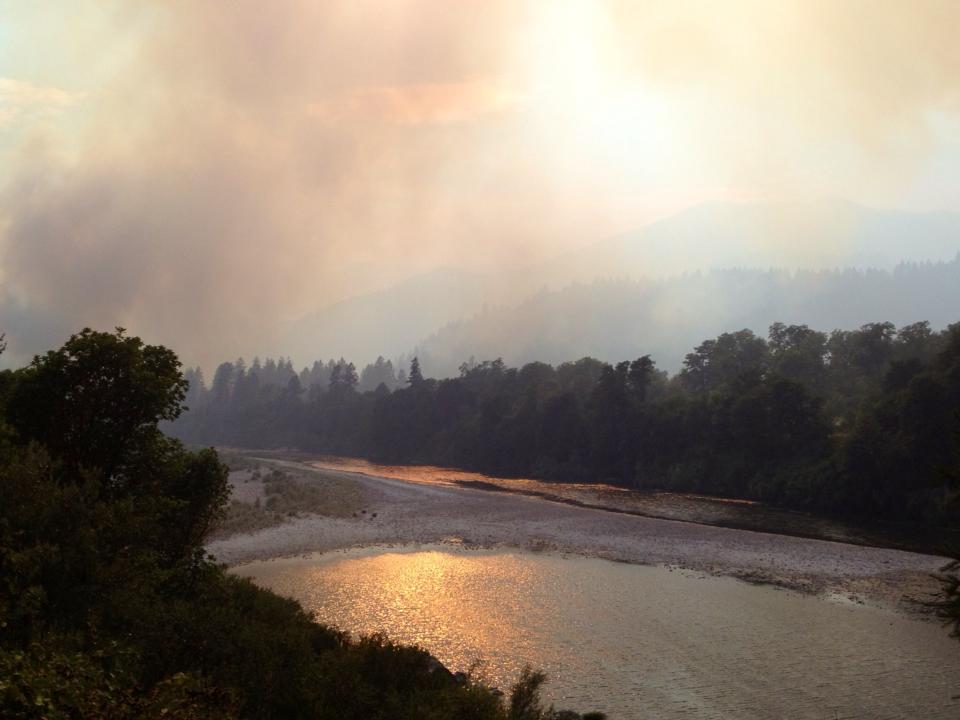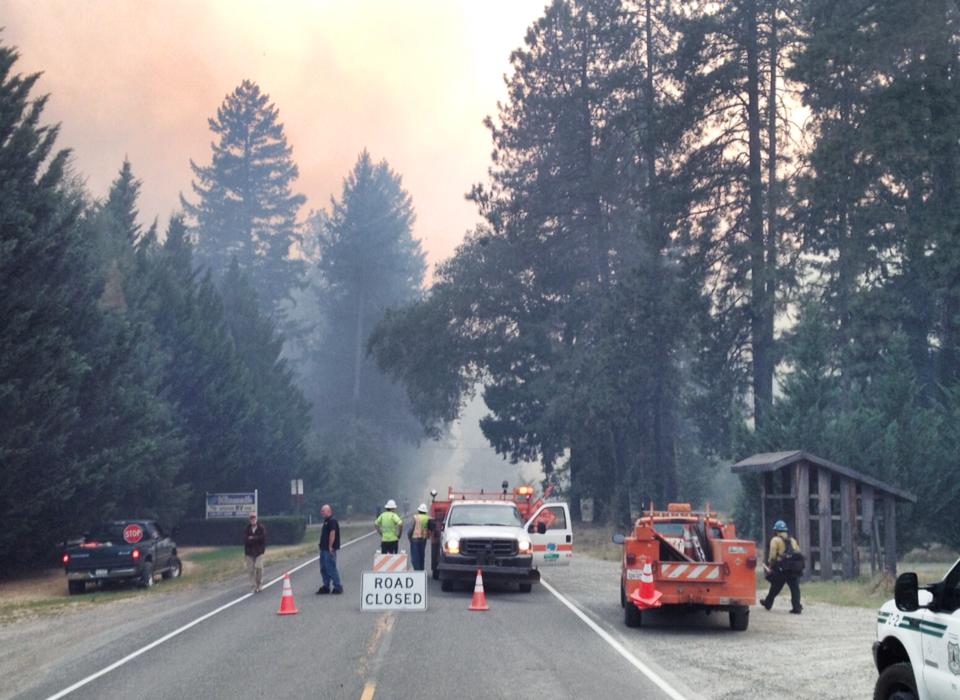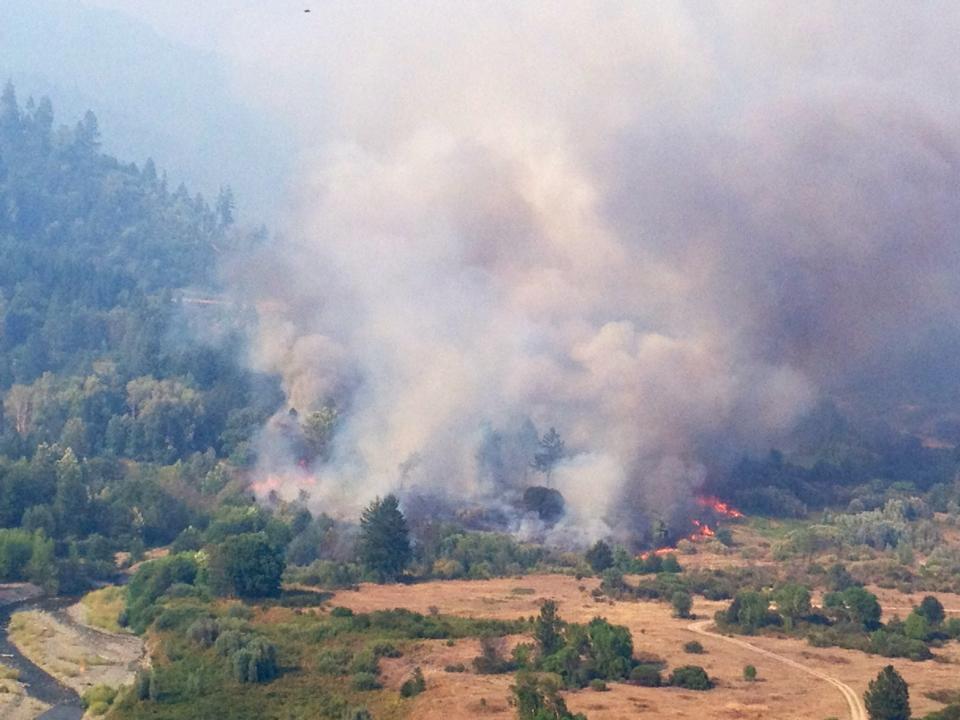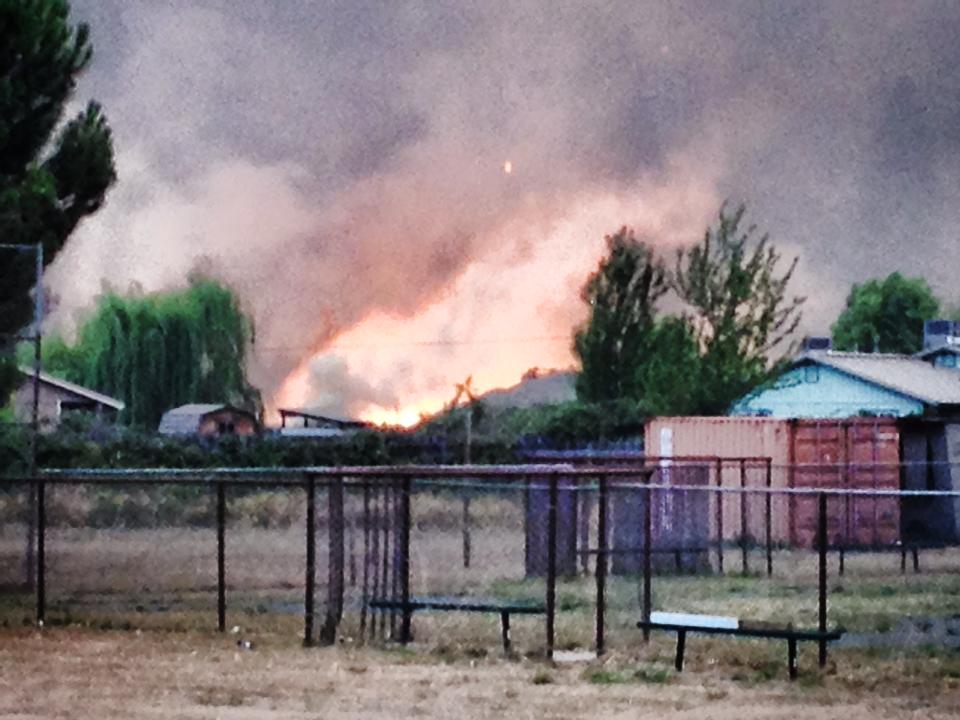 Above: The Tom Horn property from Orleans school.