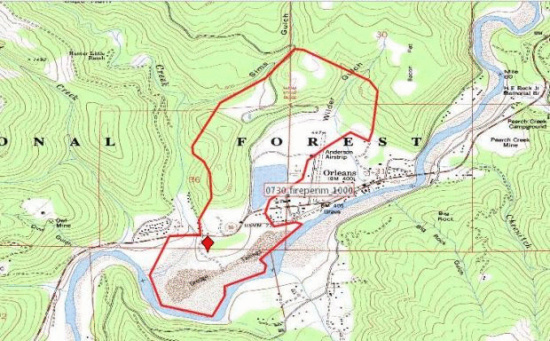 According to the federal Northern California Operations Center's News and Notes page, the Dance Fire, which broke out Monday near the town of Orleans, is:
650 acres, 60% contained. Fire is expected to have minimal growth through burn operations and is expected to remain within established containment lines. Evacuations remain in place and will be assessed for removal during day operations.
Adrienne Freeman, a public information officer for Norcal Interagency Incident Management Team 2 working at the scene, tells the Outpost that firefighters have a line around the fire, but that they'd like to strengthen some segments of that line before they call the Dance Fire 100 percent contained.
Freeman confirmed that evacuations will be lifted at 9 a.m. today.
Overall, Freeman sounded exuberant. "If you look, there are places right to the edge of propane tank," she said. "Right to the edge of a property. It was amazing firefighting last night."
There will be another public meeting on the fire tonight at 6 p.m. at the Karuk Department of Natural Resources Building — 39051 Highway 96, Orleans.
PREVIOUSLY: