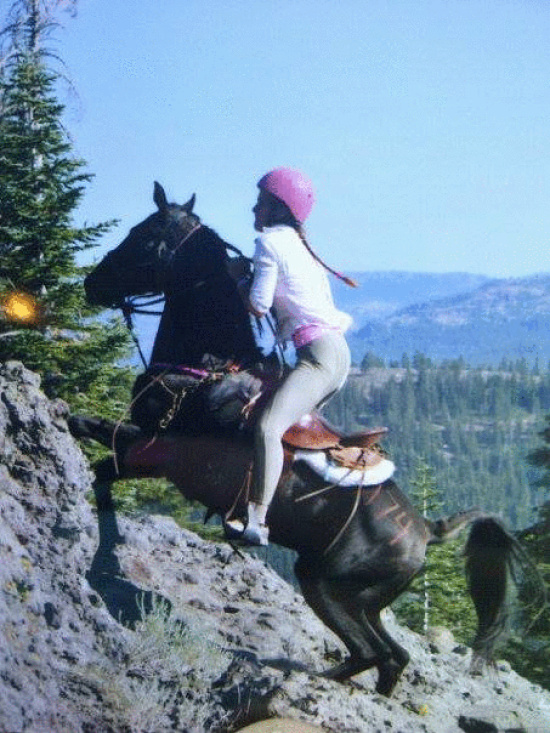 Going up Cougar Rock(Gore/Baylor Photography)
"You ride for 30 miles in the dark," explained thirty-one year old April Moore of Southern Humboldt about the Tevis Cup, a 100 mile endurance horse race she completed last week. "That's amazing… . You ride with a glow stick on your collar.. a headlamp for emergencies… . You put a lot of trust in your horse." In the end, she said when you've trained a lot with your horse and things get tough, "You drop your horse's reins and just let him bring you on home."
Moore was the only rider this year to complete the prestigious race riding a stallion. She finished 49th out of 161 riders (less than half of whom completed the race in the required 24 hours.) She started out at 5:30 A.M. on the 20th of July and rode through the night completing the race at 4:21 in the morning. Although the tradition of the Tevis Cup started with a Wendell Robie and his Arabian stallion Bandos, stallions entering the race are relatively rare. Even rarer are those that finish. This year Moore and DB Bey Barz were the only pair to succeed.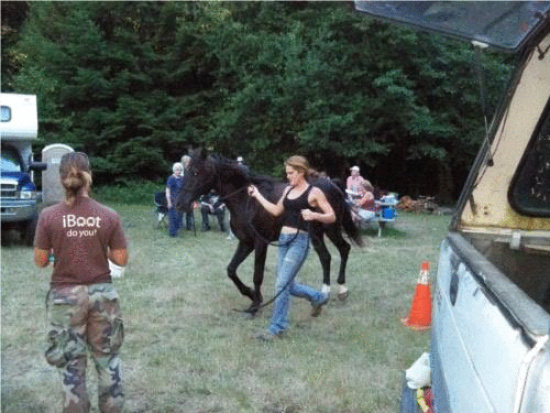 DB Bey Barz, an arabian stallion, shows no sign of exhaustion as he trots through a medical checkpoint with Moore during the race. (Photo by Audra Homicz)
This was Moore's third attempt at the prestigious event. People come from all over the world to participate and finishing the grueling event is considered a huge accomplishment. Temperatures this year reached over 110 degrees and Moore described competitors "dropping like flies, throwing up in trash cans" as they attempted to complete the ride.
In fact, on her first attempt at this ride 12 years ago, Moore herself "threw up and blacked out" after completing 70 miles in temperatures reaching 115 degrees. "My horse was fine," she said but the race medical personnel pulled her from the race. Her second attempt was a year or two later, she explained. "This time," she said, "I made it 30 miles… They say that there is a rock with your name on it, so try not to hit it. That year my horse hit it." Again she had to pull out of the race. This time with only 30 miles under her belt.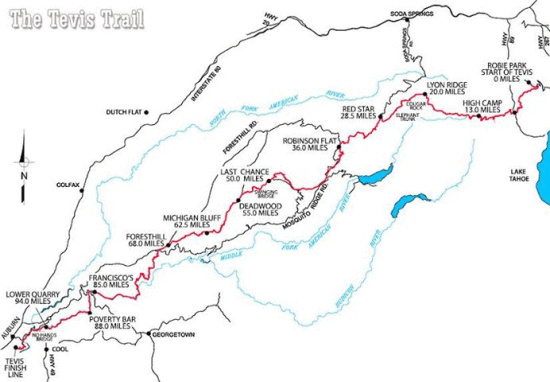 The Tevis Cup, a 100 mile endurance ride, is known as one of the most grueling races for horses. Running from Tahoe to Auburn, it is also the oldest modern race of its kind.
Moore partly credits her stallion with helping her succeed this year. "I got him about 2 years ago…He came from southern Illinois and never saw a mountain. Now he's done one of the toughest endurance rides in the world," she explained proudly. "This stallion," she notes, "tends to keep his feet on the ground a lot better. He is very efficient. He doesn't waste a lot of energy." This is important, she says, in an endurance race where energy must be conserved.
Even with the stallion's efficiency, there were moments where he lost focus. One in particular stands out to her. On a place she describes as "Pucker Point," a mare in heat was right in front of them. "[The mare] turned a corner. He started to go sideways." The trail there is very narrow and steep—about 1500 feet down, Moore explained. Knowing how close the edge was "I thought I could die," she said.
The ride is very dangerous for more than the heat and the steep cliffs. "About 70 miles into the ride," Moore recounted, "…there was a rattlesnake in the trail…everyone around was scared. …[but, luckily,] no one stepped on it."
"There are also canyons with swinging bridges," Moore explained. "I watched people trot their horses across." Moore paused then admitted with a smile in her voice, "I got off and led my horse across."
"I ain't gonna lie; it is a very tough ride," Moore admitted. "The thing is that there are some horses and people shouldn't be there."… . Horses do die at this ride… ." Still, Moore said, the drive to match oneself against nature and survive is strong. She pointed out that, "[The Tevis Cup] is something similar to Mount Everest. People die, but they just keep going back… ."
Moore says that her stallion's breed, arabians, are particularly qualified for endurance races. "The horses I ride are specifically bred to endure extreme heat and travel many miles on a little bit of food," she points out. "The Bedouins were a nomadic people. Sometimes they would travel 50 miles a day." Besides, she says, "my horse is happy doing it. If he wasn't happy I wouldn't do it."
Moore, who is well known in Southern Humboldt as a horse trainer, farrier, as well as a competitive endurance rider is also a local musician. She writes her own songs as well as plays guitar and sings. "My mom really encourages me to play," she explained as do other local musicians but to her it "is kinda a hobby. I generally don't have a lot of time for it…When I get home from shoeing and riding all day, I kinda want to go to bed."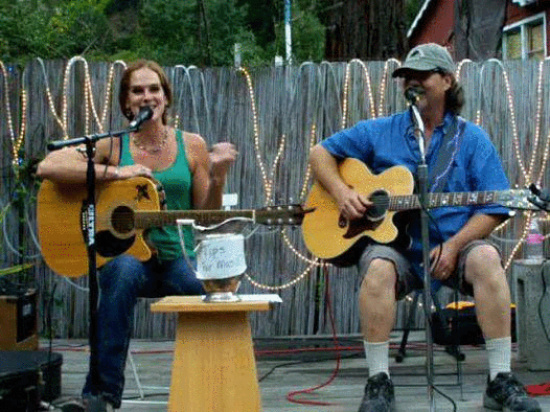 Moore singing at Persimmons in Redway.
Born and raised in Humboldt her whole life, Moore lives in the Fruitland Ridge area. "I am a farrier. "That is my full time job. I've been doing going on 11 years… . I also saddle break and train horses part time (when the weather is good.)"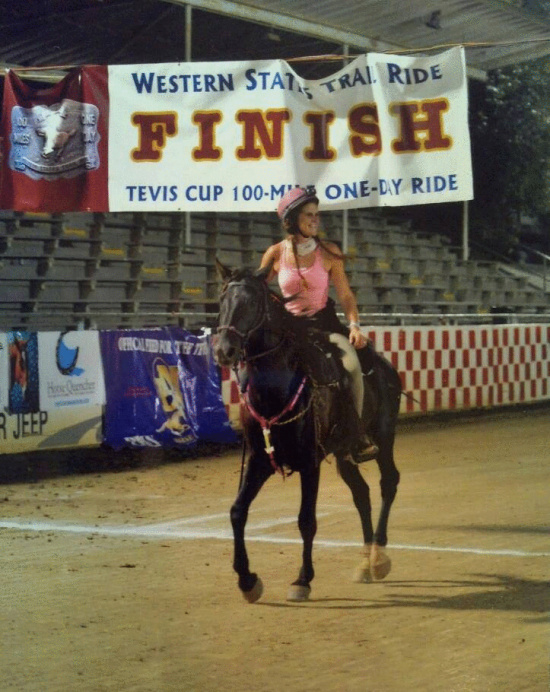 The finish line (Photo by Gore/Baylor)
Moore credits her community in part for succeeding at this ride. "I don't feel like I did this on my own," she said. "I had an immense amount of support and love. Everyone encouraged me so much and I have an amazing horse."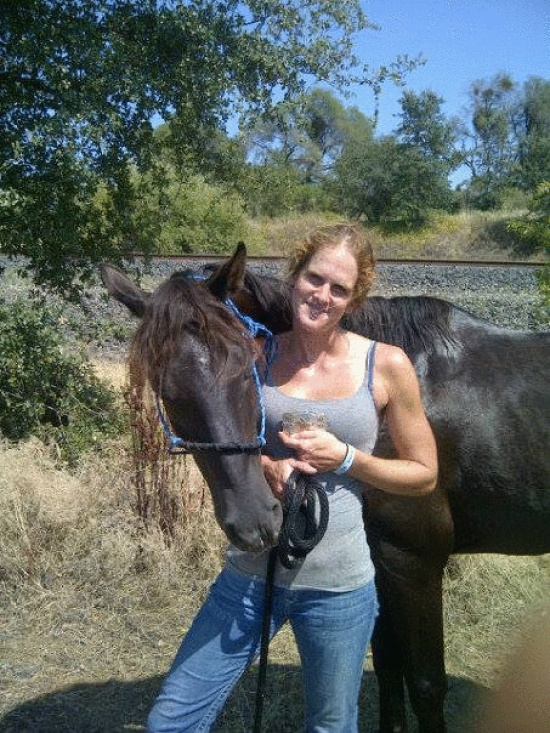 (Photos used with Moore's permission from her Facebook page. This one was taken by Amber Lewis.)