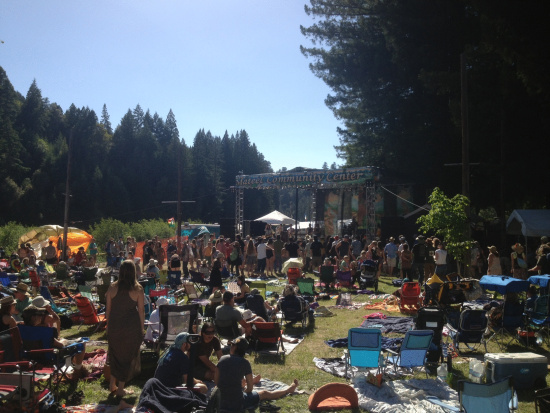 Several large tree limbs fell near the main stage at Benbow State Recreation area during the Mateel Summer Arts and Music Festival at about 2:30pm today. Witnesses said one man was seriously injured. Confirmed details are few at this hour.
The limbs were said to have landed on or near the prime entryway to the festival, on the west side (stage left) of the Trees Stage.
People were relaxing directly beneath the branches as they began to give way.
KHUM DJ Larry Trask was broadcasting just feet away from the scene. "I heard some weird noses, like a "pop, pop, pop," he said. "A bunch of people started screaming, pointing, and running. Then the branches came down."
Briceland Volunteer Fire Department took action, clearing branches and checking for injuries.
According to Trask, "probably about 10 or 15 branches fell, covering an area maybe 15 or 20 feet long and 5 feet wide. "It took maybe six or eight guys to remove one of the bigger branches," said Trask. "Luckily nobody was beneath it."
Trask said the festival's medical tent took a direct hit, severely damaging the canopy and apparently severely injuring one man inside. While the extent of his injuries are unknown, Trask said that he'd heard the injuries were not life-threatening.
KHUM's canopy was also destroyed and the station will not broadcast as scheduled from the event tomorrow.
The afternoon weather was breezy but not unusually so. The strongest gust in the area during the last 24 hours was clocked at 31mph.
By 3:30pm, things were back to normal. The area where the branches fell was cleared and other areas were closed off.
[Pictured: Trees Stage, after cleanup. Limbs fell near the shady right side of the photo]