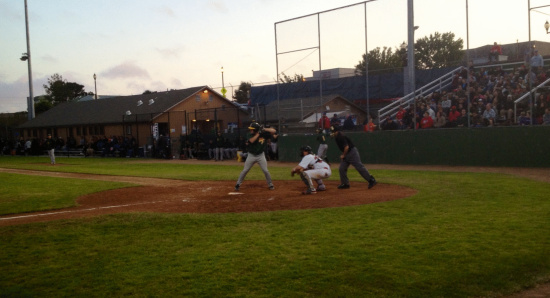 Believe it or not, the Crabs lost tonight.
However unlikely, it is technically possible for the Humboldt heroes to earn fewer points than their opposition. Nor is there any rule preventing it. The Menlo Park Legends (referred to henceforth as the Bums) took the game 4-2.
Some fans were stunned with disbelief. "Clearly they're using this game to build tension through the season," one was overheard saying. "Through this brilliant series of deliberate errors, the Crabbies are showing us their vulnerable side."
To their credit, the Bums did an excellent job of high-fiving themselves again and again in the dugout.
By The Numbers:
Final Score: 4-2
50/50 Pot: $460
Fedoras: 7
Players With GoPro Cameras Attached To Batting Helmets: 1
Mesmerizing Breakdancers: 1
Best Bum Name: Dane Vande Gutche ("Dayn Van Duh Gooch")
Batboys In Tie-Dye: 1
Reminder: Sunday's 12:30 game is KHUM Day at the ballpark in conjunction with Suspenders Day in honor of the late Jerry Nutter. Wearing suspenders will get you a free CD or three while supplies last.