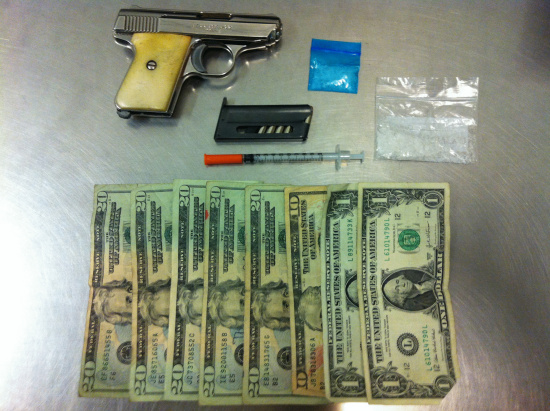 From the Eureka Police Department:
On June 4th, 2013, at about 11:30 PM, a Eureka Police Department officer on uniformed patrol observed a dark colored Chevrolet Camaro make an abrupt turn onto Pine Street from West Harris Street. The officer recognized the vehicle as belonging to a subject named Benjamin James Goldman. He further knew Goldman's driver's license to be suspended.

The officer contacted Goldman as he exited his Camaro in the alley located between the 3100 blocks of Ingley and California Streets just south of West Harris Street.

After confirming Goldman's unlicensed status, the officer arrested him for driving on a suspended license. The officer then searched him incident to his arrest. Inside Goldman's right front pants pocket, the officer located a loaded .22 caliber semi-automatic handgun. Also found in Goldman's pockets were two small baggies containing a total of approximately 4 grams of crystal methamphetamine (around 1/8th ounce).

Goldman's vehicle was towed from the scene on a 30-day impound pursuant to the penalty specified in the California Vehicle Code for knowingly driving with a suspended license.

Goldman, age 35 of Eureka, was transported to the Humboldt County Correctional Facility where he was booked for the following offenses:

Penal Code 29800(a) – Convicted Felon in Possession of a Firearm

Health & Safety Code 11377(a) – Possession of a Controlled Substance

Vehicle Code 14601.1(a) – Driving on Suspended License

Penal Code 12022.1- Felony Committed While Released on Bail (While at HCCF, Goldman advised him he was out on bail from another arrest earlier this year).