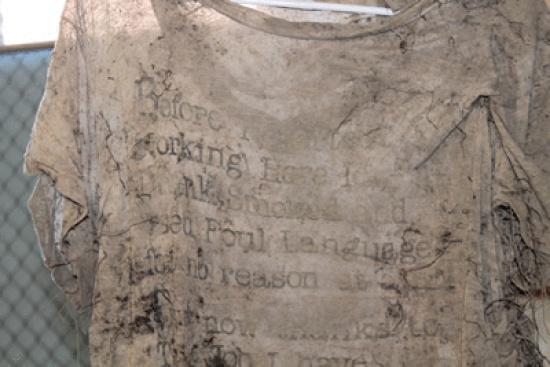 Photo of t-shirt found with skeleton near Piercy.
Mendocino County Sheriff Cold Case Information:
On October 30, 2012 at 0659 hours, the Mendocino CountySheriff's Office received a call from a person wanting to report a suspicious situation.

The caller had located a shoe protruding from the earth near the shore of the Eel River in the 83000 block of Highway 271. Upon closer examination the caller believed the shoe was attached to a human body.

A Mendocino County Sheriff's Office Patrol Sergeant and a Sheriff's Detective responded to the scene and located what the caller had reported.

During this time it was discovered that the shoe was associated with a shallow grave that contained the skeletal remains of a human body.

Sheriff's Detectives have requested the assistance of the Department of Anthropology at California State University, Chico in recovering the remains from the grave.






On March 11, 2013, Sheriff's Detectives received a report from the CSU-Chico Human Identification Laboratory in regards to the analysis of the human remains found on October 30, 2012 in Piercy, California.


The results of the analysis showed that the human remains are believed to be that of a white male adult, approximately 25-45 years of age with a height between 5 feet 11 inches and 6 feet 5 inches tall.

Sheriff's Detectives have enlisted the assistance of the California Department of Justice in recovering DNA from a bone to help establish a DNA profile for the remains.

Sheriff's Detectives hope to enter this DNA profile into the Combined DNA Index System (CODIS) and use the DNA profile to compare against Mendocino County Sheriff's Office active missing persons cases.

Anyone with information in regards to this case is asked to contact the Sheriff's Office Tip-Line by calling 707-234-2100.