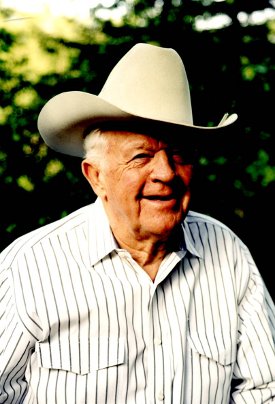 Gene Lucas died at home Tuesday at the age of 85, and some of the people who knew and loved him feel as if a big chapter in the history of the Eel River Valley had finally ended for good.
Lucas was an accountant by trade, but that hardly gives an idea of his position in the south part of the county. He was at the heart of the region's business community for over half a century. He served on dozens of boards of directors and acted as trusted advisor to innumerable county businesses in all sorts of fields – ranching, timber, dairy, engineering – at the height of the Eel River boom.
Most famously, he was a sort of consilgiere to Mel McLean of Eel River Sawmills when that firm – now gone – was at its peak. He helped McLean set up the $28 million Mel and Grace McLean Foundation before Mel passed on, and he served as the foundation's president for its entire 13 years, as it became the most important source of funds for innumerable charitable projects from Fortuna to Garberville and elsewhere.
"He was a prince of a man," said David Somerville, Lucas' partner in the Fortuna accountancy firm of Anderson Lucas Somerville & Borges, earlier today. "Gene sort of became my mentor. I would have loved to have him a mentor earlier."
Somerville recalled Lucas as a man absolutely devoted to the people he worked for and with. He said Lucas had an active mind that helped him figure out how his clients' firms worked, how they fit into the larger economy.
"He'd drive out in the dark of night to help a client and learn about their business," Somerville said.
Lucas' death comes at a time of transition for the McLean Foundation, which has provided substantial funding for a huge variety of local projects – everything from the St. Joseph Hospital Tower project to Garberville Town Square – as well as hundreds of smaller grants and scholarships. Earlier this year, longtime executive director Leigh Pierre-Oetker suddenly left the foundation, and Lucas has been housebound for several months.
Foundation Vice-chair Dennis Scott, who worked closely with Lucas as far back as the Eel River Sawmill days, said that his colleague has left the organization in good shape, and that he did not anticipate any major changes of direction. The foundation recently helped open a facility that it has long worked toward – the Fortuna Multigenerational Center, or "MGC." The facility, on Newburg Road, serves as a community center and meeting place connecting youth and the elderly, two populations that are the special focus of the foundation.
Scott said that the foundation would miss Lucas' deep understanding of the county and it's history, as well as qualities as a "very, very astute businessman."
"He's one of those kinds of guys who worked seven days a week," Scott said. "He had a cattle ranch and he had an accounting firm. You just don't duplicate guys like that, from that era. We're going to miss him, and I'm going to miss him especially. He was an amazing man."
A public memorial for Gene Lucas will be held at the Fortuna River Lodge on Tuesday, March 26, at 11 a.m.