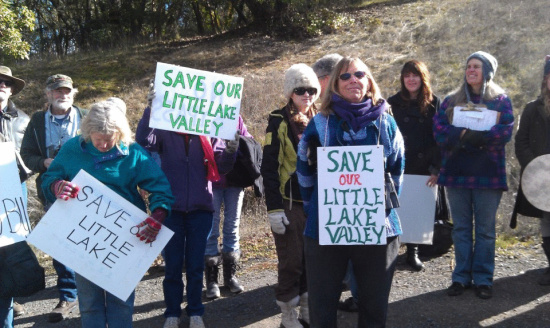 Photo from the Save Little Lake Valley Facebook page.
UPDATE, 3 p.m.: Caltrans' Phil Frisbie tells the LoCO: "This is a safety issue. We respect the rights of citizens to express their opinions but when they trespass on land or put themselves in harm's way and in front of our equipment, we are going to rely on CHP to handle the situation."
###
From Redwood Nation Earth First!:
Willits, CA-Opponents of the Caltrans Willits Bypass through endangered wetlands are standing to protect a tree-sitter as dozens of California Highway Patrol vehicles arrived at the Bypass protest area in Willits in Mendocino County just after 7 a.m. this morning. CHP officers began cordoning off the access roads to the area, keeping a gathering number of protesters and witnesses away from the tree-sit and Caltrans proposed construction area. The 24-year old local farmer in the tree who calls herself "the Warbler" has been aloft next to Highway 101 since January 28.

Seven arrests have been made of Willits residents Sara Grusky and Will Parrish, Jaime Chevalier, Mayhew, Tara and two others. The situation is still actively unfolding. Another Bypass protester Bob Chevalier, has been standing in front of the brush crushing machine that is in the jurisdictional wetlands and has repeated blocked it after having been removed several times without arrest. Caltrans permit process is not complete with regard to the Migratory Bird Act, in effect until September 15 for nesting season.

A young woman named Tara who was forcibly pulled to the cop car causing her to scream in pain. Two other women were arrested on the while walking on the east side of the bypass "boot print".

Caltrans quickly installed a fence across the access road to the tree sit site and has coned the highway to prevent access to citizens in the public right-of-way. By 11:00 a.m. about seventy protesters and supporters were massed on a hillside opposite the tree sit site across the highway 101 protesting and preparing to witness the impending removal of tree sitter, Warbler.

Meanwhile, Arrow Fencing continued to operate its brush-crushing machine and post hole-digger, destroying bird habitat and again entering into a "jurisdictional" wetland, a boggy area supposedly protected by the California Department Fish and Wildlife. Complaints called in to Cal-tip for previous entry into the protected area were under "active investigation" , according to Joann Dunn, Caltrans project liaison, as of last week. Fish and Game officers on quads were seen riding through the boot print early this morning.

Speaking from her tree where she is still perched seventy feet above the ground, Warbler said "It's like I'm witnessing a crime scene down there. Caltrans is just going right ahead and bulldozing their way into this beautiful, fragile valley. They are not listening to the community or even bothering looking at our much better alternative solutions to Willits traffic problems. The CHP is acting like Caltrans partner in crime, aiding and abetting covering up Caltrans' violations by preventing citizens from monitoring them." She said it makes her angry.