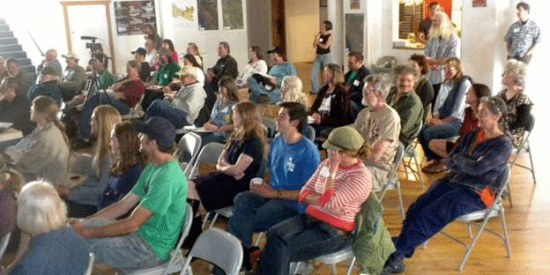 Water Day II
Press Release:
The third annual Water Day community forum will be held on Saturday March 30 starting at 9 AM and running all day at the Mattel Mateel Community Center in Redway.

The subject of the meeting is the health of the Eel River and how people can change their land and water use practices to allow it to recover. The program will feature brief presentations and more lengthy panel discussions that are aimed at answering community questions and giving people enough information so they can take action to implement water conservation and reduce pollution.

The day will begin with presentations on the health of the Eel River. Keith Bouma-Gregson is pursuing a doctorate at UC Berkeley and assisting the Eel River Recovery Project (ERRP) with 2013 algae monitoring. He will talk about why the river has become susceptible to toxic algae and how we might be able to combat it. ERRP Volunteer Coordinator Patrick Higgins will summarize 2012 water quality, flow and Chinook salmon population assessment results and then he and Keith will join a panel of other experts and volunteers to field audience questions.

Water conservation is going to be central to getting the Eel River back in good health and the presentation and panel on this topic in the late morning will discuss technology transfer of the successful water conservation project in the upper Mattole River to the Eel River basin.

Humboldt State University graduate student Sara Shremmer will frame the issues and then join a panel that includes water conservation experts, a hydrologist and someone with knowledge of California water law.

Kristin Nevedal of the Emerald Growers Association will chair a session on sustainable agricultural practices with the aim of reducing water pollution. Science now is confirming what many observers have noticed: forest and watershed health profoundly impact water yield.

During a forest and watershed health session, those in attendance can ask experts how they can help increase water yield, reduce erosion and decrease fire risk through improved management.

Getting shade back on Eel River tributaries would help to cool water, which improves habitat for salmon, but also reduces algae blooms. A panel of riparian restoration experts will talk about how people get stream-side trees back and possibly acquire grant funds for large scale projects.

The Eel River Recovery Project is the primary sponsor of Water Day III. Co-sponsors include the Trees Foundation, Mateel Community Center, Sanctuary Forest, Redwood Forest Foundation, Friends of Van Duzen River, EPIC, Friends of Eel, Institute for Sustainable Forestry, Salmonid Restoration Federation, CalTrout and KMUD Radio. Chautauqua Natural Foods, Pacific Watershed Associates, Bioengineering Associates and the Emerald Growers Association are underwriting the forum. Los Bagels, Eureka Natural Foods and the Lost Coast Brewery are supporting Water Day with donations.

Doors will open with coffee and bagels at 8:30 AM and the program begins at 9 AM. There is no charge for admission, but donations for lunch will be accepted. For more information or to volunteer to help on Water Day, call the Eel River Recovery Project at 223-7200.