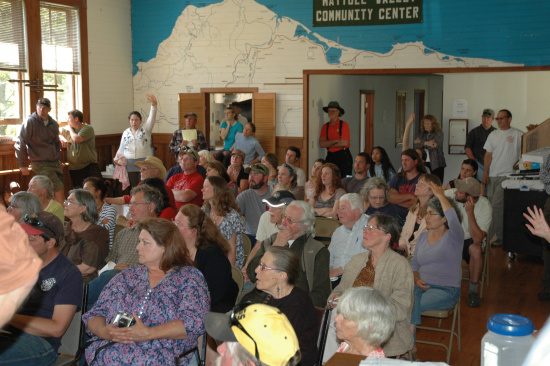 Photo of Sunday's Community Meeting at the Mattole Community Center where local residents met with law enforcement and discussed the current manhunt for Shasta County's triple homicide suspect, Shane Miller. Photo by Radke.
Guest post by residents of the Petrolia area, John Williams and Kathy Radke who attended Sunday's meeting. LoCO thanks them for sharing their experiences.
On Sunday afternoon, Lt. Steven Knight of the Humboldt County Sheriff's Department and Lt. Mark Lillibridge of the Shasta County Sheriff's Department met with local residents at the Mattole Valley Community Center in Petrolia to explain what law enforcement knows and does not know about the Shane Miller case, and what has been and will be done. The following summary is from their initial remarks and their response to questions.

Directly after the shooting, Shasta County deputies began interviewing people who know Miller well, and they identified the King Range as the place Miller probably would go. Subsequently, he was seen in Petrolia in his truck by an old acquaintance, with whom Miller briefly talked. By her report, Miller seemed "defeated" and not angry. Police converged on Petrolia on all routes, but did not find his truck until they began searching private roads. They secured the truck, but waited until reinforcements and daylight arrived to begin searching. The initial search included scent-trained dogs, but no sign of Miller has been found. The search now includes dogs trained to find cadavers, in case Miller has killed himself.

The search is continuing on several fronts simultaneously, and by several means. In addition to the local area near where the truck was found, the search has included locations in the King Range that informants have suggested as possible destinations. Miller is said to be a very competent woodsman. Trained man-trackers are involved, as well as infra-red imaging methods. How long the search will continue at its current intensity is being re-assessed daily, and will depend on whether any sign of Miller is found, the need for police resources elsewhere, etc. However, some police presence will be maintained in the Mattole Valley for some time, to allow a rapid response in case of developments. For the time being, roadblocks will be maintained at Honeydew and on the road from Petrolia to Ferndale.

The police regard this as a domestic violence case, albeit of the worst sort, and evidence that Miller intends to harm others is weak. A note expressing anger at estranged family members was found in his truck, but it did not contain threats, and none of the named persons live in the Mattole Valley. However, he is clearly a violent person, and they regard him as armed and very dangerous. Miller owned various weapons, and ammunition for a powerful handgun was found in the truck, but what weapons he had with him is unknown. There is no evidence that he had a cache of weapons somewhere in the King Range.

The deputies recommended that people call 911 if they see Miller; do not confront him. If people see signs that someone has entered buildings, or other evidence that he may by in their area, call 911 or the fire department; the deputies will check it out. While searching, police will not enter buildings without permission, unless there are signs of forced entry. If you are away from home, lock the doors but keep the curtains open enough that police can see in, should they be searching the area. The deputies also recommend that in the near-term people stay in with the doors locked at night, keep their cars locked, and exercise more than normal caution during the day, but that people resume normal activities during the day to the extent they are comfortable doing do. Schools can re-open; the police will maintain a child-friendly presence at the schools, and there will be other officers nearby.

Questions and discussion at the meeting identified communication difficulties and other problems; people felt they were not promptly informed of the danger, or that buildings that should have been checked were not. This was not contested, but the deputies pointed out the problems they faced coming into an unfamiliar area and trying to organize a difficult search. Communication about on-going activities was also identified as a problem, and a way to post daily updates using existing community networks was quickly worked out.

Residents from Honeydew, 15 miles up the valley, where Miller grew up, were also present, and asked that there be more of a police presence there. The Humboldt County Sheriff's representative asked that another meeting be arranged in a few days. The next community meeting will be held Wednesday at 5 pm in the multipurpose room of the Honeydew school.