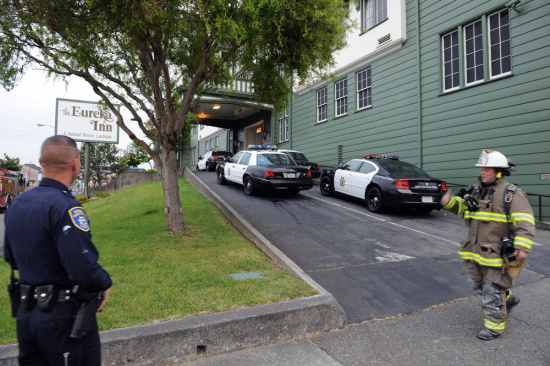 Photos and tip by Mark McKenna.
At around 6 this morning, the Eureka Police Department responded to a call for help from a woman staying at the Eureka Inn. According to one of the officers later interviewed at the scene by LoCO contributor Mark McKenna, the hotel patron had told the police that someone was attempting to break into her room.
When police arrived, they discovered that the woman had several warrants out for her arrest. (Again, according to officers on the scene.) They moved to take her into custody. She asked to use the bathroom first. The officers allowed this, but the woman proceeded to barricade herself in the bathroom and also to light things on fire.
Humboldt Bay Fire rolled to the scene and the officers on site called for backup. They broke into the bathroom and took the woman into custody. The fire department — which had rolled out in force, fearing for the old building — did their thing. According to EPD Officer Gary Whitmer, the woman is now being evaluated at St. Joe's.