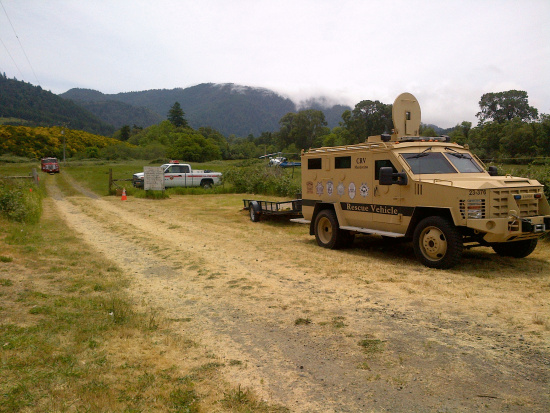 From the Humboldt County Sheriff's Office:
The search continues for triple homicide suspect Shane Miller. Over seventy law enforcement officers continue to search the Mattole Valley, King Range Conservation Area and surrounding communities looking for Miller. Officers are going door to door, speaking with residents and searching numerous outbuildings and unoccupied cabins. There has still been no sighting of Miller since the day his truck was found. Meantime investigators from the Shasta County Sheriff's Office, Humboldt County Sheriffs Office and United States Marshals Office continue to interview friends and relatives. Officers have been following up on numerous tips and leads. Roadblocks are still in place and cars are being searched leaving the Mattole Valley. Area schools are back in session and officers are staged at or near the schools. Residents have expressed their appreciation and are working with law enforcement to help find Miller.

The King Range Conservation Area is still closed until further notice.

A second Community Meeting is scheduled at the Honeydew School on Wednesday May 15, 2013 at 5:00 PM.

SHANE FRANKLIN MILLER, White male adult, 45 years old, 5-10, 200 lbs blue eyes, red hair

Believed to be armed and dangerous. If sighted, call 911. Anyone with information for the Sheriffs Office regarding this case or related criminal activity is encouraged to call the Sheriffs Office at 707-445-7251 or the Sheriffs Office Crime Tip line at 707-268-2539.