---
Arkley Center to Close for 'Indefinite' Period
---
UPDATE, 1:35 p.m.: The Times-Standard has a press release from Security National that states the company hopes to finish "much needed repairs, maintenance and general upkeep" on the center by spring 2014.
###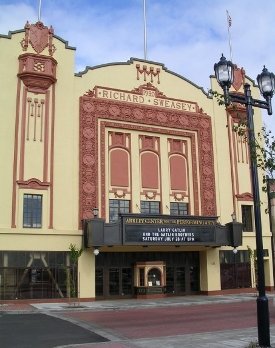 Eureka's Arkley Center for the Performing Arts will soon be closing its doors, the Lost Coast Outpost has learned.
Word of the theater's impending closure started leaking out last week. A friend of the Outpost posted a query on our Facebook wall on Thursday, after which we made calls to Arkley Center staff. They declined comment.
However, Pam Cahill, president of the board of directors for the Eureka Symphony, confirmed today that she was told last week that the center would be closing for an "indefinite" period of time. Cahill said that the symphony — which usually performs at the Arkley, exclusively — is currently scrambling to come up with a new venue for next year's concert series, for which brochures have already been printed and tickets sold.
"We're just sad because it's a really beautiful venue for the community," she said. "There are very few venues in this area that can seat 700 people and have room on the stage for the orchestra."
Cahill said that it was her understanding that the theater would stay open until late June, when another Arkley Center staple — North Coast Dance — finishes out its season. Reached earlier today, North Coast Dance Executive Director Kris Beck said she had heard nothing about the impending closure.
Members of the Eureka Symphony said that the news was revealed to them Saturday night, at a party following the last show of the symphony's 2012-2013 series.
Cahill said she was told by staff at Security National, which owns and operates the facility, that it needed to be closed in order for repairs to be made to the building. She did not receive and estimated date of reopening.
Built in the 1920s, the Arkley Center building — originally known as the Sweasey State Theater — was a center of county nightlife until 1973. In 2003, following a long period in which the building sat vacant, the Arkley family bought the facility and began renovations. The theater reopened in its new form in 2007.
---
SHARE →
---