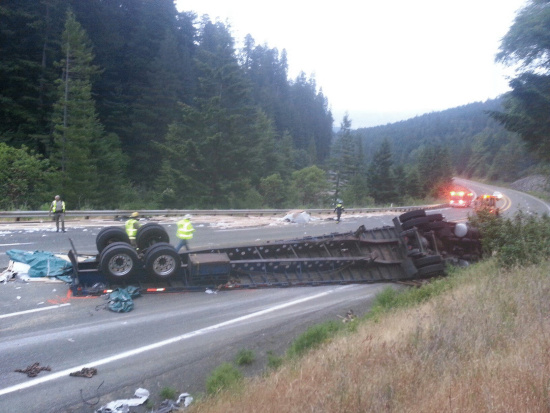 Photo taken by George Monroe, Myers Flat VFD Chief. Photo provided by Doug Bryan from the Southern Humboldt Fire Chiefs Association Public Information Team
UPDATE, 9:20 p.m.: According to the CHP, the driver (last name Foster, first name unreleased) was headed south on the Eagle Point Viaduct with a loaded truck and trailer. "Due to Foster's speed in a sweeping right turn, the combination trailer began to tip. [T]he trailer and the load fell onto the southbound #1 land, and the load became detached, spilling across all lanes of the highway. Foster was uninjured, and no other vehicles were involved."
"US-101 was closed intermittently for cleanup, and a partial lane closure will remain in effect for Tuesday, May 21 while cleanup is finished. The load consisted of Medium Density Fiberboard (MDF)."
###
UPDATE: According to Southern Humboldt Fire Chiefs Association Public Information Team member Doug Bryan, the Semi was not a lumber truck but a chip truck. Also the accident is south of Myers Flat.
Original post below …………….
The CHP is reporting that a semi truck with a trailer had an accident near the south bound Myers Flat exit off of Hwy 101. The accident which spilled a load of lumber across the road was reported a little before four o'clock this morning. Two additional vehicles may have hit the spilled lumber. Dept of Transportation is at the scene and clearing the roadway. Traffic appears to be getting through. Follow updates here.