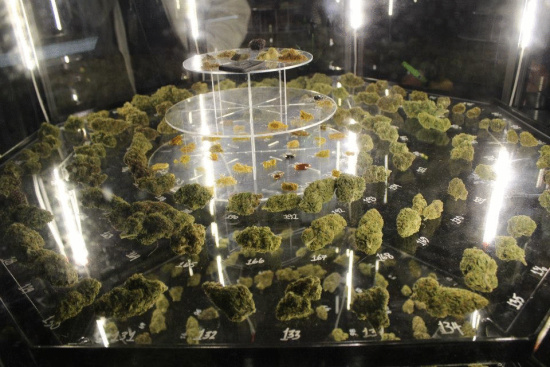 2012 Emerald Cup entrants. Photo by Bob Doran.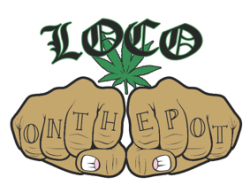 Legalizing cannabis for medicinal use in 1996 was the right thing for Californians to do. If Californians hadn't stepped up, cannabis might still be in the Dark Ages. I won't waste words defending that statement, I'll just point to the following evidence: California is home to The Emerald Cup — "The World's Longest Running Outdoor Organic Cannabis Competition."
Fuckin' A right it is.
It's the 10th anniversary of The Emerald Cup this year. What a time for California's outdoor organic cannabis farmers to be out-and-proud! And while many still regard indoor cannabis as superior, the outdoor-is-superior camp is growing larger all the time because sunshine, fresh air and sustainable, organic farming practices make for the best cannabis. It's true: Bomb outdoor cannabis tastes better than indoor and it's got a way better vibe.
The Emerald Cup is a cultivation competition to determine who grows the finest organic sun-grown cannabis flowers in the land and who makes the best cold-water concentrates. (That's cold-water hash as opposed to "super-concentrates" — solvent- or butane-derived hash.) This is a serious competition. There are a lot of highly skilled pot farmers out there. People loooove growing weed and some people are damn good at it. This is a call to California's badass and legit organic medical pot farmers: It's time to show off your bomb weed off to the world.
That's right! The Emerald Cup is accepting entries until Dec. 1 for its cannabis flowers and cold-water hash competitions. There are entry drop off locations as far south as Torrance, as far north as Eureka and as far east as Sacramento. That's, like, the entire state! This makes me wonder — will Emerald Triangle growers prevail at this 10th Anniversary Emerald Cup?
Well, we'll find out at the main event on Dec. 14-15 at the Sonoma County Fairgrounds in Santa Rosa. If you can't make it, stay tuned to LoCO On The Pot — I'll for sure get you the deets on all the Cup winners. But get this: Main event attendees with valid medical marijuana recommendations get to sample some of the Emerald Cup entries, so if you can make it, you might get a chance to sample some of the best organic outdoor medicinal cannabis in California…! That alone is worth the trip south to Santa Rosa.
Cannabis flowers are judged on taste, smell, looks and high. Emerald Cup creator-producer-mastermind Tim Blake tells me that the scoring system is "weighted to the high, but all the other characteristics have to come in to play." Make sure the flowers you bring in look good. If you plan to enter the competition, go through your pounds and find prime nugs. (Three ounces of sun-grown, organic cannabis is the amount required for entry into the flowers competition.)
Hash entries are judged on appearance, texture, how they burn and, of course, on the high. All of the hash and flowers entries will be tested for THC, THCA, CBD, CBDA and CBN compounds and the top 20 flowers and top 10 hash entries will be full-spectrum tested for cannabinoids, chemical residues and molds. Results of potency testing and pesticide/fungicide screenings will be available for all to see at the main event.
There are 10 judges for the flowers competition, including buyers from major dispensaries — we're talking like Harborside-major — and our own local experts Kevin Jodrey, the cultivation director of medical marijuana dispensary Garberville Grass, and Pearl Moon of The Bud Sisters and 707 Cannabis College fame. There are four judges for the hash competition (disclaimer!) including myself.
A word on the hash competition: Last year's Emerald Cup only had 10 cold-water concentrate entries in contrast to 40 "super concentrate" entries. (Super-concentrates are also known as "dabs." If you missed it, LoCO - OTP: Dabs will Blast Ya is a must-read.) In lieu of the controversy around dabs, this year, the Emerald Cup is forgoing the super-concentrate contests. From the concentrates contest info page:
Due to the processing methods and limited information about how super concentrates affect health, we will discontinue the super concentrate contest. We welcome discussion about this topic at the event during the Dabs feature panel. Thank you for your understanding.
It's true that there isn't a super concentrates contest this year, but don't fret. Blake says: "Nikka T — he's an incredible hash-maker, and [Cup-winner] Taylor and some of the very best will be there, so we'll have some great hash. I really hope many people enter." If you're still up on making the bomb cold water hash, it is now time to represent.
This 10th anniversary Emerald Cup features a Breeder's Cup too. "This year, if you bred the seed that you grew and you grew the seed yourself," Blake says, "then you automatically get entered into the Breeder's Cup." He adds that there are "so many breeders coming in with new strains now — not just OG and Sour D and Chem Dog… This year there's 'Sherbert' coming out. Two years ago it was the 'Cookies' — now there's four kinds of Cookies." (That's Cookies as in the "Girl Scout Cookies" strain.)
Blake name-drops a strain called "Cherry Cola," and he predicts that in the face of legalization, weed is going to become "strain-driven and brand-driven over the next few years." He points to a boom in seed companies and to the popularity of feminized seeds in Europe. I wonder, is growing clones, like growing indoor, becoming less trendy? This question will surely be discussed at The Emerald Cup main event: There are expert panels on breeding and genetics plus workshops on trends in genetics and cloning.
There is also photography contest at The Emerald Cup. Anyone can enter by bringing prints of their epic cannabis photos to the main event, and Cup attendees choose the winner. Get more info about entering the photography contest and the flowers and hash contests, plus info on the main event panels, workshops and music at The Emerald Cup web site.
This is the first year the Emerald Cup is being held outside of the Emerald Triangle, and Blake says he's feelin' good about the move because by bringing it to Sonoma "we're bringing the flowers and the products from up here down to a much larger audience… Now we can show off what's being grown in the up here in these mountains to the whole world."
This is a chance to prove there are farmers that grow high-quality organic cannabis in sustainable ways. "It's not just a bunch of people in the mountains just sucking up the water and growing 'chemy' bud," Blake says. ("Chemy" is slang for bud laden with chemicals — pesticides, fungicides.)
"Let's show the other side."