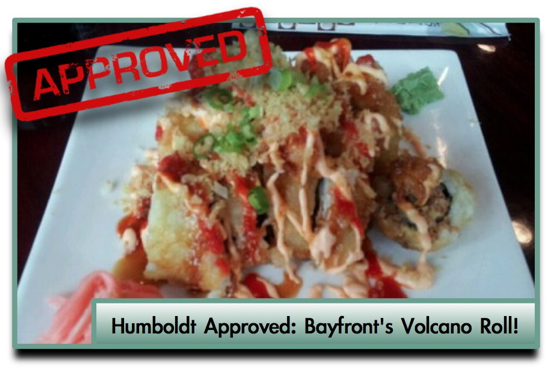 It may be one of the least roll-ish looking items nominated in this week's Humboldt Approved, but the plate eruption that is Eureka's Bayfront Restaurant's Volcano Roll was somehow able to garner the most votes in an expansive field of local sushi deliciousness. From the menu:
Volcano Roll - Deep fried spicy tuna roll topped with tempura shrimp, green onion, spicy mayonnaise and Siracha red chili paste. $10.50.
This strikes LoCO as somewhat of an upset victory — there's some vote splitting phenomenon happening here we suspect — but a win is a win. Congrats to Bayfront. Kaboom.
PREVIOUSLY: All Past Humboldt Approved Winners
# # # # #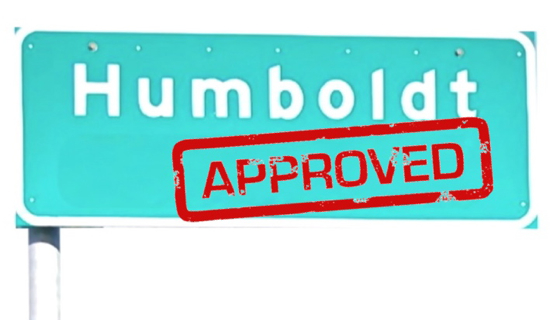 Original Post: Your Lost Coast Outpost and parents countywide thank those that participated in last week's search for the best child pacifying location. The Sequoia Park Zoo undoubtedly thanks yo too for adding it to the ever-growing list of things/places/people who are Humboldt Approved.
But it's Friday again, thus the spotlight must shift. This week, LoCO wants to know where you allocate your wasabi. Specifically, what is the best sushi roll in Humboldt? Not just the restaurant! The actual roll! Now, if you remember the joy/debacle that was our best sandwich poll, you're familiar with how complicated this particular voting process is:
The (insert sushi roll name) at (insert restaurant) in (insert city).
Think you can handle that this time? Here's the weekly rundown of how voting works:
To vote, look through the comments of this Humboldt Approved poll. If someone has already nominated the answer you would give for that week's category, click the upvote arrow. If you don't see your desired Humboldt Approved answer nominate it in a comment for others to upvote. (Please be careful to not duplicate answers; redundant answers will be deleted and potential associated upvotes will be lost.) Feel free to make your case by replying to/cheering on the answer you love most, but again the number by the arrows is what counts.

Of course, you can vote for as many nominees as you deem worthy, but of course the more you do that the more watered down your initial vote becomes. That's math.

We reserve the right to delete superfluous comments that make the voting/comment section hard to sift through. Please try not to get offended when your comment battle reply is deleted. We're trying to do something here.While most weeks we look for two winners — one winner from the metropolises of Eureka and Arcata, and one from Humboldt's smaller communities — this time we're gonna limit it to one. Voting closes next Friday at noon and soon after a winner will be declared.

(Tip: Sort comments by "BEST" to get a better grasp of how voting is going.)
Put down that sake bomb! It's time to nominate! Let democracy reign!