UPDATE, 2:59 p.m.: Humboldt County Sheriff's Office press release at the bottom.
###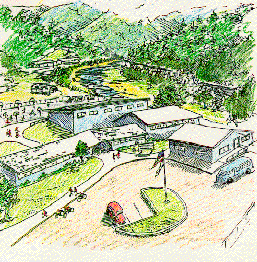 Bridgeville Elementary School was forced to close its doors to students yesterday after a maintenance worker discovered that its water tank had been drained sometime over the Labor Day holiday.
School secretary Jessica Springer tells the Outpost that the school is back open today, as it was able to replenish its tank from a well.
Springer said that school staff checked the tank and all lines after its water was discovered to be missing. The tank held water just fine and no leaks were found. She estimated that the tank held somewhere between 10,000 and 20,000 gallons before 43-student, K-8 school closed for the holiday weekend.
Lt. Steve Knight of the Humboldt County Sheriff's Office confirmed to the Outpost that the sheriff's office was called to the scene yesterday afternoon to take a report, and is currently classifying the incident as a case of grand theft.
A press release from the sheriff's office is expected shortly.
###
PREVIOUSLY: LoCO on the Pot: SoHum Water Debacle, Part 2
###
UPDATE, 2:59 p.m.: Press release from the Humboldt County Sheriff's Office:
On 09-03-2013, approximately 12:20 p.m., the Humboldt County Sheriff's Office received a call from the superintendent of Bridgeville Elementary School reporting a water theft. The superintendent reported that about 5:00 a.m. on Tuesday, September 3, 2013, a maintenance worker went to the school and noticed there was no running water. When the maintenance worker checked the onsite 20,000 gallon water tank which stores water for the school, the worker discovered there was no water in the tank, it was completely drained. The school had to be closed due to no running water.

Further investigation into the incident revealed tire tracks in the field on the south side of the school. School staff believes someone climbed the fence surrounding the enclosed school grounds and took a garden hose from the school which they used to drain the water tank. It is believed the suspect(s) had a water truck or large truck and trailer with water tanks which allowed them to steal the water from the schools water tank.

Anyone with information for the Sheriff's Office regarding this case or related criminal activity is encouraged to call the Sheriffs Office at 707-445-7251 or the Sheriffs Office Crime Tip line at 707-268-2539.