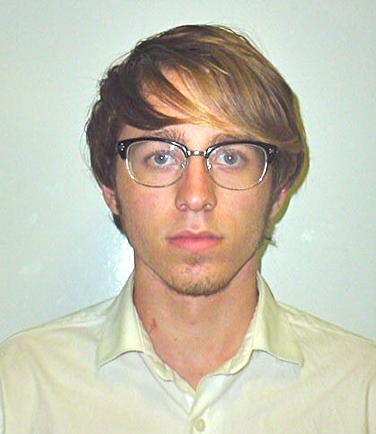 Twenty-year-old Phoenix Triton King, suspect in Sunday's crossbow slaying on the Samoa Peninsula, was picking up odd jobs with a local temp company last week, the Lost Coast Outpost has learned. And he had previously lived and worked in Humboldt County perhaps a year to a year and a half ago, in between arrests in his hometown of Clearlake.
Dan Heinen, operations manager at the Eureka office of Express Employment Professionals, confirmed this morning that King has been employed as a temp, but declined to offer further details, citing worker confidentiality.
"We've never had any issues with him to this point, and we're not able to reach him right now," Heinen said.
However, according to co-owner Jack Davis, on Wednesday King worked a night shift at Western Web, a shop in Fairhaven, at the other end of the peninsula, that prints the North Coast Journal and other publications.
Davis told the Outpost earlier today that King bicycled to work Wednesday at around 4 p.m., with a young woman — presumably his co-suspect — accompanying him on her bicycle. Davis said he recognized King right away, as he had previously worked a few shifts at the plant 12 to 18 months ago.
King was put to work feeding papers into a binding machine, Davis said. When night fell, he asked if the girl he bicycled up with could come inside. Davis agreed, and the girl sat in the break room working on craft projects. Davis said he left the shop at around 8:30 p.m. that night.
"She was very nice, very sweet," Davis said. "As he is – was."
Davis said he had no idea the girl was underage. "At my age now, anything under 22 … I don't know," he said. "I was kind of making the assumption that she was between 18 and 20."
Davis said he thought no more of it until he saw the mugshots posted on the Outpost this morning. He said that King now looks exactly as he does in the most recent photograph.
King appears to have attended W.C. Carle Continuation High School in Clearlake. On at least one occasion, he wrote about school matters in the "Carle Chronicle," a local news column. He was part of a group of students who were given training as nature docent (see here and here).
He was twice arrested by the Clearlake Police Department — the first time, in November 2011 — on charges of possession of more than an ounce of marijuana and contributing to the deliquency of a minor. He was booked and released on unspecified charges in March of this year, when the above mugshot was taken.
PREVIOUSLY: