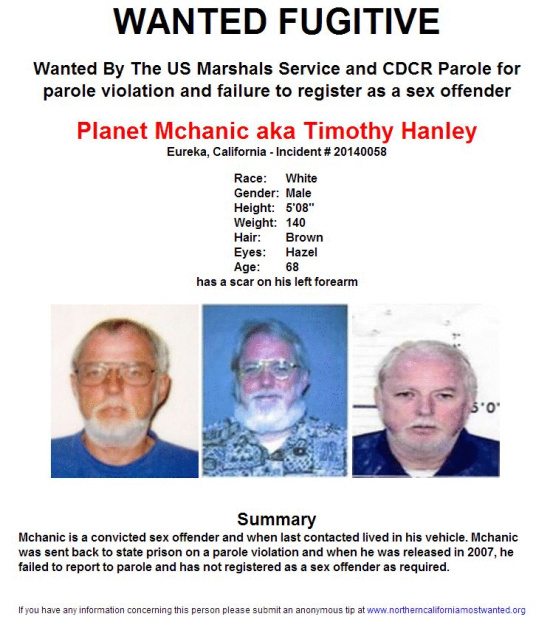 Poster from the Northern California Most Wanted Site.
Described by Deputy U.S. Marshal Brad Gill, "as a real dangerous guy," Timothy Hanley, aka Planet Mchanic, is on the Northern California's Most Wanted List. Hanley, whose last know residence Gill said was in Humboldt County, is wanted for failing to register as a sex offender and violation of parole.
Hanley was convicted of child sex crimes in 1981 and in 1991. He was released from prison and then returned on a parole violation. When he was let out in 2007, he did not register as a sex offender and did not report for parole.
According to Fugitive Watch, Hanley is a "avid kite maker and kite flyer and may be involved in a kite association or club." Hanley may be homeless and living out of a vehicle.
Hanley was recently joined on Northern California's Most Wanted List by Silverio Sanchez. Sanchez, Gill said, "has been drawing quite a bit of attention to himself" since the beginning of the year. "The sooner we get this guy, the better," he added. A warrant was just issued for Sanchez adding attempted murder and assault with a deadly weapon among other charges to his already long list.