Updated below the photo:
Things apparently got crazy last night at the Party Pit (a teenage gathering spot by the Eel River near Ferndale.)
According to scanner traffic and CHP dispatch, about 1:30 a.m. today a gathering of local youth near Grizzly Bluff Road on the river bar erupted into violence. A female and several vehicles were allegedly intentionally struck by a 2003 silver Ford extended cab pickup.
LoCO has calls in to the CHP and the Humboldt County Sheriff's Office requesting more information. We'll update as soon as possible.
Meanwhile, CHP dispatch's extensive log of the situation depicts a chaotic scene.
UPDATE 1:45 p.m.: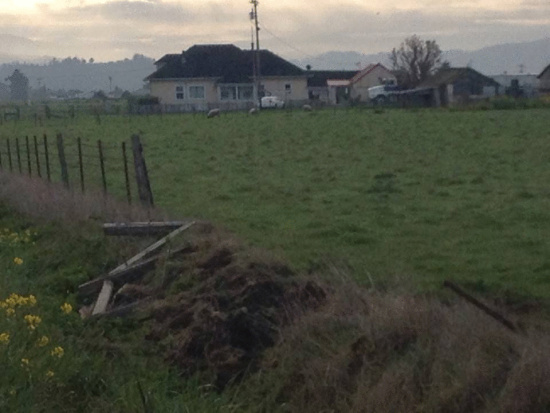 According to local residents, a fence was torn down by one vehicle fleeing the "Party Pit." (Photo provided by reader.)
Sgt. Mike Berry of the California Highway Patrol explained that there was no one struck by a vehicle. Rather, one victim was hit by rocks thrown at him. A vehicle was also damaged by thrown rocks. One juvenile was cited for driving while impaired and the vehicle was towed.
We'll update with more information when LoCO is able to reach the Humboldt County Sheriff's Office.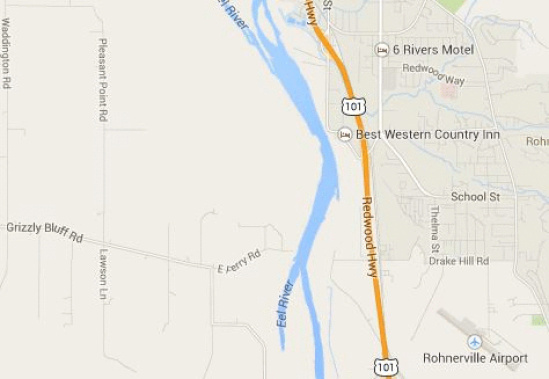 Map of the area where law enforcement responded. (Image snipped from Google Maps.)