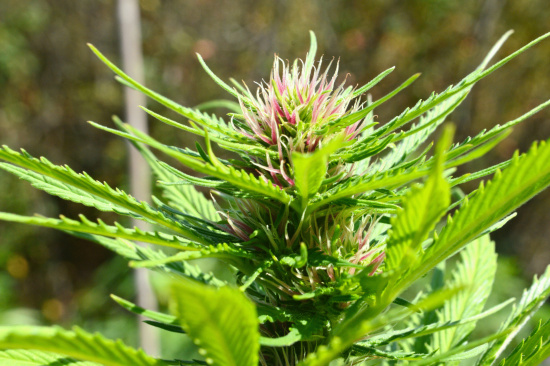 I've sooo been in a summer haze. It's still smoky around here. But the other day, it cleared a little. That's when I spotted a prime handbill at Wonderland Nursery in Garb. Here's what's up:
Healing Harvest Farms down in Mendo is having its Grand Opening Farmers Market next Saturday, August 30th, at 2 p.m.
Organic outdoor medicinal cannabis is the star. The market also features fresh produce and food, a hash-making demo and live music by Guerrilla Takeover, Strawberry Smog, The Gypsy Thorns, Yukmouth plus Green R. Fieldz.
According to the handbill, a number of companies will be on hand, presenting "live drops." Nicole Burton from Healing Harvest clarified this phrase for me in an email:
"Live drops mean that the concentrate artists make a live appearance with their freshest, latest product. It's lingo used by extract artists to create hype for their brand."
Admission is limited to ages 18+ with a valid 215. A doctor will be on-site for 215 recommendations that day. Also, you have to be a member of the Healing Harvest Farms collective to attend — "Free admission with signup."
You can find the flier on their Facebook page, plus pictures of giant weed plants. The farm is at 54895 Hwy. 101, 10 miles north of Laytonville.
Go, dabbers.
###
And excitement is building in SoHum for the upcoming run of Pure Schmint's "Resin From The Dead: A Comedy Extravaganza with the Fabulous Resinaires."
The Redwood Times has some deets on what to expect at the show — Alderpoint vampires, Bigfoot hunters and retired dope farmers; pretty run-of-the-mill Humboldt stuff with a comedic spin.
The poster for the show features this Elvira-looking chick, leaning against a headstone in a cemetery. She holding a lit fattie. A zombie hand reaches up out of the grave at her feet. It's holding a little urn with a cannabis flower coming out of the top. I spy a little weed leaf at the bottom of the zombie wrist.
Hilarious. You won't find a comic revue like this anywhere else.
"Resin From The Dead" also features the SoHum Girls Band. Heart of the Redwood Hospice provides beer and wine, and the Garberville Theater provides the munchies. The show runs at the Garberville Theater on Aug. 28-20 at 8 p.m. and Sunday, Aug. 31 at 2 p.m. Tickets are $20, admission is free for kids under 12.
###
Things are happening in Willow Creek. Last Wednesday, there was a community meeting of cannabis people at the Veterans Park. Local activists Thomas Edrington, Luke Brunner and Richard Marks were there, rallying the cannabis farmers in an informal setting, complete with some BBQ. These guys rep California Cannabis Voice Humboldt (CCVH), the political action committee.
CCV sent out a press release about the affair. Ryan Burns promptly shared the goods with LoCO readers. Read Burns' commentary and the full press release here.
The meeting was well-attended, CCV Communications Coordinator Allison Edrington told me on Friday. She estimates that about 30-40 people turned out. Women were present. She says that water shortage was a big topic of discussion and that interest in cannabis tourism was expressed by some attendees too.
The CCVH crew is totally on a roll with the death of SB 1262, the maligned "poison Trojan Horse pill" bill. Now CCVH has its sights set on drafting a medical cannabis ordinance for Humboldt County by the end of a "stakeholders meeting" in October.
Marks spoke the other night in Willow Creek about the plan for the October meeting. According to the CCV press release, Marks gave the following deets:
"By the end of that event, a draft medical cannabis ordinance for Humboldt County will be drafted with input from many stakeholders, including representatives from environmental groups, the cannabis community, government agencies, medical and patient advocacy groups and the business community."
Go, growers.
###
The Humboldt County Sheriff's Office has been busy too, busting out with a motley of bust press releases last week.
Deputies served a search warrant on Mahan Rd. down in SoHum on August 19th. The HCSO press release was short and to the point with a few pretty photos. It includes the following info:
"When deputies arrived, they searched the property and located 1,077 growing marijuana plants ranging from 8 feet to 15 feet tall. They also located five adults who were all detained and identified."
(Dude, fifteen-foot tall weed plants? Weed tourists would love to see that shit in real life, minus the law enforcement presence.)
The next day, Aug. 20, deputies went for a triple header. According to the PR about their action-packed day, deputies served a search warrant out by Bridgeville first thing in the morning. Two-thousand-plus plants at this spot and 340 pounds.
Then they served a search warrant on Tompkins Hill Rd. in Eureka. Deputies found cash, guns and paperwork indicating ownership of the Tompkins Hill Road Property and Highway 36 Property.
Then deputies went out to Ferndale to serve yet another search warrant. Two men were detained, one was arrested. They found greenhouses, some weed.
The photos were not so hot with this press release. They lack pizzaz.
But the press release for the bust on Aug. 21 out Honeydew is rich with photos and details of alleged eco-violations at the grow site. The lead photo on the LoCO post of the LEO dude in the garden and the other shot of the foot in the dust-laden road are totes compelling.
Law enforcement weed bust PR is fascinating to see in full-color LoCO-mode.
###
Before you go off to enjoy your never-ending-harvest-summer day, I want to bring your attention to Willits News reporter Adrian Baumann. He's hitting the weed beat down there, coming out with some interesting stories.
In his Aug. 15 story, Baumann debunks the hot "rumor" about private vigilantes raiding private grows down near Laytonville. Check that out, if you haven't caught wind of that whole thing yet.
And in his Aug. 20 story, Baumann writes about getting a tour of an exemplary weed farm. CBS 5 from San Francisco got in on the tour. Baumann writes that a rep from New York Times was there earlier in the day too.
Emerald Growers Association Executive Director Hezekiah Allen led the farm tour. (Reads like EGA went through a change of leadership.) Allen is rocking a pink shirt. Some dudes just like pink shirts.
Check out Baumann's best line:
"The owner of the farm also appears to have recently stepped out of the Ganges, with a long white beard, traditional Hindu clothing, and a tilaka, a red smudge of pigment centered between his eyebrows."
###
Northern California weed people and farmers defy stereotypes… So many facets to the cannabis community. So many colorful characters.
However you're involved this next week, I hope you enjoy what you do.