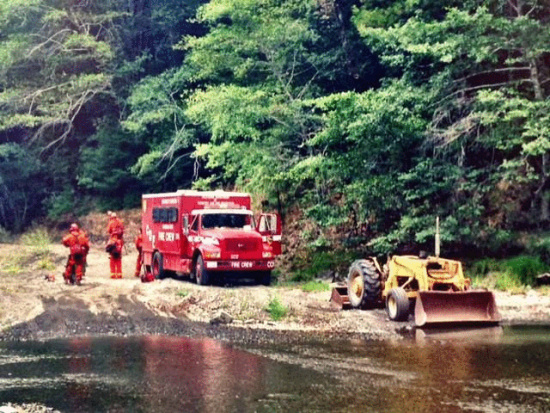 A few of the over 1200 Cal Fire personnel worked near the Eel River yesterday preparing for the Lodge Fire. The blaze is heading north towards the town of Leggett. [Photo provided by Big Bend Lodge]
The Lodge Fire which started a week ago from lightning strikes is now threatening the small town of Leggett in northern Mendocino County as well other outlying homes and businesses to the southeast of that community. With the fire now at 4000 acres and only 20% contained, residents nearest to the blaze are worried that they might be evacuated tomorrow. There are 43 structures threatened, according to Cal Fire.
Residents to the east of the fire are a little less worried as fire lines between them and flames are nearly completed. Bob Barsotti, who manages the Black Oak Ranch where helicopters fighting the fire are stationed to the east of the blaze, wrote a synopsis of this morning's briefing with Cal Fire,
The fire lines between Black Oak Ranch & the fire are almost complete and should be by the end of the day. The fire crossed the Eel River to the east on the northwest flank of Brushy Mountain yesterday and they are considering hitting that hard today to see if they can stop it. If they can it would probably shorten the length of time they need to be here. If not they will have to wait for the whole western side of the mountain to burn.

They are also considering a back burn on the northwest edge today. If they do they may have to evacuate a few homes in the South Leggett area. So far no evacuations yet. We are now having an increase in trucks and equipment staging out of our fields to work on the fire break by Camp Seabow. They are considering starting to use our pond for the water trucks working the heliport dust suppression but they haven't begun yet. There are now over 1000 people here to fight the fire.
Below is a map posted by Cal Fire Incident Command to residents. It was photographed by Bob Barsotti and sent to this reporter by his wife, Susan Barsotti: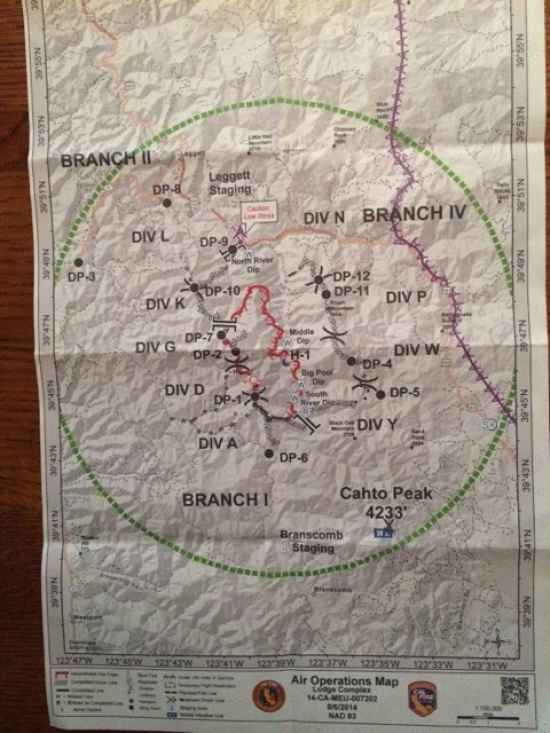 While residents towards the east of the fire are less worried. Those to the north towards Leggett are very concerned. "We're really close to where [firefighter are] trying to defend," explained John Evans who manages the Big Bend Lodge and whose Facebook page has been providing fire updates to local residents. "We evacuated our guests early, as soon as that spot fire showed up day before yesterday."
Evans said sent his child away to visit friends. Today, he intends to spend much of his time removing more vegetation around the Lodge. "We do a relatively good job through the year," he said. Cal Fire comes around to help them prepare annually, he explained. "But suddenly when the fire is imminent," he said dryly, "your eyes get better at seeing… ."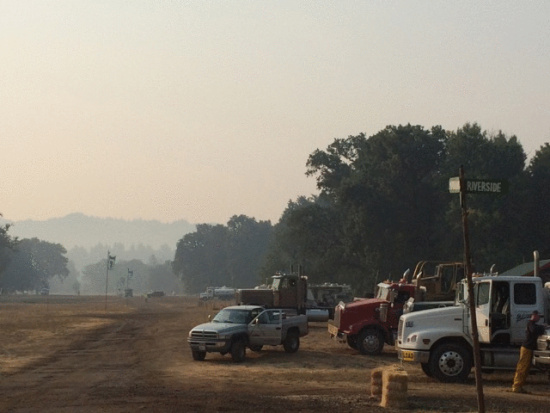 Equipment used to support the firefighters squats under smoke filled skies. [Photo provided by Bob Barsotti.]
Evans said that the fire lines are being built not far from his Lodge. "Yesterday, the hand crews came in," he said, "I can't see them [because of the thick tree canopy]—I hear them."
He and his neighbors are staying closely in touch, keeping each other informed about the slightest changes. Sounding almost relaxed, Evans marveled at "the incredible spirit of people when they were in a crisis." Being in the path of the fire makes his neighbors dependent on each other. "This," he said. "puts things in perspective."
Previously on the Redheaded Blackbelt: