UPDATE, 1:18 p.m.: The Eureka Police Department has issued a press release adding a few more details, most notably, perhaps, that the victim is a juvenile:
On December 17, 2014, at about 8:22 a.m., Eureka Police officers were dispatched to a report of an unresponsive male lying in the 2300 block of 15th Street. Upon officers arrival they located the subject and determined he was in need of immediate medical aid. Humboldt Bay Fire and City Ambulance responded to the scene and transported the male subject to St. Joseph Hospital. Lifesaving efforts were performed but the male ultimately succumbed to his injuries.

This incident is being actively investigated as a Homicide. Homicide detectives responded to the scene along with an evidence technician and took over the investigation.

It has been determined that the victim is a juvenile who is known to Law Enforcement. The victim's age and city of residence will be released through the Coroner's Office once proper next of kin notifications are complete.

No further information is available at this time. Anyone with information regarding this incident is asked to call EPD Detective Ron Harpham at 707-441-4305.
# # #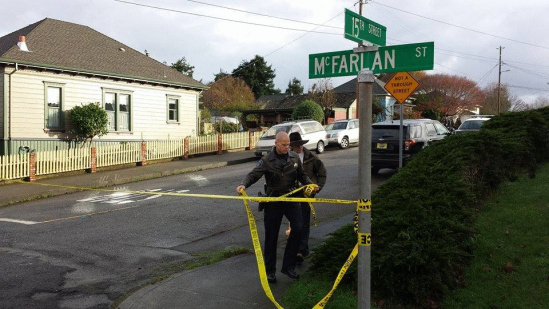 UPDATE, 10:03 a.m.: The victim in the case has died, according to the Eureka Police Department. A homicide investigation is underway.
# # #
UPDATE, 9:55 a.m.: The Outpost's Ryan Burns just spoke with a resident of the neighborhood. The resident said that he called police after he witnessed a man lying in a neighbor's front yard, moaning. When he called the police, he thought that the man was intoxicated, or possibly suffering from hypothermia, but later the police told the neighbor that the man had suffered "multiple stab wounds."
Stab wounds were also mentioned in the call for medical aid that went out over the air at about 8:40 a.m.:
# # #
Original Post: McFarlan Street in Eureka is currently closed at the corner of 15th, after a man was discovered unconscious at that corner. When police responded, a little after 8:22 a.m., they found that the man had "wounds of a suspicious nature," according to Eureka Police Department spokesperson Brittany Powell.
Powell said that the man was transported to the hospital, and that she has no further information on his condition at this time. EPD detectives are canvassing the area where the man was discovered.