PREVIOUSLY: Humboldt County Drug Task Force and DEA Detains Six in Loleta
###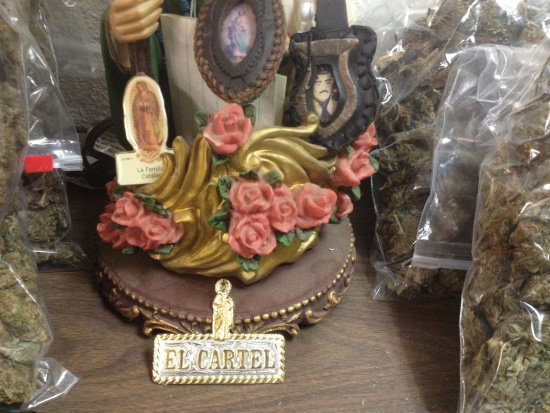 From the Humboldt County Sheriff's Office:
On 12/17/14 at about 10:00 a.m. Humboldt County Drug Task Force Agents served a search warrant on a residence at the 300 block of Loleta Drive, in Loleta. Task Force Agents had the house under surveillance and several agents were in position behind the residence. As the Task Force Agents made the approach on the residence, a male subject standing at the rear of residence spotted the approaching agents and fled on foot toward his parked vehicle at rear alley area. That suspect was later identified as Rolondo Coneuo-Beccerra (age 24). Coneuo- Becerra refused to stop and ran south toward the alley, but was quickly apprehended by the surveillance team. Coneuo-Becerra was found to be in possession of over $9,000.00 in cash and 58 grams of suspected cocaine that he had dropped while fleeing from the approaching search team. Coneuo- Becerra's vehicle was later searched and agents more than ¾ lbs of bulk packaged methamphetamine and Hydrocodone pills hidden within the vehicles engine frame.

A complete search of the residence was conducted and five (5) additional subjects were located inside the two story home. The five subjects were detained and interviewed regarding four (4) pounds of processed and packaged marijuana, 10 additional grams of suspected cocaine. These items were found during the evidence search. A pistol gripped 12 gauge shotgun was found hidden in the ceiling tiles of the laundry room.

In addition to Rolondo Coneuo- Becerra arrest for possession of Methamphetamine for sales, transportation of controlled substance for sales, Possession of cocaine for sales and resisting arrest. Heriberto Galvan-Rosiles (42) was arrested and charged with possession of a controlled substance. Antonio Galvan-Rosiles (46) was arrested and charged possession of marijuana and cocaine for the purpose of sales. Ernesto Corneuo-Garcia (24) was arrested and charged possession of false identification cards. The two other adult males found in the residence were questioned and released at the scene. Pending further investigation, additional charges may be added.

Evidence in the residence included items possibly connecting suspects to illegal drug connections in Mexico. Photographs of"Jesus Malverde", pendants of "Santa Muerta" and gold colored emblems with "EL CARTEL" engravings.

Anyone with information for the Sheriffs Office regarding this case or related criminal activity is encouraged to call the Sheriffs Office at 707-445-7251 or the Sheriffs Office Crime Tip line at 707-268-2539.