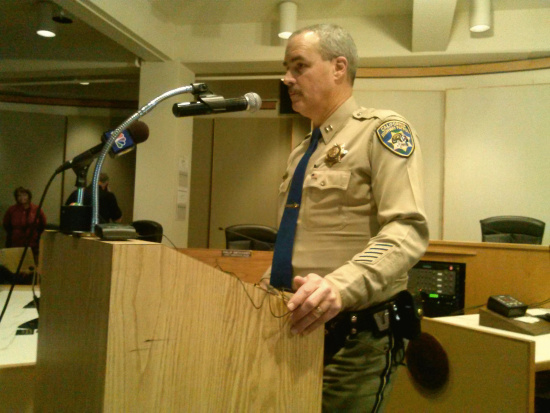 At a press conference in the Humboldt County Courthouse a few minutes ago, Captain Adam Jager of the California Highway Patrol confirmed that the assailant in yesterday's early morning attack on a CHP officer was a 17-year-old boy from the Hoopa area.
According to Jager, the boy suddenly attacked the officer with a machete, inflicting serious wounds that required the officer to be airlifted to UC Davis for treatment. The officer shot his assailant during the confrontation, wounding and eventually killing him.
Jager and Sheriff Mike Downey both spoke at the press conference, both of them relating what law enforcement knows and can share about the incident and the subsequent, ongoing investigation.
The incident started when the officer – whose name Jager has not yet released – showed up to investigate a single-car collision with a telephone pole east of Willow Creek. At first, he said, the officer and the driver of the car – the boy – had a regular conversation. A bit later, however, the boy surprised him by swinging the machete at his head. The officer blocked the strike with his arm, which resulted in serious injuries to his arm, hand and head.
The officer was able to fire his weapon at his attacker, Jager said, and retreated to his patrol car, where he locked the doors and attempted to get assistance. It is believed that the boy also went back into his vehicle, as the officer heard the horn honking for a while.
About 10 minutes later another officer arrived. When he did, he found the boy lying naked on the ground beside his vehicle, behaving erratically. The officer issued commands to the boy, which the boy did not comply with. At some point, the second officer used a taser on the suspect. According to Jager, this had no effect. Eventually a couple of "good Samaritans" came by and helped subdue and handcuff the boy.
Medical personnel arrived shortly after this, and at some point after that – Jager was not clear on the precise timeline – the boy was pronounced dead.
Full audio of the press conference is below.
PREVIOUSLY