UPDATE 8:11 p.m.: Hwy 36 is now open
UPDATE 7:50 p.m.: Both Lanes now open near the freeway. The road is still closed in the Hydesville area.
UPDATE 7:45 p.m.: PG&E is now saying that over 600 customers are without power. Below is an updated map.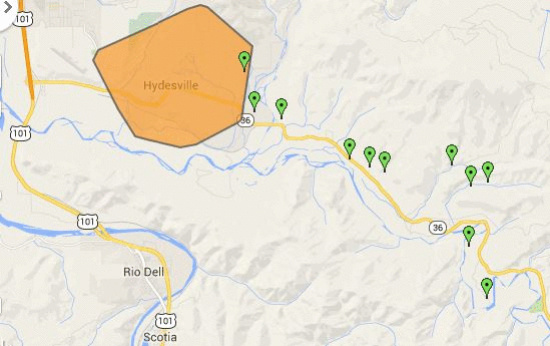 ###
Original post:Bad night for Hwy 36 residents. Downed power lines have started a vegetation fire on Hwy 36 east of Fisher Road in the Hydesville area. As of 6:45 p.m., scanner traffic indicates that crews are shutting down Hwy 36 at Yager Creek in both directions. CHP dispatch indicates that the estimated time of closure is one hour.
PG&E is showing about 50-60 customers without power. Scanner traffic indicates it will be about 7:20 p.m. before PG&E can get to the downed lines. One Carlotta reader reported seeing a "huge blue flash" west of her home. Power flickered there but did not go out.
Crews on the scene are saying the fire is only about 5' x 5'. Chatter on the scanner indicates the fire is "no big threat."
Also a mudslide has reportedly impacted one lane of 36 one half mile east of Hwy 101.
PG&E, Cal Fire and Caltrans are all responding. Volunteer fire crews are on the scene also.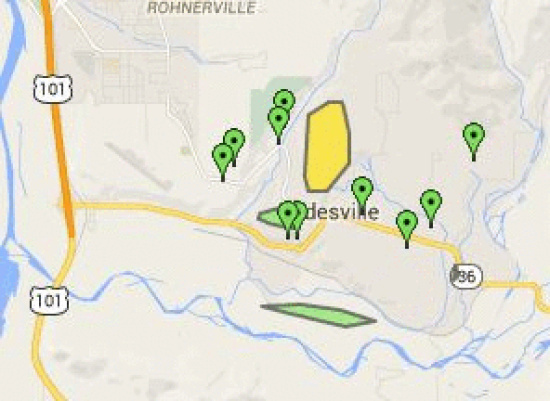 The yellow and green areas indicate where customers are without power. [Map from PG&E]