UPDATE, 9:46 p.m.: California Highway Patrol press release:
On December 8, 2014, at approximately 4:24 p.m., the California Highway Patrol Humboldt Communications Center received a 911 call regarding a two-vehicle injury traffic collision on westbound State Route 211 at Goble Lane. A 1996 Toyota, driven by Graciella Castaneda of Arcata, and containing two of her children, was preparing to make a left turn from westbound State Route 211 onto southbound Goble Lane. All occupants were properly restrained. A 2006 Dodge van, driven by Rodney Campbell of Rio Dell, was traveling westbound on State Route 211, approaching the rear of the 1996 Toyota. For reasons still under investigation, the front of the 2006 Dodge van struck the rear of the 1996 Toyota. Ms. Castaneda sustained minor injuries, and one of her children (a 7 year old female passenger properly restrained in a child safety seat) sustained major injuries. Mr. Campbell sustained moderate injuries. All involved occupants were transported to Redwood Memorial Hospital. The 7 year old female passenger was then transported by air ambulance to UC Davis Medical Center for additional care. DUI was not a factor in this collision.

The California Highway Patrol Humboldt Area responded to the scene and is conducting the investigation. Emergency personnel from the Ferndale Volunteer Fire Department, the Ferndale Police Department, and City Ambulance also responded to the scene.
# # #
Original Post: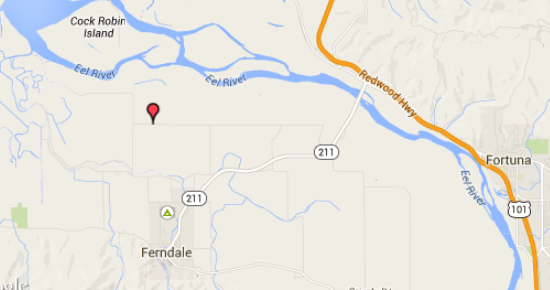 LoCO's CHP Watch indicates a two-vehicle accident involving a Toyota Camry and a full-size Dodge van occurred on the outskirts of Ferndale within the last hour. Scanner traffic from around the time of the collision notes that a child involved was unresponsive. Multiple agencies have responded.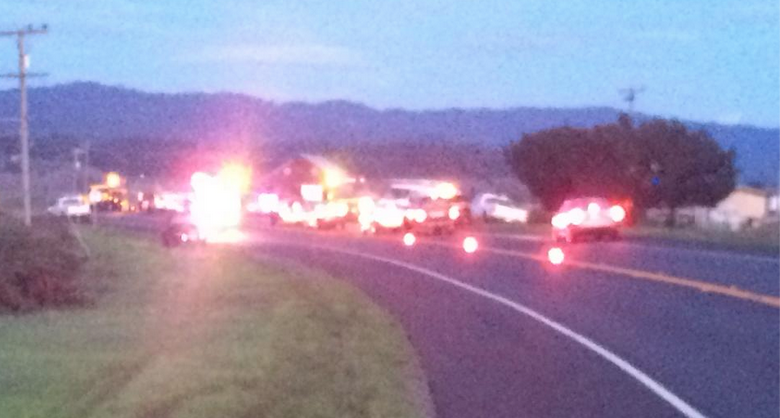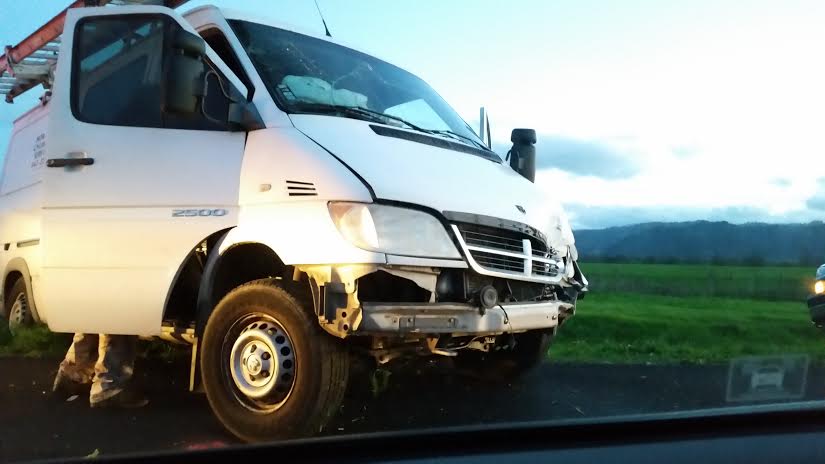 The Ferndale Enterprise's Caroline Titus is tweeting updates from the scene (follow her here) a few of which are included below.
Scanner: One child unresponsive in two-vehicle accident at 26 Goble Lane. FVFD responding.

— Ferndale Enterprise (@FrndEnterprise) December 9, 2014
FVFD chief Dennis DelBiaggio calling for a second ambulance at two-vehicle traffic accident Hwy 211 and Goble. Loleta VFD responding also.

— Ferndale Enterprise (@FrndEnterprise) December 9, 2014
FPD Sgt. Adam Stricker calls Hwy 211/Goble accident "a major." Second ambulance on its way. FVFD and Loleta VFD responding.

— Ferndale Enterprise (@FrndEnterprise) December 9, 2014
Traffic coming into Ferndale diverted off of Hwy 211 in detour around major traffic accident at Hwy 211 and Goble Lane.

— Ferndale Enterprise (@FrndEnterprise) December 9, 2014