---
Humboldt's Most Wanted Couple Captured [UPDATED]
---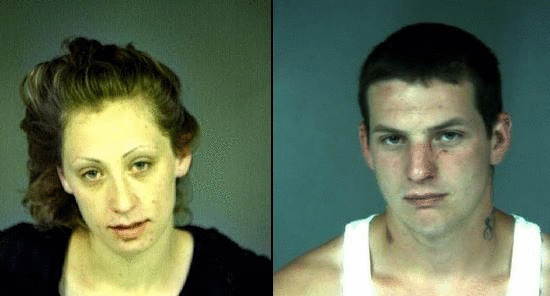 UPDATED with Press Release at the bottom.
According to Sergeant Steve Watson of the Eureka Police Department (EPD), Humboldt's Most Wanted Couple are no longer wanted. They were arrested Wednesday afternoon in Eureka.
Watson said that EPD's Problem Oriented Policing Unit and Criminal Investigation Services detectives received a tip from the Arcata Police Department that Lance Andrew Borgner (age 24) and Christina Ann Higgins (age 24) were staying in a motel on South Broadway. The two were arrested and booked on a variety of charges (See snip from Booked below.)
The two were wanted on a variety of charges stemming from a pepper spray incident which fueled a high speed chase across Eureka. (See previous stories below.)
UPDATE 4:25 p.m.:
Eureka Police Department Press Release:
On 2.12.14, Eureka Police Detectives received information from the Arcata Police Department that Lance Borgner may be staying at a motel in the 4000 block of Broadway.

Detective from the Criminal Investigations Section and Problem Oriented Policing Unit immediately began investigation and validated this information. Detectives subsequently took Borgner and his girlfriend – Christina Higgins – into custody without incident.

Borgner was arrested on various multi-jurisdictional charges and arrest warrants.

Higgins was arrested for an outstanding local warrant.

Borgner is on active CDC parole for burglary as well as on local summary probation for vandalism and possession of drug paraphernalia. He was wanted on two felony warrants for parole violation and 20001(a) VC (hit and run with injury), as well as two misdemeanor warrants for driving with a suspended license and vandalism. Additionally, Borgner was wanted by EPD on fresh charges of felony reckless evading of a peace officer and felony hit and run with injury among other offenses.

Borgner was wanted by the Arcata Police Department for felony reckless evading related to an APD vehicle pursuit with him on Alliance Road in the early morning hours of 2/10/14. Borgner was driving a black Mercedes at the time.

Additionally, Borgner and Higgins were both wanted by the Humboldt County Sheriff's Office for attempted robbery and assault with a deadly weapon stemming from an incident which began at the McKinleyville K-Mart. Refer to the Humboldt County Sheriff's Office press release, dated 2/10/14, for more details.
Previously:
---
SHARE →
---