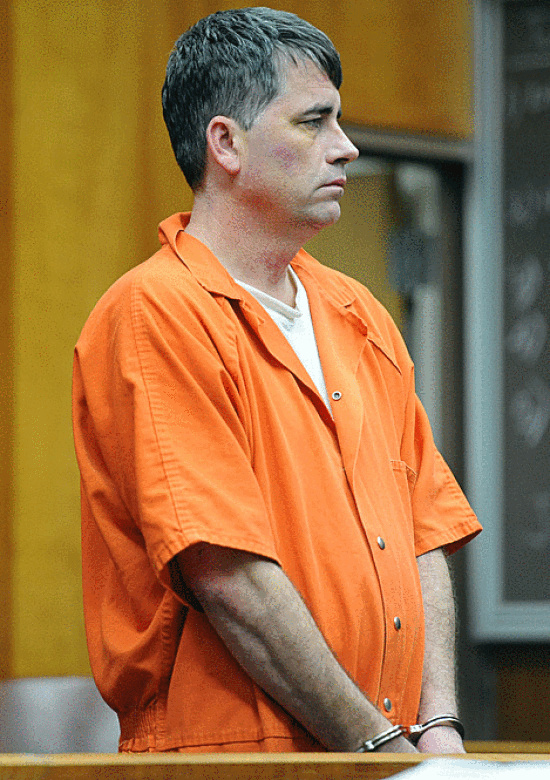 Calls concerning Gary Bullock began pouring in from Southern Humboldt residents before 9 a.m. on New Year's Eve, a day before he allegedly murdered Father Eric Freed. Using a rough transcript and audio excerpts of scanner traffic as well as interviews, LoCO put together an account of how law enforcement was dispatched to deal with what at first appeared to be a relatively simple problem.
A simple problem that continued to get worse over time. Multiple law enforcement officers were to be sent out again and again dealing with an escalating situation that tragically didn't end with Bullock's arrest at quarter to 2 in the afternoon but rather stumbled onward toward the brutal death of a beloved priest in the early hours of New Year's Day.
On that last morning of 2013, Gary Bullock's behavior set off alarm bells in several community members. Some of them contacted law enforcement to report a string of bizarre interactions with him.
In the first call, which came several minutes before 9 a.m., a man claimed his wife was being held prisoner in the Redway Inn Motel (a motel owned by Bullock's brother and reportedly a place Bullock had been staying recently).
8:53 a.m.:
Dispatch: 233, Welfare check at the Redway Inn. RP [Reporting Party] said … an unknown male subject approached him on foot. Stated that his wife was being held against her will at the Redway Inn. Male then fled on foot….
Humboldt Co. Sheriff's Officer 233 then asked for help from the CHP to respond as he was currently en route from Eureka, nearly an hour's drive away.
Then a further report came in. Another person had showed up at the Garberville Sheriff's substation several miles away to express concerns with Bullock's behavior.
9:03 a.m.:
Dispatch: 233, RP [Reporting Party] at the Garberville station reporting the same subject acting suspicious. That's possibly last of Bullock, first of Gary under the influence. Last seen wearing a maroon-colored track suit and he was last seen in the alley behind the Redway Inn.
The California Highway Patrol responded to Redway. They tried but failed to find Bullock. They left. Then another person called in a report. And again law enforcement responded.
9:34 a.m.:
Dispatch: 233, if you can copy? CHP checked the area and they were UTL [Unable to Locate] the subject. An additional RP [Reporting Party] did call — last of Bullock, first of Gary and he was still in the area of the Redway Motel if you can continue.
Bullock wasn't located. In the early afternoon, when Southern Humboldt resident Marty Messenger was driving through Redway, he saw two men arguing heatedly. The situation, he said, was rapidly escalating into something violent.
Messenger called law enforcement and reported what he called "a 415, a verbal fight turning into a physical confrontation."
Bullock, Messenger said, was "irrational and not making sense." By the time a sheriff's deputy and CHP officers arrived, Bullock had again left the area, this time fleeing southbound on Redwood Drive.
Again, officers began looking for him.
But before they found him, residents of a small trailer park in a quiet neighborhood began calling 911 reporting further instances of Bullock's odd behavior.
1:29 p.m.:
Dispatch: Suspicious male… . West Coast Road, is currently hiding in the bushes making nonsensical statements.
This time the caller was Trudy Mae Allen, a resident of the West Coast Trailer park. She said that she had been standing in her carport when she began hearing "these really strange goings-on."
…I went to the corner of the carport. I called 911 right away 'cause I could tell [Bullock] was really troubled. He was telling the neighbor's dog to attack and kill and doing bird calls.

He was pretty wild, gyrating around. He was messing with the sides of his head.
Allen described Bullock as then tucking his body almost into a ball and charging into the neighbor's house where he reportedly opened up a microwave and said he was looking for his wife in there. The neighbor pushed him out of the house and Bullock, Allen said, went into the juniper bushes of yet another neighbor's yard.
Cathy Bergstrom, that neighbor, would later describe the death of Father Eric Freed as "a small town tragedy that got worldwide news." If so, it's a tragedy that she watched partially unfold from her deck with her two young grandsons by her side.
Bergstrom said that Bullock acted as if no one could see him in the bushes. His odd behavior prompted her to bring her grandchildren inside and lock the door.
Allen said his behavior reminded her of a psychotic episode. "It was scary," she said. "I've seen some stuff in my time but that was scary."
Both women agreed that the police arrived quickly. Sergeant Ken Swithenbank of the Humboldt County Sheriff's Department was one of the officers that came. The two women say that Swithenbank immediately recognized Bullock and asked him, "Gary, what are you doing?"
Bullock didn't fight the arrest, Bergstrom says. A deputy later showed her and her grandsons some pills saying that Bullock had given them up when he was arrested. He admonished the boys to never use drugs.
Lieutenant Steve Knight of the Humboldt County Sheriff's Office later told the Lost Coast Outpost that Bullock told Swithenbank he'd been using both meth and heroin.

Image snipped from Lost Coast Outpost's Booked.
Bullock, who was on parole probation from an incident earlier in the year, was taken north to Eureka where suspects are booked at the county jail.
The Lost Coast Outpost has had difficulty obtaining records pertaining to earlier arrests, but we know he was released from jail on bail bond on Dec. 1, 2012. In April, he pled guilty to two misdemeanors. And he was arrested on Nov. 5 for public intoxication and released later the same day.



Images snipped from Sheriff reports.
On the way to jail after his erratic behavior on New Year's Eve, he grew violent and attempted to kick out the windows of the patrol car. His behavior caused deputies to take him in for a medical exam, but he was refused by medical personnel at 3:31 p.m. even though his agitated behavior required restraint by deputies. He was returned to law enforcement's custody. Nine hours later, at 12:45 a.m., he was released onto the streets of Eureka on his own recognizance.

In an interview with KMUD on January 10, Sheriff Mike Downey said, "We actually had custody of him for almost 11 hours … . [H]e was released because we had no legal authority to continue to keep him in custody … . We can hold them longer if we feel they are a danger to themselves, not able to care for themselves … . He met the criteria to be legally released. We did not have the authority to hold onto him longer … ."
According to the affidavit for the Ramey Warrant in Bullock's case, at about 2 a.m. a Eureka police officer spoke with Bullock, who was standing between the rectory and St. Bernard's Catholic Church. The officer reportedly sent Bullock "on his way," but Bullock allegedly returned once the officer had gone.
The affidavit states that the video showed Bullock "trying the doors to the rectory," then breaking out a window on the north side of that building and entering by crawling through it. The video allegedly shows Bullock "carrying the same large pipe and stick" that were found at the scene of Father Freed's death.
The affidavit (below) describes a brutal murder. The suspect allegedly bludgeoned Father Eric Freed, a beloved Catholic priest, to death. Then, in an apparent attempt to destroy evidence, he rolled the man into blankets, poured alcohol over the body and attempted to light it on fire, according to the affidavit.
There is evidence that Bullock tried to cause an explosion by turning on the gas stove and lighting a cigar. Fortunately, the cigar failed to stay lit. According to the criminal complaint, Father Freed's vehicle was taken by the suspect and driven to Southern Humboldt where it was parked near Bullock's mother's home.
On New Year's Day, almost exactly 24 hours after the first call reporting Bullock's erratic behavior came in to law enforcement, Frank Weber, a Catholic priest deacon, hurried from the nearby church to the rectory expecting to find his colleague and join him in celebrating a joyous New Year's mass. Instead, he found a scene likely to haunt him for the rest of his life.
Gary Bullock is currently under arrest. His next court date is Wednesday, January 15th, at 2 p.m.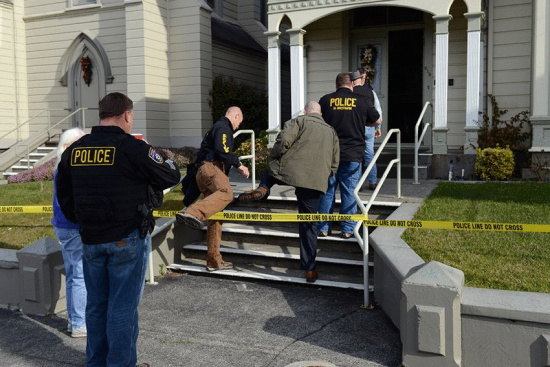 Law enforcement entering Father Freed's Rectory on New Year's Day (Photos in this article provided by Mark McKenna.)