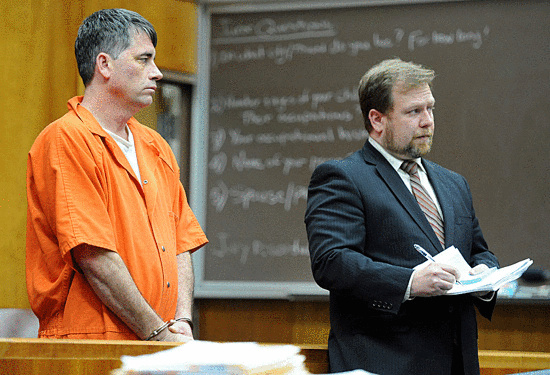 (Above: Gary Lee Bullock and his attorney, Kaleb Cockrum, on Jan. 6. Photo by Mark McKenna.)
Warning: The following story contains graphic descriptions of a violent crime scene.
Two Eureka police officers this morning described the bloody scene they encountered on New Year's Day inside the rectory of St. Bernard's Catholic Church. Their testimony came during a preliminary hearing for Gary Lee Bullock, the 44-year-old Redway man who stands accused of murdering Father Eric Freed.
Bullock has also been charged with vehicle theft and arson, with special allegations that the murder involved torture and was committed during the course of first-degree residential burglary.
With a handcuffed Bullock slouching behind the defense table, Deputy District Attorney Elan Firpo called her first witness, Eureka Police Detective Alan Aubuchon, who described finding Freed's body "covered in blood" on the second floor of the rectory.
Aubuchon said he and two fellow officers arrived at 615 H Street in Eureka shortly after 9 a.m. on Jan. 1. There they met church Deacon Frank Weber, who directed them inside. He noticed a strong smell of gas — strong enough that he was "concerned about breathing," he said.
The deacon directed the officers upstairs, where they found Dr. George Zibilich standing in the doorway of a den, Auchubon testified.
"He said something like, 'He's dead,'" Auchubon recalled. "His voice was fluctuating; he was almost crying, and his arms were about waist high, [with] his palms up."
Auchubon said he saw Freed's body lying face-up in the middle of the floor, lifeless, with "blood strewn about the face."
Concerned that someone may still be in the building, Auchubon said, he searched the top floor of the rectory, worrying all the while about potentially discharging his firearm in the gas-filled space, he said. He added that the inside of the rectory appeared to have been "ransacked." A fellow officer found a cigar "smoldering" near the burners of a gas stove downstairs and turned it off, Auchubon testified.
Under cross-examination by Kaleb Cockrum from Humboldt County's Alternate Conflict Counsel office, Auchubon described a few more details of the scene, including his recollection that Dr. Zibilich's upturned hands had blood on them.
The next witness was 21-year veteran Eureka Police Detective Todd Wilcox, whose testimony included descriptions of several crime scene photos. Willcox also used a black felt marker to sketch the upstairs of the rectory onto a large, white paper pad, which was propped upright next to the witness stand.
Wilcox said the EPD dispatcher called him at home at 10:12 a.m. on New Year's Day and told him someone had been killed at St. Bernard's. Charged with processing the scene, Wilcox said he found the rectory in disarray. There was a strong smell of alcohol inside the den, and Father Freed's body had been wrapped in sheets and blankets, which were wet and smelled of liquor, Wilcox testified. He added that there were "flaky, dark red-brown flakes" that resembled rust on the door, the baseboard moulding and carpet, plus what looked like blood stains next to the body.
Other elements of the scene, as described by Wilcox:
Next to Freed's body lay broken pieces of wood that resembled redwood fence slats, three empty whisky bottles and a sealed bag — the type used in church offerings. There was also a calendar, one edge of which had been partially burned.
On top of Freed's body was some bundled newspaper, wet and smelling of alcohol.
Underneath Freed's upper body, wrapped up in the bedding, officers found a length of wood, similar to the redwood slats found elsewhere in the room. The middle of this slat was wrapped in a strip of maroon cloth, which was originally thought to be a ribbon but was later matched with a USC lanyard found under a nearby chair.
Also wrapped up with the body was a length of metal pipe roughly 18 inches long, painted white on the outside and rusty inside. The pipe was ragged at one end, as if broken off, and it had pages of a magazine wrapped around it, showing a picture of a nun.
Lying on the floor between Freed's legs officers found something made of metal, which Wilcox speculated might be part of a bracelet or necklace.
On top of a coffee table in the corner of the den officers found a cigar box, a corkscrew, more whisky bottles (these ones full) and a conical piece of glass, about eight inches tall, standing upright. The narrow end of the glass cone was jagged, and red stains resembling blood covered the top two-thirds of it. Wilcox theorized that it might have been part of a broken vase.
Another table in the den appeared to have been displaced, and its marble top was found several feet away on the floor. Next to this table was a dark red stain "with hair stuck in it."
The door leading from the hallway to the bedroom was damaged, including damage to the lockset and splintered wood protruding outward, "consistent with a break-in," Wilcox said.
Freed's head was bloody. There was a vertical cut on his nose, "odd marks" on his chin resembling rug burns and debris resembling rust on his chest.
Underneath his bloody shirt, Freed's chest had two semi-circular "red injuries" that were the same approximate diameter as the metal pipe found at the scene.
Freed's knees were skinned; a small piece of wood (less than a centimeter squared) was lodged in one knee; and his legs were scratched.
On a desk in the den officers found a laptop computer and a separate flat-screen monitor lying face-down next to it.
In an adjacent storage room officers found another length of pipe and circular impacts on the wall, about the same diameter as the pipe. One end of this pipe looked like it may have been taken from a "rubberish coupling" found in the fence outside the rectory.
There were blood stains in the bathroom sink and shower and more dark red stains on the soap and a box of wet wipes next to the sink. Another blood stain was found on a closet-door mirror, about chest high, in Freed's bedroom. This "smear" was no more than six inches by two inches.
Under cross-examination, Wilcox repeated many of the details of his testimony and described various other elements of the scene, including various stores of alcohol. For example, a trash can in the den contained several empty Sapporo beer cans, a mini-fridge in the storage room was almost full of beer cans ("Tecate, I believe"), and more beer cans were in a refrigerator in the den, Wilcox said. It was unclear why Cockrum pursued these details.
The preliminary hearing is set to continue tomorrow morning. If convicted, Bullock could face the death penalty.