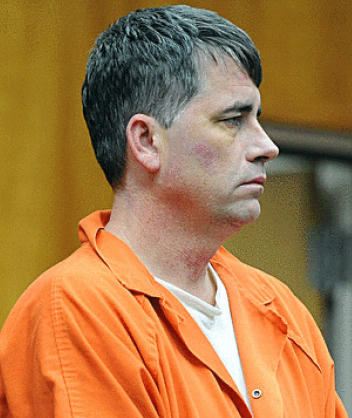 Warning: The following story contains graphic descriptions of a violent crime scene and the subsequent autopsy.
The preliminary hearing against Gary Lee Bullock concluded this morning with Judge Marilyn B. Miles ruling that there's enough evidence to hold Bullock to answer for charges of torturing and murdering Rev. Eric Freed in the rectory of Eureka's St. Bernard's Catholic Church during the early hours of New Year's Day. Bullock will also answer to charges of felony vehicle theft and attempted arson. A trial rearraignment date was set for Feb. 5.
Prior to the ruling, witnesses described the erratic and bizarre behavior of Bullock following the alleged murder. According to the testimony, Bullock drove Freed's stolen Nissan Altima Hybrid to the home of his mother and stepfather in Southern Humboldt and hid the car beneath brush nearby. Arriving in a "zombie-like" state, with dark stains on his clothes and bungee cords wrapped around his arms and neck, Bullock claimed to be "the archangel Michael Gabriel," among other biblical statements, according to the testimony.
###
MORE INFO:
On the stand, Eureka Police Detective Jon Luken provided a timeline of Bullock's behavior following Freed's death, based on interviews with Bullock's stepfather, John Bruno, and others.
Freed's car was found by law enforcement on Jan. 2, partially concealed under cut branches and shrubs in a wooded area near Bruno's home, Luken said. Under cross-examination by defense attorney Kaleb Cockrum, Luken said that branches had been arranged near the front of the car in the shape of a capital A, similar to the shape made on church grounds the night of Freed's death. Several yards down the road, two large branches were leaned against a tree, like an "A" without the horizontal line, Luken testified.
Bruno told law enforcement that he'd been watching TV on Jan. 1 when his dogs started barking and he got up to find Bullock inside his house, Luken testified. Acting "kinda crazy," "zombie-like" and perhaps high on drugs, Bullock stepped back outside, picked up a metal pole and began spinning around with it, according to Luken's account of Bruno's statements. Bruno's direct quote, Luken said, was that Bullock was acting "wack, that's all I can say." During this encounter Bullock claimed to be the archangel Michael and made other "biblical statements," Luken said.
Bullock left the property and returned later, "just kinda out of it," with three short bungee cords wrapped around each arm and two around his neck, Luken said, again based on Bruno's account of the day's events. The next morning, after Bullock showered and got a change of clothes, Bruno drove him down the road to meet with sheriff's deputies, Luken testified. Bullock's own clothes, which were torn and had dark red-brown stains, were retained as evidence. Officers found what looked like bits and pieces of mushrooms inside the pockets of Bullock's pants, Luken said. He couldn't say whether they were psychedelic mushrooms or not.
In earlier testimony, Eureka Police Detective John Gordon said that, while checking the perimeter of the church property on Jan. 1, he found a small injection bottle labeled dexamethasone sodium phosphate, a hormone used to treat a wide variety of ailments, from allergies to eye diseases to certain types of cancer. But he couldn't say for sure that it was related to Bullock.
Cockrum asked Gordon a series of detail-oriented questions about the injuries Freed suffered and whether they occurred before or after death. Most of the injuries were inflicted before death, Gordon testified. He said Freed had blotchiness in his eyes, which can be a sign of asphyxiation, and that according to the doctor who performed the autopsy, the causes of death were blunt force trauma to the head and trachea along with suffocation.
Freed was not strangled; rather, the suffocation was caused either by compression — meaning pressure applied from front to back — or by having something shoved down his throat, Gordon testified. Freed had a broken hyoid bone along with cuts and lacerations inside his mouth. Previous witnesses suggested that Bullock shoved a broken vase down Freed's throat.
Ronald Harpham, the Eureka Police Department's chief investigative officer on the case, testified this morning that when Bullock was brought in, his hands were so swollen that he was taken to the hospital to have them X-rayed. The hands were also covered in abrasions from his knuckles to his wrists, and he had a significant abrasion on his cheek that had scabbed over, Harpham testified. In fact, Harpham said, Bullock had scratches "from his ankles up to his head, arms and back" and a cantaloup-sized bruise near his left hip.
In closing statements to the court, Deputy District Attorney Elan Firpo laid out "the People's position" in no uncertain terms. Bullock murdered Father Freed, she said — tortured him "for his own sadistic purpose," beating him until he could no longer defend himself and then continuing to beat him after he died. He shoved a broken vase in Freed's mouth, she added, cutting his cheeks and tongue and breaking the bone in the back of his throat. Then he attempted to burn Freed's body and the entire rectory before stealing Freed's car and fleeing the scene, she concluded.
Cockrum argued that Firpo had failed to provide enough evidence to support the special allegations of torture and murder in the process of committing a residential burglary, but Judge Miles disagreed. Bullock was ordered to stand trial for all the charges brought by the DA's office.
There will be a rearraignment hearing on Feb. 5 at 2 p.m.
PREVIOUSLY: